Posted on
Mon, Jan 30, 2012 : 5:57 a.m.
Senior community uses music of different eras to benefit their residents
By Alan Caldwell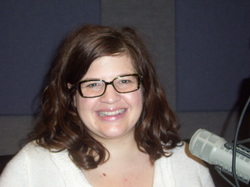 We were so pleased to have Tanum Ollila back with us for this past weekend's radio program. Tanum is the sales and marketing manager for Brookdale Place of Ann Arbor. Brookdale Place is the senior community on Ann Arbor-Saline Road (across from Busch's) offering assisted living and Alzheimer's care.
Tanum always has great advice on caring for seniors, and spoke this week about the importance of music. Her insights aren't just relevant to their residents but really to any aging family member wherever they may live.
At Brookdale, this year's big life enrichment program is "Celebrations 2012 - Music of Our Times." This kicked off this past Saturday with a dinner dance featuring swing dancing and the big band sound (Glen Miller type music). Brookdale will highlight a different music theme each month, with soul music in February, and will include broadway, classical, blues and opera among the featured styles.
Tanum spoke of how music really helps connect with seniors, "music is one of the first things we hear, and one of the last things to go." Listening to music from their era helps the elderly in some many ways —emotionally, physically, spiritually and even intellectually.
Music is particularly beneficial to those with dementia including Alzheimer's disease. It can provide useful non-verbal cues to encourage positive behaviors. The sounds have a significant calming influence on those that are agitated or anxious. We all know how music can have a positive influence on our mood.
To listen to our 13-minute talk, click the audio link:
To get in touch with Tanum or Brookdale Place, call 734-657-0710, or visit the website brookdaleliving.com.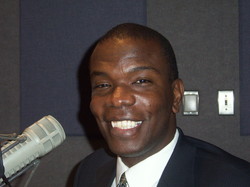 Photos by Sheila Doeden
We then had another returning guest with Brian Royster, a financial advisor with Edward Jones. Brian has a wonderful way of turning the potentially dull subject of finance into a lively entertaining discussion. He doesn't tell us to look for strong dividend investments that will protect our principle while providing income. Instead Brian tells us to own a healthy cow and to live off the milk and not eat the cow.
Brian used the upcoming big football game to talk about his Super Bowl strategy for investing. If investors use the same basic principles of the successful teams in the Super Bowl, you too can be successful. Pick the right players, chose a diversified group for your team, follow a game plan, stay dedicated to your goals, and have good coaching.
Picking the right players is picking the appropriate investments. Chose investments that reflect your objectives. If you are a retired senior, you should probably not pick a no-name high-risk company for investment.
Brian obviously fits into the coaching role while he also understands you need the proper assistant coaches. He works with a team of experts, like CPAs and tax advisors to ensure fully-informed decision making.
When investing it is critical to determine your objectives. Do you need income now, later, or maybe never if you want to simply build an estate for your children? What's your time horizon, and what's your tolerance for risk (can you absorb possible losses)?
To hear this 13-minute discussion, click th audio link:
To contact Brian or Edward Jones, please call 734-995-3306, or you may visit the website edwardjones.com.
Alan Caldwell and Sheila Doeden co-host Everything Elderly every Saturday morning at 8:30 on 1290 WLBY. In their day jobs, Alan and Sheila co-own and co-manage Senior Helpers, providing in-home care services, primarily to the elderly. Both can be contacted at homecareexcellence@seniorhelpers.com, or at 734-927-3111.