Posted on
Wed, Oct 5, 2011 : 9 a.m.
Improving Michigan's economy by uniting to curb obesity
By Washtenaw County Public Health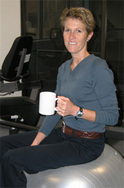 In 2008, Michigan spent $3.8 billion in obesity-related medical costs If obesity continues to increase at its current rate, by 2018 Michigan will spend $12.5 billion on obesity-related medical costs.
The governor's Obesity Prevention Summit in Lansing on Sept. 21 invited 500 Michiganders from all sectors and regions to help develop a plan to increase the number of Michiganders who are at a healthy weight. Governer Synder issued a statewide "call to action," and proposed a framework that uses partnerships, data and evidence-based strategies.
As a representative for Washtenaw County Public Health (WCPH), I brought an open mind to the Summit, eager to achieve consensus about causes and solutions to this critical issue, yet also some trepidation since the topic is often emotional. Since our "charge" was to reach consensus on key strategies for reducing obesity in Michigan, I knew the day would involve tension.
The governor started by re-iterating a fact that unified us: obesity is killing Michigan economically, physically and emotionally. He also conveyed an urgent need for positive action. We then heard two individuals eloquently summarize what's known about obesity and what can be done about it. They established a few premises to guide the day's work:
Obesity is complex and its causes are systemic
There's no "magic bullet"
Individuals are responsible for making healthy choices
When the places where we live, learn, work, and play are intentionally designed to make healthier choices easier, people will make healthier decisions more often.
Next, Ms. Olga Dazzo, Director of The Michigan Department of Community Health, issued our challenge: work in small groups (defined by sector such as schools, childcare, healthcare, community, and worksite) and agree on three to five strategies most likely to reduce and prevent obesity. We were provided with a chart of "promising" or evidence-based obesity prevention strategies and actions recommended by the Centers for Disease Control and Prevention.
I attended a worksite group. Sparks flew early as opinions about causes, factors, costs, and solutions were offered and quickly picked apart. Our group facilitators were miraculous, and kept us on track (and in our chairs!) as passionate and often heated debate transpired over the next few hours. Finally, we found common ground on a handful of strategies that blended and balanced the group's diverse philosophies.
Most importantly, and in our own way, we seemed to achieve consensus on how to approach obesity in the workplace:
While employers should play a role in arming their employees with awareness and skills to make healthier choices about eating right and moving more, this alone is not enough to ensure employees will make healthy choices more frequently than unhealthy ones at work.
Employers should consider creating work environments that make healthy choices easy and readily available.
All sectors have a role in reversing obesity trends. If all worksites created a culture of health, without other sectors (families, childcare, schools, health systems, community, policy makers) doing the same, individuals will still struggle to consistently choose the healthier options over less healthy ones.
As all groups re-convened to share their strategies, it was clear our group was not the only one challenged by the exercise. We knew the next hour would be critical.
And this is where it got really interesting and frankly, quite exciting. As workgroups revealed their strategies, several things occurred:
Similar themes emerged, signaling the achievement of common ground.
Several strategies complimented, aligned, and supported one another, building bridges across sectors that traditionally functioned in silos.
Accountability for obesity was balanced. Some recommendations focused on individual knowledge about healthy eating and physical activity, and others looked to create environments that make it easier for individuals to make healthy choices.
The concept of applying partnerships, data, and evidence-based strategies kept surfacing, true to the governor's original framework
.
As the summit concluded, the room echoed with enthusiastic chatter, signaling both a new respect for different opinions and relief at finding common ground. I left with new validation that Washtenaw County's longstanding framework for improving community health — partnerships, data, and strategies — aligns with the direction our governor is taking Michigan.
This ends part one of Improving Michigan's Economy by Uniting to Curb Obesity. In Part two, I will answer several questions including:
How does Washtenaw County use partnerships, data and strategies to address complex health issues like obesity?
What does applying partnerships, data, and strategies look like?
Why might this approach be one reason why Washtenaw County is one of the healthiest places to live in Michigan?
Keven Mosley-Koehler is the Health Improvement Plan coordinator for the Washtenaw County Public Health Department. She can be reached at 734-734-544-3078 or koehlerk@ewashtenaw.org.