Posted on
Wed, May 30, 2012 : 11:08 p.m.
Is there a runner within you? Find out with Running 101
By Jeff Jackson
PUBLIC SERVICE ADVISORY: There may be a runner within you trying to get out. There's only one way to tell: start running. And there's a convenient and low-stress way to get you going: a Running 101 class. It worked for me.
I used to think of running as rather like having to eat spinach before getting dessert. It was good for me and there'd be a payoff in the end, but it wasn't something I looked forward to.
In my mid-forties Aikido and cycling were my activities of choice, with an occasional run just for variety. If you'd told me back then I would become a committed runner, I'd have looked behind me to see who you were talking to. But my running frequency increased, and when I began entering 5K races, I decided to learn more about running and how to improve my form. It was time to get some help.
In January 2010 I signed up for a Running 101 class at the Running Fit store near where I live. For five Wednesdays, I joined about 15 other people who were just starting out running or wanted to improve.
In addition to a regular day and time to run, I got two benefits from the class that laid a foundation for all the running I've done since then. The first was discovering the enjoyment of running in a group, which provides positive energy, motivation to show up, and conversation to help the miles pass.
The second was learning the value of setting goals to keep me training and improving. I committed to completing a half marathon, which I accomplished that June. That led to over 1,000 total miles and a full marathon in 2011, a planned 50K this year, and who knows what else ahead.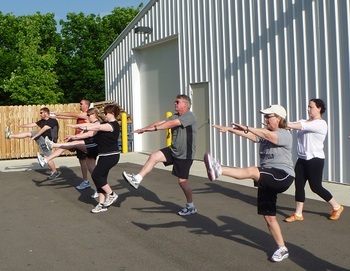 Jeff Jackson | Contributor
I dropped in on a recent Running 101 class to see what had changed, if anything, in the two years since I completed it. About 12 people were there, ranging from their early 20s to over 50, about evenly split between men and women. Melissa, the instructor, was enthusiastic and clearly showed her love of running.
We warmed up with some dynamic exercises including leg lifts and lunges, which is now preferred to static stretching before a run (click here for one explanation why). Then we hit the road for a 30-minute out and back run or run/walk at whatever pace each participant chose. Melissa jogged up and down the line, making sure everyone was okay and offering words of encouragement.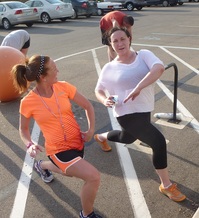 Jeff Jackson | Contributor
Afterward, we stretched (which is good for you after a run) and got a clinic on the basics of running shoes and the various types. While a running store has an obvious interest in selling shoes, it wasn't a sales pitch, just good advice. A good pair of running shoes fitted by someone properly trained is essential to running comfortably and avoiding injury. Other clinics in the class cover running mechanics, nutrition and proper stretching.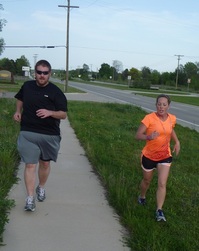 Jeff Jackson | Contributor
As with me back in 2010, the participants in this class were asked to choose a goal to work toward once the class was over. Steve is a scuba diver looking for a complementary exercise; running should increase his aerobic efficiency, a good thing when you're deep underwater with a limited supply of air.
Sean, who says he's "addicted to running," is training for a half marathon.
Mike and Ilana are going to be in an upcoming Warrior Dash.
Another has signed up for the July 22 Ann Arbor Color Run. (Sorry, that event is apparently sold out, but check out the concept at the website. And you might want to volunteer for it, which looks to be just as much fun as it is to run it.)
So do people continue on to more and better running after the class has ended? This was Melissa's first Running 101, so I asked my coach Marie, who has taught many sessions. She says she continues to hear from former students, and some are in my running group, PR Fitness.
The instructors try hard to provide a good experience, she said, because that can make the difference between someone continuing to run or giving up. Certainly the great experience I had in my Running 101 class helped make me the committed runner (yep, it happened!) that I am today.
Along with the physical improvements came a change in attitude; my regular Wednesday evening and Saturday morning runs are pleasures rather than chores, at least most of the time. Running is still like spinach to me, but now the spinach tastes good.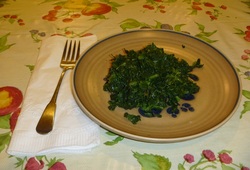 Jeff Jackson | Contributor
Jeff Jackson | Contributor
Have I succeeded in piquing your interest? Why not check out a Running 101 class, or one of the other programs for beginning runners like a couch-to-5K program? You just might find out that there's a runner within you — and that it will feel good to let him/her out.
I would like to hear your stories, too! If you are, or have been, a runner and have something you'd like to share, send me an email. Please let me know if you are okay with being quoted or listing your name or would prefer to keep your story anonymous.
Note: I have no financial interest in any store or activity mentioned in this article, nor have I received any form of compensation for mentioning them.
Jeff Jackson is a runner, cyclist, and student of Aikido who writes the Fitness at 50 blog. His other interests include history, writing and food (especially coffee, bread and chocolate). He can be reached at jeff@fitnessat50.net.