Posted on
Mon, Oct 1, 2012 : 5:57 a.m.
Music therapy offers a wealth of significant benefits
By Alan Caldwell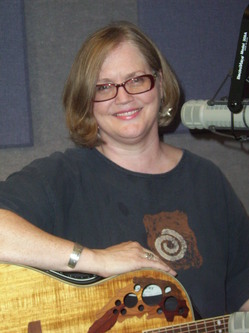 Photo by Sheila Doeden
Dr. Terra Merrill first visited our program back in March of this year. We were so impressed with Dr. Merrill and her work that we asked her to come back and be our only guest and do the full show. Dr. Merrill is the Director of Music Therapy at Eastern Michigan University and is a wonderful advocate for her profession.
As Dr. Merrill explained, music therapy is an allied health profession with board certified music therapists. The therapy uses music to address the holistic needs of their clients. Therapists conduct comprehensive assessments of their clients to understand their abilities, challenges, personal history and musical preferences. This information is then utilized to develop a treatment plan for the specific patient.
To become a board certified music therapist requires a minimum four-year bachelor degree, 900 hours of internship work and passing the national board examination. The ability to play three clinical instruments (guitar, piano, voice) is also a requirement.
Dr. Merrill brought her guitar to the studio and graced us with singing "Love Will Guide Us," a wonderfully-performed, beautiful song she has recently used in her therapy work. Later in the program she sang the "Strong Bear Chant" and managed to get my radio co-host Sheila and I to sing along using the call-and-response musical form.
The benefits of music therapy are many-fold, including improving wellness and reducing stress levels. Dr. Merrill shared details of the more recent research that clearly demonstrates how this therapy impacts our brains. The experience of actively participating and making music is when our whole brain is fully involved.
Many therapy patients are under hospice care. This is a growing use of music therapy, likely because of our aging population. Dr. Merrill explained her research with those with end-stage dementia. Music can enhance their creatively and these individuals can certainly still participate in musical activity.
Dr. Merrill also has a Parkinson's support group now in its third year. There is a great synergy across this group and they provide each other with strong social support. She starts each of the group sessions with drumming to get them in the rhythm, and then moves on to singing and other activities.
To hear the first half of our discussion, click the audio link:
For the second half, click the second audio link:
To get in touch with Dr. Merrill or the Music Therapy Center at Eastern Michigan University, call 734-487-0198 or visit the website emich.edu/music/therapycenter.
Alan Caldwell and Sheila Doeden co-host Everything Elderly every Saturday morning at 8:30 on 1290 WLBY. In their day jobs, Alan and Sheila co-own and co-manage Senior Helpers, providing in-home care services, primarily to the elderly. Both can be contacted at homecareexcellence@seniorhelpers.com, or at 734-927-3111.