Posted on
Sun, Aug 21, 2011 : 5:59 a.m.
Records show history of neglect, abuse at foster care group homes operated by Milan company
By Lee Higgins
Angela Cesere | AnnArbor.com
Molly Ripley
died and she could do nothing to protect herself.
The 34-year-old was mentally retarded, blind, and had cerebral palsy. She was fed through a stomach tube and depended on employees at the state-licensed group homes where she lived in Washtenaw County to provide her round-the-clock care.
When Molly had a visitor, she squealed or laughed to express herself. But if Molly needed something, she couldn't verbalize it.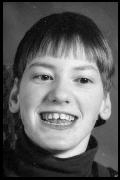 "She never could talk, but she could speak volumes with her smile," said her mother, Jill Ripley, who lives in Ann Arbor.
"She really gave joy to a lot of people if you wanted to let her into your life."
For 14 years, Molly lived at Bateson Residence, an adult foster care facility in Ann Arbor Township, and participated twice each week in a local program that offers activities for the disabled. But on Dec. 8, 2009, Molly had to move out because of a black mold infestation there, a state special investigation report says. After consulting with county health officials, Molly's family placed her that night in Clark Road Home, an adult foster care facility in Ypsilanti Township operated by Milan-based Renaissance Community Homes, Inc.
Five days later, Molly's mother, a retired nurse from the University of Michigan Hospital, stopped by to pick Molly up for a home visit. Molly was slumped over in her wheelchair. She looked "bluish," her eyes were crusted shut and her heart was beating rapidly, her mother said.
"She was gasping for air," Jill Ripley said.
Workers at the home didn't realize Molly needed medical attention, the report says. Molly's family members called for an ambulance and she was taken to the University of Michigan Hospital, where tests showed Molly was dehydrated to the point of kidney failure, medical records say. She had significant bed sores that hospital staff found "were most likely the result of neglect on the group home's behalf," a medical report says. When Molly was turned over in the hospital, her bottom was "black as coal," her mother said.
Helpful links and phone numbers
Want to see if a state-licensed adult foster care facility in your area has violations? Look it up on the Department of Human Services website.
Need to make a complaint regarding the abuse, neglect or exploitation of a resident at an adult foster care facility? Call Adult Protective Services at 1 (800) 996-6228 or fill out the form online.
If you suspect a patient's rights have been violated at an adult foster care facility and want to file a complaint with the WCHO's Office of Recipient Rights, call 1 (734) 544-3000.
Jill Ripley said Molly appeared "totally uncared for."
Two days later, Molly died.
Molly is one of dozens of developmentally disabled or severely mentally ill people to be neglected, abused or otherwise mistreated during the past decade at adult foster care facilities operated by Renaissance, state records show.
Her death certificate says she died of sepsis and pneumonia. The family declined an autopsy.
Records kept by the home show a staff member gave Molly water and fed her on Dec. 13, 2009, prior to Molly's mother stopping by. But under questioning by state licensing officials, the staff member admitted that she didn't give Molly water or feed her that morning, despite initialling on a medication log that she had done so, a state special investigation report says.
Officials also determined staff members failed to seek medical attention for Molly when she was in respiratory distress, did not reposition her as prescribed and failed to relay her needs to other staff members.
State officials cited the home for 5 violations and issued a provisional license, giving it 6 months to straighten things out before another review. No criminal charges were filed and Molly's family members and their lawyer aren't aware of any criminal investigation being conducted.
"It was a slap on the wrist," Jill Ripley said. "It was totally inappropriate. They should have shut the home down."
Details of the case came to light in a lawsuit Molly's family filed this spring against Renaissance, Washtenaw County, the Washtenaw Community Health Organization and a number of other defendants, alleging that neglect led to her death.
Jill Ripley said, "Molly could not talk and I have to be her voice now. I will do whatever I can to make sure justice is served."
A history of violations
Since Jan. 1, 2000, state licensing officials have found 122 violations of adult foster care licensing rules at facilities operated by Renaissance after responding to complaints, state special investigation reports show. The non-profit has 22 active AFC licenses for homes in Washtenaw, Livingston, Lenawee, Hillsdale and Jackson counties, serving some of the state's most vulnerable adults - the developmentally disabled and severely mentally ill. Most of Renaissance's homes have 6 residents.
Investigations have revealed staff members have assaulted patients, left them unattended, stolen from them, failed to monitor their medical conditions and insulted them. Almost half of the violations have occurred in the past three years. During that period, 17 out of the company's licenses - or 77 percent - have been cited for at least one violation after officials responded to complaints.
Despite serious violations at Renaissance's homes, the state rarely has taken disciplinary action against the company's licenses, records show.
And during the same period Renaissance has been cited for scores of violations, the WCHO has been giving it contracts, paying it millions of dollars in Medicaid funds to provide in-home support services for patients.
AnnArbor.com filed a number of Freedom of Information requests with the county, WCHO, the state Department of Human Services and Pittsfield Township Police Department and reviewed more than 900 pages of documents on Renaissance that outline a range of violations. The violations are detailed in state special investigation reports.
Among the violations during the past decade:
April 6, 2010 - A severely mentally ill resident at Steamburg Road Home in Hillsdale, who had been threatening suicide for more than a week, walked away during an outing with other residents and submerged himself in a lake, attempting to commit suicide. Staff members then failed to seek psychiatric treatment for him.
May 7, 2009 - A worker at Oak Grove Home in Howell who was having trouble getting a resident out during a carbon monoxide drill, dragged him by his foot across the floor.
Oct. 10, 2008 - Two employees at North Territorial House in Dexter Township were supposed to take 5 patients to a farm market for cider, donuts and pumpkins. Instead, they went shopping at a strip mall in Brighton and left the patients unattended in a van for 45 minutes in the sun.
March 10, 2008 - A female resident of Clark Road Home was admitted to a burn unit at the University of Michigan Hospital after a staff member put her in a hot shower. She was scalded, suffering injuries including a 2nd-degree burn to her hip. The house's own records showed there were issues with the water temperature for 4 weeks, but the problem wasn't fixed.
Sept. 27, 2002 - A male resident at Bunting AFC Home in Jackson who had a behavioral issue, died after a number of staff interventions during a seven-and-a-half hour period during which he was physically restrained. Licensing officials found an employee who wasn't trained in physical interventions was involved in 3 of them. Officials also found staff members had no record of giving the patient various medications on 5 occasions, gave him other medications but didn't document it and failed to seek medical attention for him in a timely fashion. The Jackson County Medical Examiner's Office was unable to determine the cause and manner of death.

The beating of Corey Ulis

Corey Ulis, 32, who is deaf, mentally retarded and autistic, still signs to his parents about what he calls the bad men in the blue house. When Corey moved in 2004 to Country Lane Home in Pittsfield Township, which was being operated by Renaissance at the time, his parents had high hopes. Corey found an advocate in direct care worker Dwight Seals, who had more than 15 years experience in the industry.

"Even when he wasn't on shift, Dwight would go out there and pick up Corey and take him swimming," said Corey's mother, Caroline Brewster of Scio Township.

But even Seals couldn't protect Corey.

On May 21, 2005, two men who worked at the home took Corey out in the yard, closed a door behind them and beat him, a Pittsfield Township police report says. One staff member witnessed the men taking turns holding Corey up, knocking him to the ground and hitting him, the report says, but admitted she didn't report the attack.

The men responsible were upset because a woman - the mother of one - who had worked at the home was transferred to another facility because she wasn't a good fit for Corey's needs, the report says. One of the men bragged about assaulting Corey, the report shows.

Five days after the beating, Seals reported the incident to WCHO's Office of Recipient Rights, which is charged with protecting patients' rights under the Michigan Mental Health Code. Corey had bruises on his back, hip and face and a large knot on his head, the report says.

"I just can't understand how you could do something like that to somebody," Brewster said.

The 2 men involved were convicted of criminal charges. State licensing officials found that the men used unauthorized force, 2 other staff members failed to intervene and the house manager and house administrator failed to report the attack. The house manager admitted to police he destroyed some of the home's records on the beating, the report says.

Licensing officials cited the home for 6 violations. Thirteen months later, officials returned and cited the home for another 7 violations after a staff member squirted a resident with a water gun, prompting him to get upset and hit another resident.

Country Lane Home is currently being operated by another company.

Since the beating, Corey has suffered from post-traumatic stress disorder and a seizure disorder. Corey sued Renaissance with assistance from his family members and the case was settled. He now lives at the National Deaf Academy in Florida.

"Everybody always thinks Washtenaw County, oh it's the best place and the best care," Brewster said. "That is not true if you have disabilities."

Corey's stepfather, Dennis Brewster, questions why the WCHO continues to give Renaissance contracts.

"We're just worried," he said. "How many more vulnerable adults are going to have to suffer?"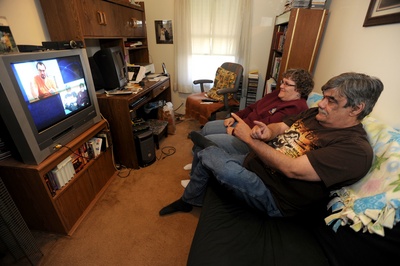 Angela J. Cesere/AnnArbor.com
Little disciplinary action
Under the Adult Foster Care Facility Licensing Act, state officials have authority to take disciplinary action against licensed AFC facilities when violations are "willful and substantial." Such action can include suspending or revoking licenses.
But the state hasn't suspended or revoked one of the Renaissance licenses during the past decade, even in the most serious cases of abuse and neglect.
In all but 4 cases reviewed by AnnArbor.com, the state simply required homes where violations were found to submit corrective action plans, outlining changes that will be made to ensure violations don't happen again.
In the other 4 cases, the state issued provisional licenses, putting the homes on a probationary status for 6 months. Those 4 cases included the neglect of Molly Ripley, the death of the man in Jackson 9 years ago, the beating of Corey Ulis and after repeated violations occurred at the home where Corey was assaulted.
Luttrell Levingston, division director for Adult Foster Care and Home for the Aged, said licensing actions depend on the severity and frequency of the violations and the risk to persons served. He defended the state's handling of the cases, saying when disciplinary action wasn't taken, "the department did not believe it was necessary."
Years of contracts
As Renaissance has been repeatedly cited for violations since 2000, the WCHO had been awarding it contracts, paying it millions of dollars in Medicaid funds.
From fiscal years 2006 to 2010 alone, the WCHO paid the company more than $5.4 million in claims for in-home support services for patients, records show. The money pays for services, including equipment that helps the disabled complete everyday tasks, WCHO officials said.
The WCHO was formed in 2000 as a partnership among the county, the University of Michigan Regents and U-M Health System to "establish an integrated health care delivery system to provide mental health, substance abuse and primary and specialty health care to Medicaid, low income and indigent customers." It advertises on the Web that it contracts with "quality organizations that provide world class health care" for county citizens.
The WCHO is currently paying Renaissance funds for services at Clark Road Home and South Lawn House, both in Ypsilanti Township, and North Territorial House in Dexter Township, officials said.
Patrick Barrie, WCHO's executive director, declined to weigh in on how he thought Renaissance was doing.
"I couldn't tell you that I have sufficient knowledge about their performance as a provider to render an opinion," he said.
He said WCHO can terminate contracts with providers relatively easily, but he's not aware of any discussions to terminate any contracts with Renaissance.
Denise Virgo, director of WCHO's Office of Recipient Rights, which monitors service sites, investigates complaints and helps train care workers, said her office is doing "what we can under the confines of the law" to protect patients' rights. But her office has no control over licensing, she said.
After Ulis was assaulted, the WCHO investigated and made a slew of recommendations, including "firm and fair disciplinary action" against 6 employees, re-training of employees and a meeting with the company's executive director, a WCHO report says.
Shane Ray, supervisor of WCHO's Office of Recipient Rights, said while investigators are concerned about violations, they're equally concerned about what isn't being reported. Many times, investigators suspect there are problems, he said, but simply can't prove it.
"Our goal is for people to call us before something happens," he said.
Making changes
Michael Conner, executive director of Renaissance, said he considers all violations "serious," and the company is working to improve the quality of care it offers residents.
"We try to learn from those violations and not repeat them," he said. "It's an ongoing process."
He said the company has complied with all of the state's requests for corrective action plans in a timely fashion and offered suggestions to improve staff training. Renaissance has struggled with high turnover, which he said is an industry-wide issue.
"It takes a special kind of person to work in this industry," he said. "It's not a glamour industry. It takes a very caring person."
Conner said the company has recently made headway in its effort to retain employees. For instance, he said 80 percent of employees have worked there for more than 6 months, 65 percent more than a year and 25 percent more than six years.
When there's been violations, the company has made changes, he said, including after Molly's death. The staff member who falsely claimed she gave Molly water and fed her was let go because she showed "deliberate disregard" for the truth, Conner said. Molly was moved to the home in an emergency situation and Conner said the company is no longer taking emergency referrals to be better prepared for medically fragile patients.
"A lot of people are very happy with the care they're getting," he said. "And a lot of their family members are happy."
After learning of Renaissance's violations, Ann Kraemer, an ombudsman at Citizens for Better Care, a non-profit that advocates for people in adult foster care facilities in southeast Michigan, said she understands caring for the developmentally disabled and severely mentally ill is challenging. But workers chose that profession, she said. Leadership at facilities and state officials must hold people accountable, Kraemer said.
"What's of concern to me, is the severity of the violations," she said. "It gets me very upset when I hear that residents of foster care facilities are abused repeatedly and little to nothing is done. Where is the public outcry? It just breaks my heart."
Lee Higgins is a reporter for AnnArbor.com. He can be reached by phone at (734) 623-2527 and email at leehiggins@annarbor.com.