Posted on
Mon, Mar 26, 2012 : 5:57 a.m.
Physical exercise and music can both improve brain health
By Alan Caldwell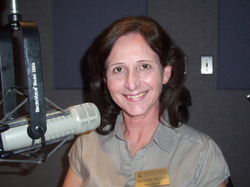 June Smedley, the fitness program director at University Living, visited the radio program this past weekend. We learned more reasons why taking care of yourself has to include physical exercise. University Living is an assisted living senior community that really understand the benefits of physical activity.
June focused on her experience with their residents who have memory impairment. She has seen personally how exercise has helped these people almost immediately. The aerobic activity helps because of the increased circulation to the brain. The coordination required for exercise promotes additional mental stimulation.
While there are lots of equipment choices for exercise, June favors the Nu-Step machines for their residents. It's easy to get on and off, it's simple and safe, and easy to use on your own (and it's built by an Ann Arbor company!).
Assisted living communities have evolved so much, they are not the nursing home facilities where our grandmothers may have lived. June talked about all the fun and interesting activities at University Living.
Many older adults aren't taking good care of themselves living alone at home. They may also be isolated with minimal companionship. At a senior community, families can ensure their loved ones get proper care and enjoy the benefits of social interactions with fellow residents.
June encourages families to visit senior communities and experience what they are really like. Ask about the activities offered, the quality and variety of activities is important. It's really neat that June's mom has lived at University Living for almost two years. She seems really happy there, and June said she loves the Nu-Step.
To hear our 13-minute talk, click the audio link:
To get in touch with June or University Living, call 734-669-3030, or visit their website univliving.com.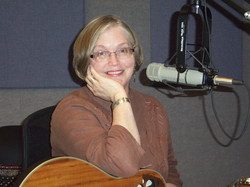 Photos by Sheila Doeden
Dr. Terra Merrill joined us next on the show. Dr. Merrill is a professor of Music Therapy at Eastern Michigan University. Music is an allied health profession and music therapists are board certified. Music therapy addresses "a whole range of holistic needs — physical, emotional, cognitive, and social".
Dr. Merrill is such a wonderful advocate for music emphasizing the many benefits it provides. She talked about the science available now supporting music therapy. MRI scans show how music stimulates and increases brain activity. To optimize the benefits it's best to be actively involved and play an instrument.
Studies also show that just listening to music has social and mood benefits and reduces stress. Dr. Merrill encourages people to bring music into their lives, especially the music of their preference, music you know and enjoy.
She spoke of a group she is working with that has Parkinson's disease. Just last week she played music they all knew, and it clearly helped all their physical movements and they all sang along.
Dr. Merrill brought her guitar to the studio and treated us to some live music. Speaking of familiar music, she played Sonny and Cher's "I Got You Babe", and even had us singing along, definitely a first for our show. She is quite the talented singer and guitar player, clearly very useful in her profession.
More recently Dr. Merrill has been using musical chants in her musical therapy, and she played an example. These are repetitive affirmations that are easy to sing along to. She asks her patients to sing whatever they want to, what is relevant to them.
To listen to this 13-minute discussion, click the audio link:
To get in touch with Dr. Merrill, call 734-487-0198, or go to the website emich.edu/music/therapycenter.
Alan Caldwell and Sheila Doeden co-host Everything Elderly every Saturday morning at 8:30 on 1290 WLBY. In their day jobs, Alan and Sheila co-own and co-manage Senior Helpers, providing in-home care services, primarily to the elderly. Both can be contacted at homecareexcellence@seniorhelpers.com, or at 734-927-3111.