Posted on
Tue, Oct 30, 2012 : 9:58 p.m.
Runners take to the streets to support public art and Proposal B
By Jeff Jackson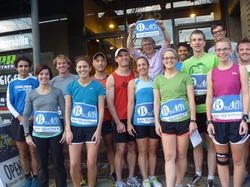 Jeff Jackson | Contributor
Last Thursday evening I put on running gear, pinned a "B4Art" bib on my shirt, and joined twenty or so other people outside the
PR Fitness
studio for a six-mile run through downtown, local parks, and campus, stopping every so often to admire a sculpture, monument, or mural. The
Public Art Awareness Run
was a fun, low-key event to highlight the numerous and diverse pieces of public art in and around our town while also getting in some healthy exercise.
Ann Arbor Public Art Commission (AAPAC) member and fellow PR Fitness runner Bob Miller organized the event, combining his passions for art and running.
"I thought that running from one piece to another would bring new eyes to public art in Ann Arbor," he says, "and give runners an opportunity to run a route they may not have chosen before." He also hoped to raise awareness and support for Proposal B, which he believes will improve the way public art in Ann Arbor is funded.
Currently, public art is funded by the Percent for Art city ordinance, which sets aside one percent of capital improvement projects for art related to those projects. For example, if the city allocated $100,000 to improve a road, then $1,000 would be set aside to purchase public art related in some way to roads. Proposal B would replace Percent for Art with a small millage (about $11 per year for the average resident). If the proposal does not pass, the Percent for Art program remains in place, although the city council has discussed reducing or eliminating it.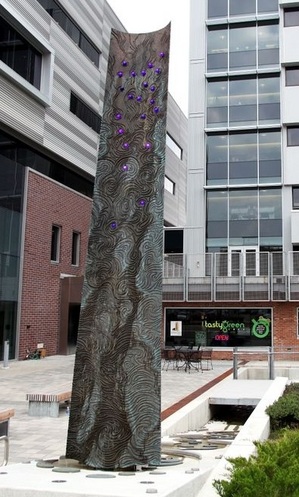 Photo courtesy of Bob Miller
Bob urges city residents to vote "yes" on Proposal B.
"It removes the obligation to link public art to specific projects," he explains, "so the artwork will not have to relate conceptually to the source funding. It would also allow for funding of temporary works like Festifools, and music in West Park or other types of public performances on city owned property."
AAPAC is the oversight body for public art in the city, deciding what art projects to pursue and selecting artists. AAPAC-funded artworks along Thursday's run included the storm water recycling sculpture at Larcom City Hall, the Tree Forms in West Park, and the new installation at Allmendinger Park by Mary Thiefels.
Bob hopes to repeat the run next year with a route that includes more AAPAC-funded works, such as the Argo Cascades and Kingsley Rain Garden. The renovated East Stadium bridge may also be included; AAPAC is soliciting proposals through November for public art at up to three different locations on and near the bridge. Click here to view the Statement of Qualifications for interested artists.

Jeff Jackson | Contributor
Would you like to get involved with public art in Ann Arbor? Investigate working with a task force on an upcoming project within your area. AAPAC holds monthly meetings where public comments are welcome and invited, and
their website
has more information about current and future public art projects.
Questions: Contact Bob via email at bobmiller@reinhartrealtors.com. You can also learn more about the "BforArt" program at www.bforart.com.
Jeff Jackson is a runner, cyclist, and student of Aikido who had no idea there was so much public art in Ann Arbor. He writes the Fitness at 50 blog. His other interests include history, writing and food (especially coffee, bread and chocolate). He can be reached at jeff@fitnessat50.net.