Posted on
Fri, Feb 17, 2012 : 6 a.m.
7 Tips for purchasing a walk-in tub
By Keith A. Paul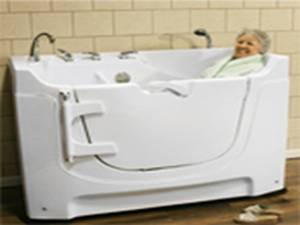 Photo by RaneTubs.com
Hi Keith,
My father lives alone in Pinckney, and I am concerned about his safety. We considered assisted living, and he does not want that as an option, nor do we want him to be there. My biggest challenge for staying at home is the bathroom. His doctor said it will help him physically to take baths often. He does have trouble getting in and out of the tub. Can you share what we can do to help him?
—Janice C., Ypsilanti
Hi Janice,

His doctor is correct. There are many health benefits from proper bathing, and you're smart to consider the safety factor. According to the Centers for Disease Control and Prevention, every 18 seconds an older adult is treated for a slip and fall. The bathroom is one of the most dangerous places for this to occur. But it doesn't have to be that way. There are many products on the market that can help keep your father safe and add to his standard of living at home.
Walk-in tub benefits. Along with slip and fall prevention, walk-in tubs have many other benefits, such as hydro-therapeutic, arthritis relief and a better night's sleep! Purchasing a proper tub is the key. Tub frames vary from narrow to medium and large. Widths can range between 26-36 inches and lengths between 52-60 inches.
Consider an outward swinging door. If you're wheelchair bound, there are tubs on the market that make it easier to transfer to the tub by having the door swing outward, instead of inward as most models do. The outward swinging door is also easier to open while the tub is full (in case of an emergency), unlike inward tubs where the water pressure makes it nearly impossible to open until the water drains out.
A walk-in tub is a lifetime investment. As with most home improvement projects, quality and installation are the utmost important. Many tubs are manufactured with poor quality, such as non-solid or wood frames. These frames can cause stress by expanding or contracting over time. This can cause leaks and warranty issues or over time, perhaps rotting. I prefer aluminum or stainless steel framing because of the rigid superior quality.
Consider rapid water flow. Many of the tubs I've seen take 15-20 minutes to fill with water, leaving many older adults frustrated. If applicable, have a 3/4-inch plumbing pipe installed to reduce fill time.
Be sure the tub has a tile flange. This is the top of the tub that extends along the perimeter of the tub and goes up along the wall approximately half an inch. Lack of a tile flange is a design flaw of many manufactured tubs and can cause a serious water leak issue.
Consider apples to apples. Don't make price the only consideration. What is the cost of an emergency room visit? Prices can vary from $3,000 to $14,000 depending upon the tub and its accessories. Make sure the tub is the right one for you.
Get all warranties in writing. Again, this is a lifetime purchase, and water is involved. That translates into you needing a clear, defined warranty. Ensure that the warranty includes door seal leaks, which is the most common repair. Make sure to identify who warranties the tub: contractor or manufacturer? Many tubs include a 10-year to a lifetime warranty. Keep in mind that the warranty is only as good as the manufacturer and contractor who is installing the tub.
Be sure to discuss with your physician. It is critical to match the tub with your father;s current and long term needs prior to purchase and installation. Handyman Tip: In many cases, there is no sales tax due to the tub being medically necessary with a doctor's prescription.
Relax, enjoy and be safe!
Paul is a State of Michigan Licensed Builder. Paul serves as President and founding member of Nationally franchised HandyPro Handyman Service, servicing Washtenaw, Wayne and Oakland Counties. www.handypro.com. Listen to Paul every Saturday at 11 a.m. on "It's Your Business, Make It Happen" WAAM Talk 1600AM. Email questions or comments to kpaul@handypro.com.