Posted on
Thu, May 20, 2010 : 7:55 a.m.
Ann Arbor ironman Scott Lankton makes architectural art and furniture that endures
By Janet Miller
Photo courtesy of Scott Lankton
Scott Lankton
takes 20-foot bars of cold, hard steel and adds heat, muscle and his artist's touch to forge graceful gazelles, delicate ginkgo leaves, intricate bouquets of roses and much more.
For 30 years, this Ann Arbor ironman has been making custom stair railings, fireplace fronts and screens, furniture, gates and fences, copper range hoods and anything else that can come from steel, 3,000 degrees of heat and a hammer. The last 26 years have been out of his blacksmith shop along Jackson Road.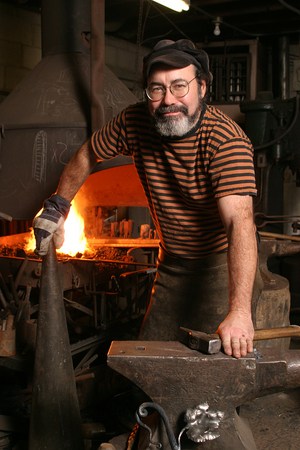 Brad Ziegler | AnnArbor.com
Most of Lankton's
architectural ironwork
is commissioned for homes, usually within a two-hour radius of Ann Arbor, he said. He's had some commercial work along with one commissioned piece - a welded sword - on permanent display at the British Museum in London.
Lankton got his start as a teenager working in a jewelry store. He learned jewelry making in college, which lead to ironworking. He traveled to Germany to hone his blacksmithing skills.
Now, he said, "I'm making big jewelry. A railing is like a big necklace for a house."
Lankton knows that when he tells people he's a blacksmith, they get the wrong impression.
"They think horseshoes. Blacksmiths who make horseshoes are called farriers," he said.
He's never shoed a horse.
Lankton makes things that are practical but also beautiful. While he's done some sculptural work (including two 20-foot twisting ribbons of iron and bronze that hang from the ceiling of Providence Hospital in Novi), most of his work has a functional purpose.
"You need a railing to keep from falling down the stairs or falling off the balcony. You need a table to put things on. I like to enhance the everyday living experience," he said.
He also likes to take a cue from nature. Most of Lankton's designs have an element of nature: An understated railing of braided wheat, a wine cellar door of grapes and grape leaves and a chandelier with squirrels and acorns. He's made a gate with blue herons, an 18th century-era French-style railing of roses and scrolls and a fireplace front of gazelles influenced by early 20th century artist Edgar Brandt.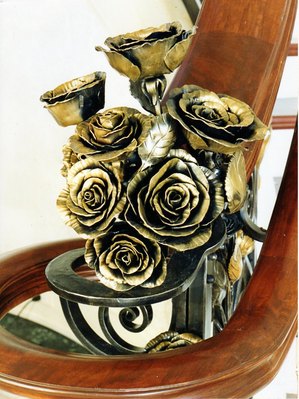 Photo courtesy of Scott Lankton
One railing of flowering dogwood included 1,000 blossoms and an uncounted number of leaves. He worked six years on that project.
Still, his design cover a range of periods, from medieval to Art Nouveau to contemporary, he said.
While he works with bronze, silver and other metals, steel is his favorite, Lankton said. "It's the most forgiving and the most workable."
While Lankton is artist and forger, he also needs engineering skills. Railings and gates need to be made with precision to fit snugly into their space.
"Architectural ironwork becomes part of the building," Lankton said.
He wants to make things that will endure, Lankton said. "Most of society is made up of cheap things that get thrown away. But people still want quality."
That quality comes with a price. His work is labor intense - it takes 10 minutes to make a single iron leaf from a bar of steel with constant heating, pounding and heating again until the shape and the detail come to life.
Tables cost between $1,000 and $10,000 while railings cost between $500 and $3,000 a running foot.
Lankton is known by many names: blacksmith, metalsmith and ironworker, he said.
"One person told me I should call myself a thermo-mechanical manipulator of ferrous materials."