Posted on
Fri, Jan 13, 2012 : 6 a.m.
Modify your bathroom to avoid slip and fall injuries
By Keith A. Paul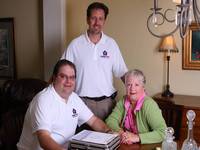 Photo by: Nick Paul
My parents are getting older, but even though they are pretty healthy, I worry about them slipping and hurting themselves in the shower. How can I make this a safer environment for them?
—Brian S., South Lyon
As your parents age, the chances of them getting an injury from a fall does increase. Most injuries from these kinds of falls are hip injuries.
You have good reasons to be concerned, according to the CDC; a large portion of deaths are due to complications following a hip fracture caused by falling. One out of five hip fracture patients dies within a year of their injury.
There are preventative steps to help your parents change that statistic, and bathroom modification products can help reduce the chances of injury.
Grab bars - Give your parents a safe place to steady their balance. To install a grab bar, locate a stud in the shower that is close to the front so it can be used when stepping in and out of the bathtub. If there is not an available stud, you can use a safety grab bar product such as Wing Its. They can be installed directly behind drywall.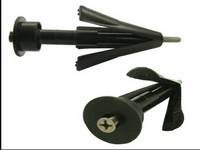 Photo by: Wingits.com
Many accidents occur from using an unsecured and unsafe towel bar as a grab bar. This is very dangerous! Unfortunately, our company continues repairing damaged walls due to the continued use of a towel bar as a grab bar.
You also might want to consider upgrading their traditional bathtub to a walk-in bath, which is safer and allows easier access.
Standing poles - Standing poles are an can be used to effectively transfer on or off of a toilet, bed or chair. Generally, when there is a loss of core muscle strength, those with frailty or disability will use more arm and upper body strength to transfer into or out of a bed or chair. The Allen Pole products (see photo), allows for safety and the ease of additional use of arm and back muscles to assist in leveraging and controlling momentum with the pivot, push/pull sequence of movements.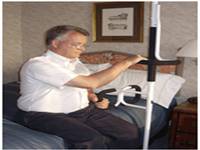 Photo by: BoomerCare.com
Assessing trip risks - Remove area rugs from the bathroom. Although they look nice they do pose a hazard when bunching or folding and can cause your parents to trip over them. Low light illumination of a path for nighttime use will also help reduce the probability of tripping over something.
Toilet safety measures - Purchasing a raised toilet seat for them would benefit your parents if they have difficulty getting up and down from a sitting position. When purchasing, look for one that has color; a white one sometimes makes it difficult to judge depth if a person has poor vision. Installing a grab bar by the toilet is also a good idea for extra safety.
Non-slip decals - Place these in the shower stall or bathtub, as well as on the floor in front of the tub or shower stall. This will increase traction when the floor and tub are wet, which is when the likely hood of a fall is at its greatest probability.
Besides education, the best way to avoid injury is to encourage your parents to eat healthy and exercise regularly to keep the strength in muscles and bones.
With these simple safety measures, you will help increase the safety of your parents' home. I wish them many blessings of a long life.
Paul is a State of Michigan Licensed Builder. Paul serves as President and founding member of Nationally franchised HandyPro Handyman Service, servicing Washtenaw, Wayne and Oakland Counties. www.handypro.com. Listen to Paul every Saturday at 11 a.m. on "It's Your Business, Make It Happen" WAAM Talk 1600AM. Email questions or comments to kpaul@handypro.com.