Posted on
Fri, Mar 2, 2012 : 6 a.m.
Pothole-pocked gravel driveway is driving homeowner crazy
By Keith A. Paul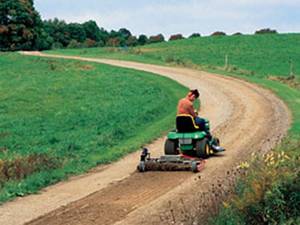 Photo by: drpower.com
Hi Keith,
My wife and I have a gravel driveway, and it is a mess. There are potholes filled with water, and the driveway itself is completely uneven. Although our driveway is only approximately 200 yards, it is ruining the suspension on my car when I continue to drive over the potholes. I have a lawn mower that has a trailer attachment; are there any driveway smoothing products I can attach to help fix the issue?

Thanks,
—Keith S., Dexter

Hi Keith,
Mother Nature has been relentless this winter with gravel roads and driveways. Since the ground has not become thoroughly frozen for a long period of time, the water, snow and ice continue to thaw and refreeze, causing the gravel to become unstable. This creates potholes, resulting in auto repair bills.
There are two good points regarding your question. First, you have tractor, and second, your driveway is not very long, meaning you will not need large commercial grade equipment to help solve your issue.
Before we begin with the equipment, there are a couple of notes to help you. Be sure your driveway has proper drainage. Without proper drainage, the water will continue to accumulate and cause potholes. As your vehicle drives over the potholes, the water and gravel is splashed from the tire, causing the hole to grow larger over time. Many people dig trenches across the sides of the driveway and lay drain pipes to catch the water and divert it.
Verify there is enough gravel on your driveway. If not, add more. The best product I have found is called R.A.P., which stands for recycled asphalt product. This product is inexpensive, compacts very well and drains water efficiently. R.A.P. can be found at most landscaping supply companies. Without the proper amount of gravel your grading efforts will become a major challenge, as if you were scraping dry clay with a fork.

There are a few affordable lawn tractor grading pieces of equipment on the market made specifically for homeowners. They will help you repair and maintain your driveway. They are durable, affordable and can be used on your size of driveway.
The most popular, and one you may seen on TV, is the DR Power Graders, running approximately $1,200 to $1,700. The grader can connect to the trailer hitch of your lawnmower, and is used to literally "scrape" your driveway level.
Depending on the severity, the grader level can be adjusted with a wireless remote to fit the needs of your driveway without getting on and off your tractor. I have a friend who uses this on his half-mile long driveway and, even though it takes a few passes to ensure it is level, he loves the investment. He said that the grader has already paid for itself in automobile repair bills!
If you don't need the wireless remote and want a more affordable product, I've seen the Handozer used successfully.The small grader is available for less than $300 and can be adjusted manually by the spikes or lever crank.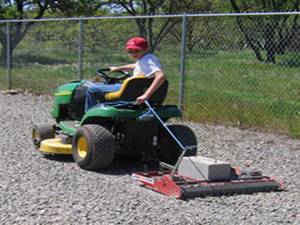 Photo by: handozer.com
Be sure to have a good solid base of gravel, or R,A.P., good drainage and periodic maintenance, and you will have a smooth level driveway for years to come. Enjoy.
Paul is a State of Michigan Licensed Builder. Paul serves as President and founding member of Nationally franchised HandyPro Handyman Service, servicing Washtenaw, Wayne and Oakland Counties. www.handypro.com. Listen to Paul every Saturday at 11 a.m. on "It's Your Business, Make It Happen" WAAM Talk 1600AM. Email questions or comments to kpaul@handypro.com.