Posted on
Thu, Feb 9, 2012 : 9:53 a.m.
Empty-nesters customize their home for first-floor living
By Marcia Lyon
There comes a time when all of the kids are grown and gone and we start to evaluate if our house works for us in this new phase of life.
Parents usually want room for the kids to return for visits, but do not want the home to revolve around them anymore. They look for comfort, ease of getting around and usually minimizing stairs.


PROBLEM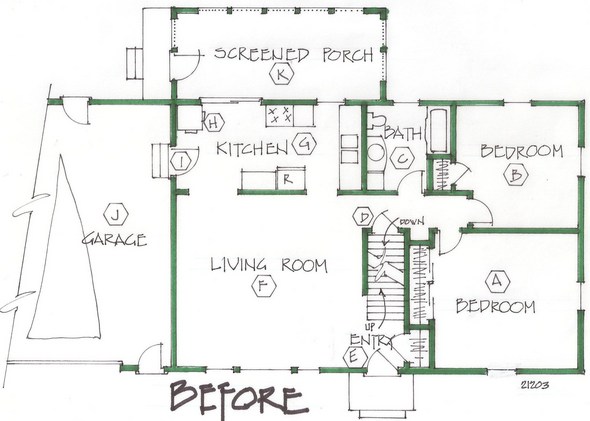 This house once housed two parents and three kids. A second floor (not shown) has two bedrooms and a hall bath. The main floor has the same — two bedrooms (A & B) and a hall bath (C).
The laundry was in the basement (D), requiring more stair climbing.
The entry (E) is simple and small, opening up to the good sized living room (F).
The challenging part of this house was where most of the activity is — the kitchen (G). This kitchen was chopped up and not great to cook in. There was a tiny table (H) shoved up in the corner for dining. The door (I) from the garage (J) enters right into the kitchen with no closet or place for stuff.
A nice screened porch (K) was potentially a nice place to spend time in; however, it was used for storage.
The house felt static — boxy and uninteresting. The homeowners wanted a
family room addition
to create two places to be. This is especially important when two people retire so that they can escape each other from time to time.
They also wanted to live completely on one floor, closing off the upstairs except when children return to visit.


SOLUTION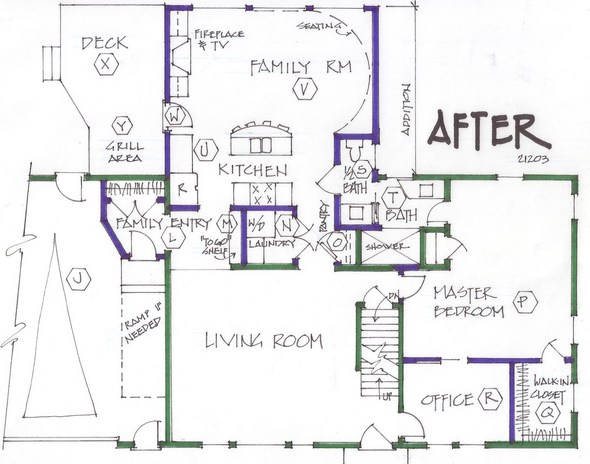 These people were in fine physical health and stairs were not a problem, however they wanted to plan (just in case).
I first wanted to create a family entry (L) by bumping out into the garage. This provided a step with a landing in the garage, and a bit of room to remove and hang coats. This landing could be extended in the future to create a ramp.
The family entry extends into the house with more space and a long, narrow "To Go" shelf (M). This backs up to a new laundry closet (N). A pantry style closet (O) is on the other side of the hall.
The living room (F) remained the same. But I worked with the two first floor bedrooms (A & B) to create a single, larger master bedroom (P). There was room to create a walk-in closet (Q) AND an office (R) that is accessed off the bedroom and the front entry.
The bathroom transformed into a compartmentalized bath that works as a half bath (S) and a bathing room (T) with a large walk-in shower.
The new kitchen (U) is not much bigger than the previous one, but it functions better with an eat-on island, and the cook facing the new family room (V). This family room was designed with a seating area that would somewhat face the cook.
A single glass door (W) takes traffic out to a deck (X) with an area for grilling (Y).
Marcia Lyon is a professional remodeling designer and freelance writer, producing projects locally and several other areas across the U.S. and Canada. Her new book on remodeling design, "The Essential Planner for Home Remodeling," is available at www.creatingspaces.net. You may contact her at Marcia@creatingspaces.net or at 515-991-8880.