Posted on
Thu, Mar 8, 2012 : 10:02 a.m.
Home with no proper entrances drives owners crazy
By Marcia Lyon
The way we (ourselves and our family) enter our houses is kind of a big deal. If our path is blocked or crowded, it can add strife to our lives.
The way our guests enter is another matter. In many ways, this initial entry into someone's home creates a lasting first impression.
The public entry doesn't have to be huge, but large enough to welcome people and allow them to remove their coats (if applicable), without doing a lot of backing up or maneuvering.
PROBLEM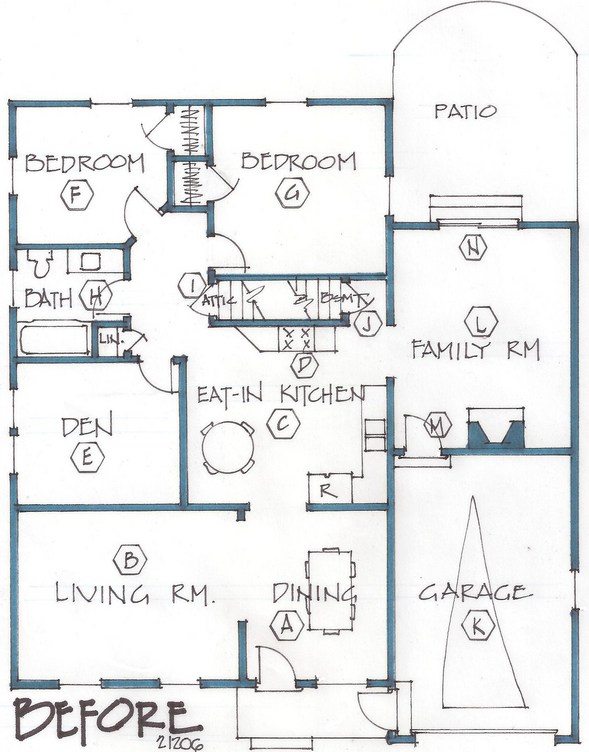 I've seen a lot of houses in my career, and I have to say that I was surprised by this one. Lots of small houses have the front door enter right into the living room, but in this house, it was the dining room (A). There is no transitional space at all. A modest living room (B) is right off the dining room. With this more than casual entry, there is a view into the kitchen (C) with a direct view of the range (D).
The home is supposed to have three bedrooms, but since one (E) doesn't have a closet, it is termed a den. The two bedrooms (F & G) have tiny closets and minimal space. The hall bath (H) is the only bathroom, so it is shared with guests.
Narrow stairs (I) lead to a storage-only attic (I) and an unfinished basement (J) where the laundry lives. Original to the house, the one-car garage (K) initially had no inside entrance into the living space. At some later date, a family room (L) was added — good, but not good enough. Now the family entry is right through this family room. The only outdoor access is through this family room, through sliding glass doors (N) out to a patio (O). This set up is not great for kids playing outside, or when food is brought out to grill. This family consisted of two children, both desiring their own rooms. The homeowner wanted a bigger bedroom and more closet space, but didn't feel they needed a separate master bath. Clearly the entrances and the kitchen were a disaster. The only place they could build an addition was out the back, and the proposals the homeowners had contemplated were grossly inadequate. Once again, a space miracle was needed!
SOLUTION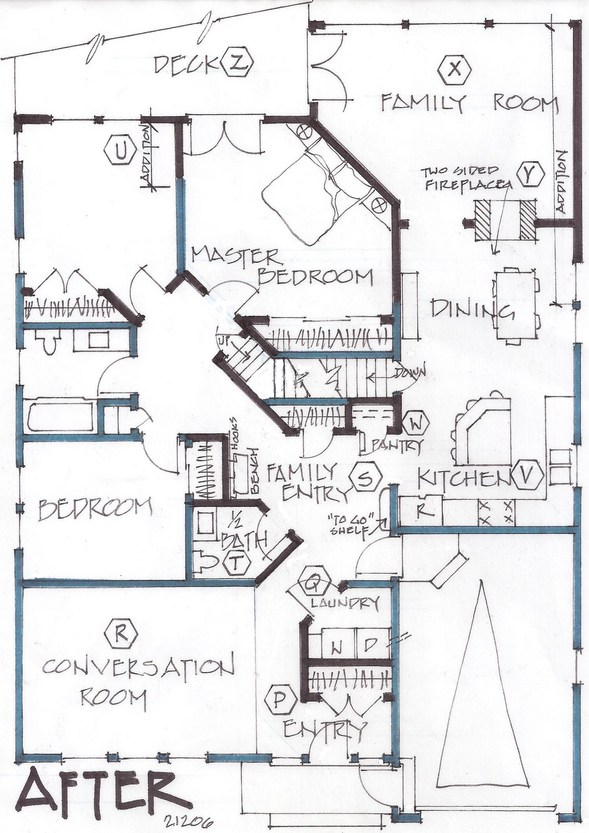 Starting with the front entry (P), I claimed dining room space for a closet and a bonus laundry room (Q). The living room walls were taken down and the room converted into a conversation room (R). The former kitchen became a fantastic family entry (S); complete with coat closet, bench, hooks and a "To Go" shelf. A new half bath (T) miraculously appeared, and I even swiped some space to add a closet for the bedroom (E). The stairs up and down had to be modified, but all of this continued an attractive theme of angled walls. We added about 8 feet off the back (U), which greatly improved bedroom (F) and the master bedroom (G). A good closet and French doors are features of the master. The new kitchen (V) moved into what was the family room (L). It is perfect, right off the family entry (S), plus we added a closet style pantry (W) there. The old family room (L) was extended to include a dining room and even a new family room (X), separated by a two-sided fireplace (Y) with raised hearth, so it can be seen from the kitchen. A new deck (Z) provides the outdoor living aspect missing from the house before. The parents can even slip outside to have wine on the deck in the evening.
Marcia Lyon is a professional remodeling designer and freelance writer, producing projects locally and several other areas across the U.S. and Canada. Her new book on remodeling design, "The Essential Planner for Home Remodeling," is available at www.creatingspaces.net. You may contact her at Marcia@creatingspaces.net or at 515-991-8880.