Posted on
Thu, Feb 16, 2012 : 9:30 a.m.
Missed Valentine's Day? There's still plenty to celebrate in February, from spunky old broads to expecting success
By Judy DiForte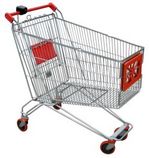 If Valentine's Day blew by you in a blur of lace doilies and truffles, take heart. It's not too late to prepare for other festivities this month.
Did you know that February is National Return Shopping Carts to the Supermarket Month? I don't think Hallmark knows about it yet, because there's no section for this at the card shop. Bad news: You'll have to design your own greeting cards. Good news: Dinner reservations should not be a problem.
It is also National Spunky Old Broads Month! I wish I'd known about this ahead of time so I could have taken full advantage of the 29 days… but I do have a couple weeks left to plan activities.
If there weren't already enough to celebrate, it's also National Pull Your Sofa off the Wall Month! My calendar is filling up here, what with returning carts and pulling sofas…
February is also Laugh-Friendly Month and National Canned Food Month, so do plan accordingly.
What started me researching all these designations was hearing that February is International Expect Success Month. I thought it timely, since most New Year's resolutions tend to sag a bit by now. I know I could use some inspiration 45 days after resolving to get into a size 8 by the end of March.
Now, with the ides of February shrinking in the rear view mirror, not much has shrunk in the closet mirror… except the hope of reaching my goal. Can I get an "amen"?
Karla Bandeau, of iexpectsuccess.com, says, "Expect success, and then work as if there is no other option."
I'm glad she said that second part, because expecting success alone ain't gonna cut it. For one and a half months, I expected the heck out of losing inches, and it did not occur. What was missing? "Work" comes to mind almost immediately.
According to About.com, work is defined (in calculus terms) as the integral of the force over a distance of displacement. In the case of a constant force, work is the scalar product of the force acting on an object and the displacement caused by that force. Though both force and displacement are vector quantities, work has no direction due to the nature of a scalar product (or dot product) in vector mathematics.
In my case, this means that not enough force acted upon the object in question, largely due to a misunderstood scalar product. In other words, I didn't lose weight because I didn't get off my asymptote.
If force is displaced constantly and vectorially into the expectation, you're good. But if force sits on the couch eating Fritos, it will not go anywhere. It will sit there lumpily. You know, in that little way that expectations have.
This is physics, people.
Okay, I'm giving myself a second chance at this. I will keep you posted on my re-energized goal of bodily reform, but it's not going to be a piece of cake. I just found out that August is National Panini Month…
Judy DiForte is a professional organizer for the Betty Brigade, an Ann Arbor-based concierge company specializing in relocation, organizing and event planning. She welcomes your comments here or emails at judy@bettybrigade.com.