Posted on
Tue, Jun 22, 2010 : 11:27 p.m.
Some welcome summer visitors the 'rude' family
By Rick Meader
Rick Meader | Contributor
They're brash, colorful, and stick around longer than you'd expect. They like to hang out in your yard, soaking up rays. They attract bugs but don't necessarily smell good. I'm talking, of course, about the Rudbeckias, or more commonly known as "the Susans". Black-eyed Susan (
Rudbeckia hirta
) and Brown-eyed Susan (
Rudbeckia triloba
) are two outstanding plants for sun or partial shade, are easily grown, and are most definitely welcome visitors to any yard. Their two kin aren't bad either.
Black-eyed Susans (Rudbeckia hirta) are one of the most familiar summer native plants around. You can't help but find them in open areas or open woods, in fairly dry to mesic, fairly rich to somewhat sandy soils. A member of the Sunflower family (Asteraceae), they grow to about 2-3 feet high and have a load of flowers about 2-3" wide, with bright-yellow ray flowers surrounding a brown central cone of disk flowers. It blooms from about now through late August-September. It's a biennial and has fairly long, narrow ovate leaves with little hairs on the leaves and along the stems. In the summer, it attracts many bees and butterflies seeking nectar and in the fall, the little seeds are eaten by birds. This plant is not only native to Michigan, but the entire continental United States (except for Nevada and Arizona) according to the USDA Plants database. According to the University of Michigan-Dearborn's ethnobotany website, this plant was used for a huge variety of uses, including use as a bath for sores, to earaches, to treating worms in children.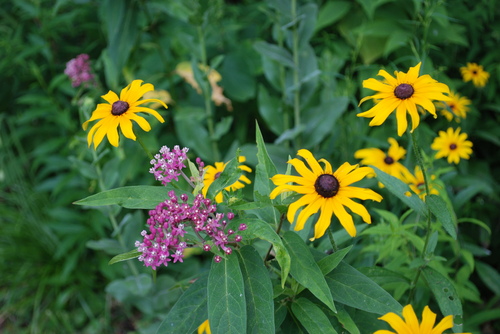 Rick Meader | Contributor
Brown-eyed Susan (
Rudbeckia triloba
) is truly one of my favorite native plants. Its flowers are similar to Black-eyed Susan, but are only about 1 ½" across and the plant is more upright. When in bloom, this plant puts out tons of flowers, so one plant is a burst of color. It blooms a little later than Black-eyed Susan, from July into late September/October. If you have one you're likely to have more in the future as it self-seeds well. This plant grows to about 3' tall, is also a biennial and has leaves that aren't as long as Black-eyed Susans but are about twice as wide. This plant also has a wide range, but not as wide as Black-eyed Susan. It is not only native to Michigan, but the entire eastern United States (except for Maine, New Hampshire and Rhode Island) and west to Utah, according to the USDA Plants database (http://plants.usda.gov/java/profile?symbol=RUTR2). It does well in sun and partial shade, as I can personally verify, from my lightly shaded front yard and sunny mini-prairie.
Green-headed or Cut-leaved coneflower (Rudbeckia laciniata) is the big brother of the family, but wouldn't pose for my camera. Preferring moister conditions than its Susan sisters, it can grow to 5-8' tall in sunny conditions, and is a fairly aggressive spreader, using seeds and rhizomes to increase its range. (In Europe, it's considered an invasive alien.) It also can grow well in partial shade, but hasn't gotten as tall in my drier, shadier front yard as its relatives that receive roof runoff and more sun. It also has yellow ray flowers around a darker center, but the cone at the center is more green than black or brown. The seeds of this plant are also eaten by some birds.
Last, but not least, is the Rudbeckia that is most sold in the nursery world, Rudbeckia fulgida, which is sold as Black-eyed Susan, but whose common name is actually Orange Coneflower. The plant sold in mainstream nurseries is a cultivar, which, interestingly enough, was selected by a German nurseryman from a collection of native American Rudbeckia fulgida var. sullivantis in a Czechoslovakian nursery. He chose it for its bright color and propagated it under the name 'Goldsturm' (Golden Storm). The straight species is native to Michigan, and most of the eastern United States, and, according to the USDA Plants Database, is limited to the southern portion of the state. Its leaves are deep green, and fairly ovate, coarsely toothed in shape. The flowers are about 3" wide, and the ray flowers are a bright yellow-orange surrounding a large black cone. The plant is fairly bushy in nature, reaching 2-3' in height. If your neighbor shared some Black-eyed Susan plants with you, it's likely to have been this plant.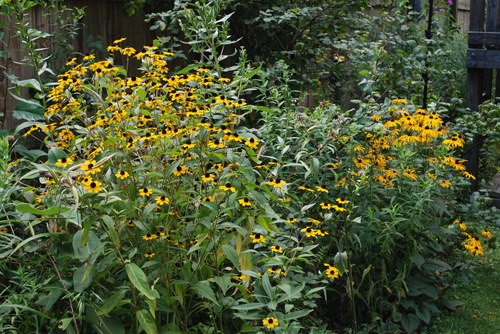 Rick Meader | Contributor
So, if you're looking to brighten up your yard and increase its attractiveness to butterflies, you might want to invite some members of the Rudbeckia family to take up residence in your garden. They won't wear out their welcome!
Blooming in my yard this week are: Black-eyed Susan, False sunflower, Spiderwort, Solomon's Seal, Common milkweed, Swamp milkweed and Butterfly milkweed, and White Avens. Fruiting in my yard this week are Mayapple, Black raspberry, Barren strawberry and Wild strawberry. Enjoy nature, everyone!
Rick is a local landscape architect with a special interest in all things natural, including native plants and the critters that eat them. You can contact him at yourland1824@gmail.com.