Posted on
Fri, Mar 4, 2011 : 10 a.m.
Simple repair trick for loose stairs
By Keith A. Paul
Photo by: FHBuilder
I was walking down my stairs to the basement and noticed my stair had some movement. After looking underneath, it appears the boards on either side of the stairs are pulling away from the stairs itself. Is there a kit available or something I can do to repair the problem?
-Marian S. Ann Arbor.
One of the first HandyPro managers was a highly skilled master carpenter, and he taught me a relatively simple repair trick that we continue to use today to help others in the same situation. The good news is you don't have to be a master carpenter to repair this issue.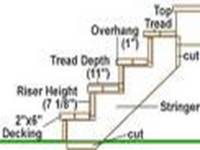 Photo by RenovationsExperts.com
Typical stairs are made up of treads, risers and stringers (as seen in photo). Over time the stringer(s) can pull away from the treads and risers. The danger is that the loose parts can affect the integrity of the entire stair-case.
What we need to do is to pull the stringers inward and re-secure all parts.
Here's what you'll need:
1. One 3/8-inch threaded rod (two can be used for extra wide stairs and will be joined by a turnbuckle. Be sure one rod is reverse threaded.).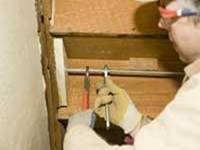 Photo by oldhousejournal.com
2. 2 - 1-inch washers
3. Two bolts
4. Two pieces of block wood
5. Wood screws and Wood glue
6. A drill with a 7/16-inch drill bit
7. A pair of adjustable wrenches
Drill a hole in the stringers about three inches from the tread and in the center of the stringer underneath the stairs, as seen in photo. This will allow you to run the threaded rods through both ends. Apply wood glue along the gaps and edges of the stairs and where the stringers meet for additional support.
The stringer has an inside slot which the riser and tread fit tightly into called a "housing".
Attach the nuts and washers on both external sides of the stringers. Carefully tighten so that the riser and tread fit tightly into the housing. A second person maybe needed to help with this process.
Screw and glue a wooden block to the stringer, underneath either side of the tread for additional reinforcement.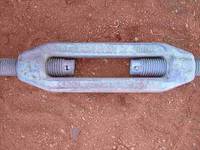 A turnbuckle.
Photo by ABB Karratha's
Depending on the severity of the gap, you may have to install more than one rod above or below, as needed.
For extra wide stairs use the same process, except connect the two rods together with a turnbuckle, see photo. Using a wrench, turn the turnbuckle to bring the stringers together until they are straight and re-supported.
This process can be unsafe if not done correctly, so be sure to call a professional if you feel uncertain.
By asking your question, I am confident that you have helped other readers solve a common problem with imminent dangers.
I'd also like to dedicate this article to our former manager who taught me this procedure, as he has since passed. His kindness and knowledge is surely missed. Farewell Mark C!
Paul is a State of Michigan Licensed Builder. Paul serves as President and founding member of Nationally franchised HandyPro Handyman Service, servicing Washtenaw, Wayne and Oakland Counties. www.handypro.com. Listen to Paul every Saturday at 11 a.m. on "It's Your Home, Let's Talk About It" WAAM Talk 1600AM. Email questions or comments to kpaul@handypro.com.