Posted on
Thu, May 13, 2010 : 5:54 a.m.
Urban Ashes saves dead trees from the mulch pile to make picture frames, fine custom furniture
By Janet Miller
Photo courtesy of Paul Hickman and Urban Ashes
For
Paul M. Hickman
and his new
Urban Ashes Collection
of functional art furniture and picture frames, dead urban trees are just the beginning.
The Ann Arbor fine furniture maker, graphic and commercial artist and architectural designer has always tried to use reclaimed lumber - from dead city trees, discarded barn wood, logs found in the river, telephone polls and more - in his custom designed furniture business.
Over the past year, Hickman has launched Urban Ashes, a line of fine made-to-order furniture and ready-made and custom picture frames using only Michigan urban wood. He finishes the collection in organic lacquers, water-soluble aniline dyes, low-VOC paints and other non-toxic coatings.
For now, the frames are made by fabricators and mostly finished by Hickman, and are sold at Pictures Plus frame gallery in the Westgate Shopping Center. The number of stores carrying the frames is expected to expand soon, Hickman said.
Urban Ashes offers ready-made frames in traditional sizes in natural wood using ash and less commonly felled city trees such as box elder, Kentucky coffee tree and silver maple.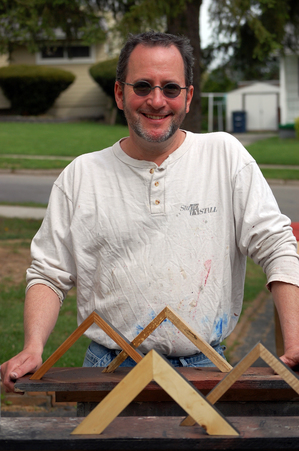 Janet Miller | For AnnArbor.com
Many of the frames have an aesthetic texture, such as the serpentine trails created by the emerald ash borer beetles and the ribboned and tiger stripes of the silver maple. He also offers ready-made frames made of ash that are painted black with worn corners for a weathered look. It's these he hopes to mass-produce and sell at a large Michigan retailer.
Cost of the ready-made frames (not including glass, mounting, etc.) run from $15 to $32. Cost for the higher end, custom frames is between $15 and $20 a foot, he said.
The supply line for Urban Ashes will always be unpredictable, Hickman said.
It depends on what trees have been felled. He buys most of his wood from the Recycle Ann Arbor's ReUse Center, the retail outlet for Urbanwood, a cooperative project between the nonprofit Southeast Michigan Resource Conservation and Development Council and Recycle Ann Arbor. They offer a range of species not found at conventional stores, from black walnut to hickory to birch.
Hickman's fine furniture under the Urban Ashes banner is functional art, but stays true to the Urban Ashes name by using only repurposed wood. He designs dressers, chests, beds, tables and more.
"I do everything but seating," he said.
His designs have an Asian influence, often have tapered legs and sometimes reflect a deco look. Hardware is generally exposed and part of the overall design and much of it is post-industrial. His Raw Line within Urban Ashes leaves the wood unfinished and incorporates steel and concrete into the design.
Building green doesn't stop at using urban wood and eco-friendly finishes.
Hickman salvages the steel and uses an eco-friendly concrete, using fly-ash and slag, waste byproducts from the coal and steel industries, to replace some of the Portland cement and stone in the concrete. The result is a 20 percent replacement of concrete's traditional natural raw materials with waste byproducts.
Hickman leaves the fabrication to a cabinetmaker, but usually does the finishing work. "My design skills are way beyond my fabrication skills," Hickman said. All of his furniture is commissioned.
While most of Hickman's furniture is custom ordered, he will have four pieces for sale at 16 Hands gallery in downtown Ann Arbor next month, he said.
It's not only about urban trees. Urban Ashes is an early-stage venture that seeks to repurpose features of Michigan's urban blight, Hickman said. Within a year, he wants to tap into displaced, transitional labor, such as from the state's prison system, and house a commercial operation in a vacant warehouse.
"Urban Ashes transforms these unclaimed resources to produce what could be considered a commodity of interior design, the basic wooden picture frame. A for-profit startup with a decidedly economic development bent, Urban Ashes seeks to do good by doing well," he said. "Especially for the frames, there is a high potential in the commercial world."
The company has the potential to generate a profit and stimulate the local economy through sustainable business practices, he said.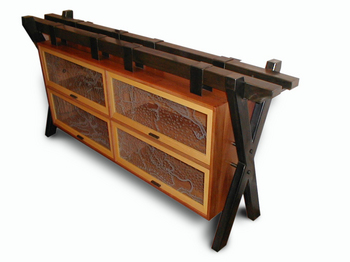 Photo courtesy of Paul Hickman and Urban Ashes
Hickman has been designing furniture since the mid-1990s. "It's functional, but borderline sculpture," he said.
He designed a cabinet for a rare Civil War book collection that was inspired by the chests carried in ancient times that transported a wealthy man's possessions. The glass of the chest is carved with the battle map of the Civil War battle of Shiloh, the favorite battle of its owner.
"It's personalized furniture," Hickman said. "I want your grandkids to be fighting over my furniture."
Cost for Urban Ashes custom furniture starts at between $800 and $1,000 for a simple table. His most expensive piece was sold for $26,000.
His Urban Ashes lines is a long ways from the commercial art Hickman has done in the past, including making three-dimensional commercial graphics for the Walt Disney Company and Mattel's Barbie doll and producing a display at the Bellagio Hotel in Las Vegas.
While he's moved toward sustainable art, he is able to meld it with commercial art: Hickman recently designed a six-foot cross that holds a sword in the movie "Jinn," filmed on the campus of the University of Michigan this spring. He used urban black cherry to make the piece.
Visit Urban Ashes at www.urbanashes.com.