Posted on
Mon, Aug 22, 2011 : 12:32 a.m.
Virgin's Bower: A showy native vine with an overpowering presence
By Rick Meader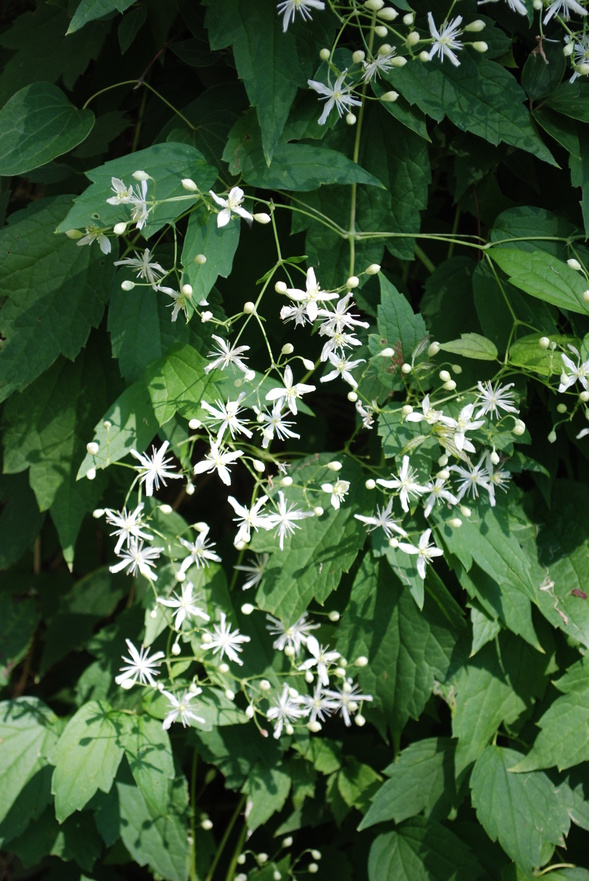 Rick Meader|Contributor
Many people have non-native Clematis in their yard as a showy, colorful member of their garden family (including me). The color they provide is outstanding, and their vines can cover a decorative piece of metal sculpture or an ugly mailbox pole like nobody's business.
Virgin's Bower (Clematis virginiana) is a native member of that family whose flowers may not be as large, but whose overpowering presence can dress up your yard, too.
First, the facts. Virgin's bower (aka Devil's Darning Needles or Old Man's Beard according to the Lady Bird Johnson Wildflower Center website) is a native vine most often found in moister settings, such as along stream banks or in floodplains. It does well in a range of soil and light conditions, but it doesn't do well in coarse soils like sand and gravel.
It is a member of the family Ranunculaceae (in English, the Buttercup family), and is therefore kin to buttercups, columbine anemones, delphiniums and meadow rues.
It has toothed leaves in sets of three along the vine, which twists itself around other plants to support itself. It is actually quite an aggressive grower and has successfully reached every nook and cranny of my tomato garden and covered my non-native clematis to such an extent that it has reduced their blooming a great deal.
On the positive side of this domination, it forms a beautiful cascade of small (one-inch in diameter) flowers with five petals, now and into the fall, which change into showy, feathery seedheads after the petals are long gone). You can even find them in the winter.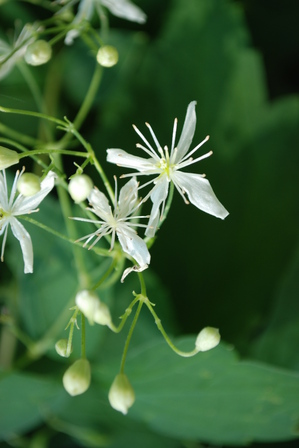 Rick Meader|Contributor
It is native to the eastern half of North America, from the Dakotas to Texas and eastward, and is found throughout most of the counties in Michigan, according to the USDA Plants database.
It's a beautiful flower, and I'm happy to have it in my garden, but if you add it to yours, expect to wield the shears and pull it frequently, because it is a spreader. Another positive is that it attracts butterflies and hummingbirds.
On the downside, it's toxic, so don't eat it. This toxicity led to its use by the Iroquois to induce strange dreams (I don't understand or condone this, I just report it). Uses by the Cherokee included an infusion (with milkweed) for treating backache and an infusion from the roots for kidney.
The University of Michigan-Dearborn website lists a total of 10 uses, although I am sure there are many more by tribes other than the Cherokee and Iroquois, since it is so widespread and showy. If you have room for it to grow, and would like to enjoy its showy, cascading carpet of white flowers in your yard, go out and buy some for yourself. It is available from most native plant nurseries in the area.
This week, blooming in my yard are Virgin's Bower, Brown-eyed Susan, Green-headed Coneflower, Grey-headed Coneflower, White Snakeroot and Nodding Wild Onion. It's the calm before the aster and goldenrod storm. Get out and enjoy nature, everyone!
Rick is a local landscape architect with a special interest in all things natural, including native plants and the critters that eat them, who enjoys designing and visiting gardens with native plants. You can contact him at yourland1824@gmail.com.