Posted on
Fri, Feb 24, 2012 : 5:50 a.m.
Send us pictures of your snow day
By Elizabeth Edwards
A good snowfall is a rare thing this winter, so we want you to help us document this one.
While you're shoveling, sledding or just enjoying the winter wonderland created by Friday's snowstorm, take a few pictures and send them to us.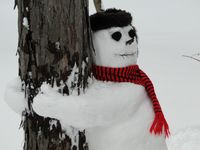 Do you have snow-day traditions?
Whether you plan to ski, make a snowman, or enjoy some warm chocolate chip cookies inside, take a picture and share it with us.
Send us photos from your snow-day by posting them on our Facebook wall, by tweeting at us (@annarborcom) or by emailing us at news@annarbor.com.
We'll post the photos we receive in a gallery on the site.