Posted on
Thu, Aug 1, 2013 : 11 a.m.
Helping senior citizens stay safe online
By Kristin Judge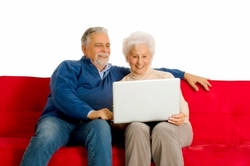 "Image courtesy of Ambro via FreeDigitalPhotos.net"
My parents came to visit recently, and it was interesting to see how digitally connected they were. My mother was just getting her first smartphone, and she has recently started texting on a regular basis. Also, her iPad Mini was never far from her side.
According to Cool Infographics in B2B Marketing & Technology, 35 percent of seniors 65 and older are on Facebook. Seniors are also falling prey to online scams at an increased rate. The Internet Crimes Complaint Center (IC3) recently released its 2012 Internet Crime Report. Seniors did not fare well in 2012.
According to the report, more than 1,100 people 60 and older reported falling for intimidation/extortion scams, losing more than $3 million collectively. Another 1,975 people in the same age range fell victim to auto fraud, losing more than $10 million.
Remember that these are just the cases reported to IC3 in 2012; many other victims are probably not reporting these crimes. The negative impact to seniors is two-fold: they have the stress of falling victim to crime, and they suffer financial loss, which can have severe consequences, as many are on a fixed income.
If you have seniors in your life who use the Internet, take some time to have a discussion about what the dangers are and how to avoid being scammed online. Resources are available for you to get the conversation started.
The Washington State Office Of Attorney General has a great resource page for seniors, pointing out that seniors may be more vulnerable because of their lack of computer and Internet skills, and tendency to be more trusting. The State of Delaware Department of Technology & Information has an award-winning Cyber Security Resource Website with information on the latest scams, and many resources including videos.
The Multi-State Information Sharing and Analysis Center (MSISAC) recently published the newsletter, "Keeping Senior Citizens Safe Online", which suggests what seniors need to look out for and provides safety tips.
Older Americans should be wary of the following types of emails, websites, or social media messages that:
Offer "free" gifts, prizes or vacations, or exclaim, "You're a winner!"
Offer discount prescription medications or other "can't miss" deals.
Appear to be from friends or family members, but the message is written in a style not typically used by that person, has numerous misspellings, or otherwise seems unusual. This is an indication your friend or family member's account may have been hacked.
Appear to be from official government agencies, such as the Social Security Administration, or banks requesting personal information.
Set ultimatums such as "your account will be closed" or "the deal will expire" to create a sense of urgency, and trick the victim into providing personal information.
Today's Quick Tips to Share with Seniors:
These come from the Michigan Attorney General Senior Brigade Online Safety Resources:
Never trust a link sent to you by someone you don't know.
Never trust an email that asks for personal information.
Never believe that someone you don't know is going to give you money.
Foreign lotteries are illegal in the United States. You cannot win no matter what they say!
Someone who wants you to wire money back is giving you a counterfeit check.
The smarter scams often contain text warning you against fraud.
Check if the website you are visiting is secure by looking for https//.
The Michigan Senior Brigade offers free presentations across the state on issues of Identity theft and online safety. Check out www.seniorbrigade.com for more details.
Kristin Judge is the executive director of the Trusted Purchasing Alliance, a division of the Center for Internet Security. She can be reached at kristin.judge@cisecurity.org.