Posted on
Thu, Mar 29, 2012 : 11 a.m.
The 'Internet Generation' needs adults to get involved in online safety
By Kristin Judge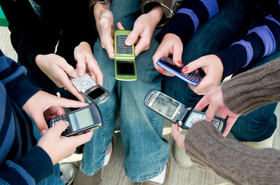 Parents of the first "plugged-in" generation have challenges our parents never even imagined. It can be a part-time job to keep track of our kids' social media accounts, texting, gaming and computer usage.
Whenever I present to an audience about online safety, I start by reminding them that the Internet is not a bad thing. It is a wonderful tool and source of entertainment when used appropriately. Cars are also a wonderful tool and source of entertainment, but we need a driver's license before operating one.
Think of Internet usage like you do driving privileges. As a child gets older and more mature, they get more privileges.
Just forbidding our kids from going online is not a realistic option for most of us. Their textbooks, class assignments, grades and ability to make plans with friends are all connected to the web. So, we need to find a way to embrace the technology in the safest way possible.
The bottom line is that parents need to be involved in their children's online life.
Even though it can be intimidating, parents can't bury their head in the sand because they feel overwhelmed by this issue. Our children need us to be engaged now!
Here are some places to start today:
Educate yourself

Understand what is available online and where your kids go. Some parents get a Facebook account and "friend" their child. The account can be linked to an adult's email address, so emails are sent to an adult each time there is a new post.
Learn the popular sites your kids visit and visit them too. Learn how to set privacy settings on social networking sites, gaming programs and cell phones.
Visit these sites and keep them as a resource:

Set limits

Depending on a child's age and maturity level, parents can set limits and talk with kids about what sites they can and cannot visit. Make sure the family computer is in an open location and children are supervised when they are online.
Talk to kids about inappropriate conduct, contact, and content. With the privilege of using the Internet comes the responsibility to act appropriately. Cyber bullying is a real concern, and parents need to have the conversation about the consequences of being mean to others online.
Use web filters on your home computer to restrict sites your children visit. If your child has a smartphone, he or she can get to the Internet from that device as well, so you need to be aware of what they are doing on that device. Web access can be limited on most phones, so that may be an option if necessary.
Teach your kids to Stop.Think.Connect.

"Stop.Think.Connect." is the "Smokey the Bear" national campaign for safe Internet use. Critical thinking skills can be taught using this campaign as the base. Kids can be taught to think about when it is ok to share personal information and when it is okay to connect to a site.
Check up on them regularly

Learn how to check the history of activity on your kid's computer. See what sites they have visited. Check their phone history, text messages, IM and social media sites often. Ask them to show you so they know you are monitoring them.
React quickly if a child is in danger

Our children can be exposed to many risks online, including predators. If you think a child is in immediate risk or danger, call your local law enforcement agency. The National Center for Missing and Exploited Children has a 24/7 Cyber Tipline. Contact them to report child predators: www.cybertipline.com or 1-800-843-5678.
Today's Quick Tip (QT):
Be engaged in your child's online life. Educate yourself and use the resources available to help set age-appropriate limits. Understand that the Internet is now a part of our lives and our youngest citizens need adults to help them navigate it safely.
To get more information about staying safe online, including access to free monthly newsletters, webcasts and more, visit the Center for Internet Security at www.cisecurity.org. Stay tuned for our next chat!
Kristin Judge is the Director of Partner Engagement for the Center for Internet Security, Multi-State Information Sharing and Analysis Center. She can be reached at kristin.judge@msisac.org.