Posted on
Thu, Feb 9, 2012 : 3:28 p.m.
Where are the most romantic places in Washtenaw County? Tell us!
By Elizabeth Edwards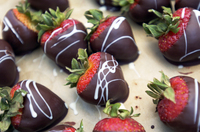 With
Valentine's Day
quickly approaching, marking the day is on the minds of many area residents.
Sure, it's delightful to give and get gifts or small tokens of appreciation. But for many, it's about that special place that really brings the time spent together on that day (or any day) really meaningful.
Since the setting is such a key element in celebrating the day, and your loved one, we're interested in hearing about those places in Washtenaw County that you find romantic.
Whether they are places that we might expect, like a wood bench at a local park to watch the sunset, or the porch seating of a restaurant trimmed with twinkling lights - or more unique venues that hold meaning, we invite you to share your experiences.
Send your name, a description of that place, and why it is romantic to you to news@annarbor.com, and we'll compile a map of the most romantic places in Washtenaw County that will be published next week.
Writing a sweet message to your loved one is a simple, yet classic, way to celebrate the day.
We want to help you share your expression of love! Post a short message (50 words or less) to your loved one on our Facebook wall, and we'll compile all of them and post them on our site on Valentine's Day.
What a sweet surprise it will be when your Valentine discovers the message!