Posted on
Fri, May 21, 2010 : noon
Pioneer High School student starts online charity
By Jenny Serwach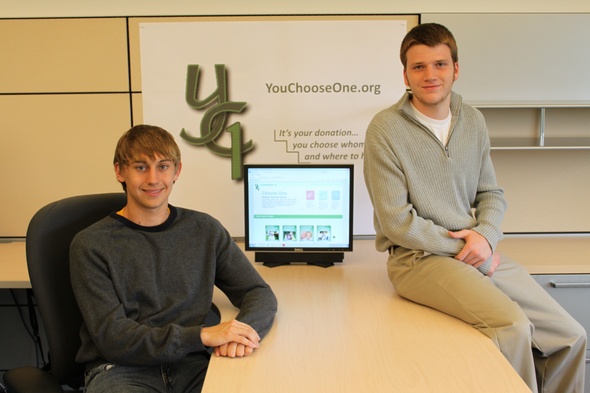 Photo courtesy Chris McGlothlin
The idea for Damian McGlothlin's new charity is, oddly enough, similar to online movie rental business Netflix.
The Pioneer High School junior wanted to start a charity where people could use a website to donate, picking and choosing where their money went - like how Netflix allows folks to choose a movie to rent online.
By creating YouChooseOne.org, he's made that vision a reality.
"When Damian was 13 or 14 and we were living in Kentucky, I donated a check to the Red Cross to help out the victims of the tsunami in Asia and my son asked where that was money was going and wondered why you couldn't pick and choose who you donate to," said Christopher McGlothlin, Damian's father and the chief information officer for Ann Arbor-based Domino's Pizza Inc.
YouChooseOne.org is a not-for-profit organization recognized as tax-exempt under Internal Revenue Code section 501(c)(3). The way the website youchooseone.org works is simple: Users create an account then log in to read descriptions of people they can donate money to.
Currently on YouChooseOne.org, for example, visitors can read a profile about an elderly couple having trouble paying rent due to the difficulties of having to pay for cancer medications. Donating to YouChooseOne.org is unique because users choose exactly who they donate to - such as the elderly couple - and exactly what their donation helps with.
Finding a way to make YouChooseOne.org into a not-for-profit organization was a challenge, Damian McGlothlin said. Since typically donations to individuals are counted as gifts instead of charitable donations, making the donation process anonymous was essential to making the idea work.
Domino's web designers Eric Sweetland and Jeff McCrumb helped with the website design and privacy to help make the YouChooseOne.org a more secure place for people to make donations. McGlothlin's friend, Brandon Pederson, a junior at Dexter High School, also helped develop the site and serves as its outreach coordinator.
Perhaps surprisingly, finding people to donate to was a challenge. McGlothlin worked with organizations like the Hope Clinic in Ypsilanti and Friends in Deed in Ann Arbor to find and screen people who need help and put their stories on the site.
The identity of people profiled on the site is kept private and thus their real pictures and names are not included.
"Friends In Deed has received assistance from YouChooseOne.org for three families. Thanks to this assistance, we were able to help these families resolve a critical emergency in their lives." said Helena Prince, executive director of Friends in Deed.
One of the families YouChooseOne.org helped was a 61-year-old woman who had to take a medical retirement due to stage three inoperable lung cancer. She and her 62-year-old husband were forced to choose between the wife's medication and their rent, because they did not have sufficient income for both. Thanks to funds provided through YouChooseOne.org and Friends In Deed, they will not have to make this choice while they wait for her Social Security Disability to begin in June.
Although the site currently focuses on helping people just in Washtenaw County, McGlothlin hopes to expand it in a few years and plans to continue working on YouChooseOne.org for years to come.
"It's pretty tough to balance promoting the site with SATs and ACTs and soccer and everything, but the fact that it's online makes it easier to manage," McGlothlin said.
Jenny Serwach is a student studying journalism and political science at the University of Michigan-Flint and is a summer intern at AnnArbor.com. She can be reached at jennyserwach@gmail.com.