Posted on
Sat, Aug 14, 2010 : 8:01 a.m.
Neve Campbell, Matthew Lillard spotted at eve the restaurant
By Jen Eyer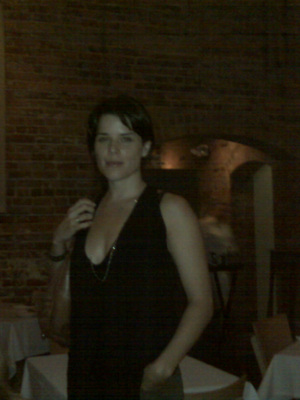 Photo courtesy of Lori Milliman
Patrons of
eve the restaurant
on Thursday evening may have noticed a couple of famous faces in the corner of the room.
Neve Campbell, in town to film "Scream 4," shared a quiet dinner with fellow actor Matthew Lillard, said Ann Arbor resident Lori Milliman, who was also there that evening. Lillard is in the Detroit area filming Home Run Derby.
"We tried to take pics, but she covered her face two times, and then we decided to leave her alone for the rest of the evening," Milliman wrote in an email. "As she was leaving the restaurant, my friend caught her attention and we asked if we could snap a picture. She obliged. I honestly think she was surprised we didn't jump up and get in it with her!"