Posted on
Sun, Dec 12, 2010 : 5:30 p.m.
Guide to the Ann Arbor area's best sledding hills
By Edward Vielmetti
The first storm of the 2010 sledding season arrived on December 12. To celebrate, here's last year's guide to sledding, updated throughout.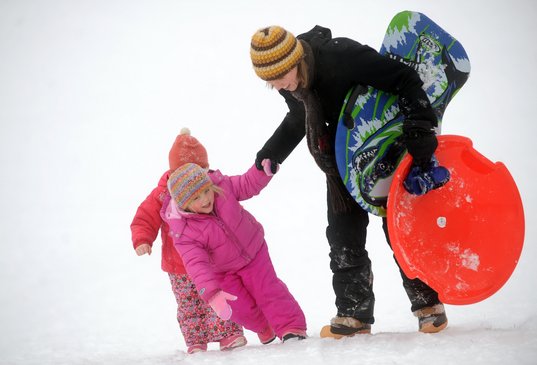 Melanie Maxwell | AnnArbor.com
From the poem, "A Primer," by Bob Hicok in The New Yorker, May 19, 2008:
February is thirteen months long in Michigan. We are a people who by February want to kill the sky for being so gray and angry at us. "What did we do?" is the state motto.
What do we do in winter? We go sledding.
Here's a list of sledding hills, arranged with the steepest, scariest, double black diamond runs at the top and the bunny hills at the bottom. For each one that I know about, I've also suggested a place to go afterwards for hot chocolate and a bathroom for the kids.
Scary steep double black diamond
None; blame the glaciers.
The big hills for the county
The Huron Hills Golf Course, 3465 E. Huron River Drive, 734-971-6840, is the mother of all sledding hills in Ann Arbor. During the summer it's a municipal golf course; in the winter, the long slopes down toward the river draw in legions of sledding enthusiasts. If you pick the right spot you can get some air off of a sand trap. It's located at Huron Parkway and East Huron River Drive just south of the Huron River. Park across the street and walk carefully across at the light. Call ahead to see if the clubhouse will be open. Hot chocolate: north to the Flim Flam in the Plymouth Road Mall, or south to Panera Bread at Huron Parkway and Washtenaw.
Rolling Hills County Park, 7660 Stony Creek Road, Ypsilanti Township, 734-484-9676, has sledding and rents toboggans and sled tubes as well as ski equipment. Operated by the Washtenaw County Parks and Recreation Commission, it's located at the southern edge of Ypsilanti Township. Warm up in the lodge there after you're done. For county residents, a daily pass is $5, and an annual pass is $25.
City parks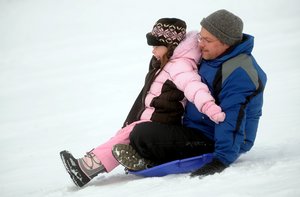 Melanie Maxwell | AnnArbor.com
Each of these hills provides good neighborhood sledding facilities - you wouldn't drive across the county to get there as a destination, but they make a great place for a short trip or a walk with your sled.
West side: Veteran's Memorial Park (Maple Road) is a great west side location. There are bathrooms on site in the ice rink, and you can head over to Barry Bagels or Plum Market afterwards for a snack.
Old West Side: Slauson Middle School field (at Crest Street). This is a school playground with a long, gentle slope that brings in kids from the whole neighborhood. It's in a residential neighborhood and there are no facilities nearby, but downtown is only a few blocks away.
Northwest side: Hunt Park (Sunset between Spring and Daniel) is a long valley to enjoy with a great view of the city.
Central: Burns Park (between Granger and Wells) features "Magic Mountain", a curious knoll of unknown origin that provides a modestly steep but short run. Your closest facilities are at Caribou Coffee at Stadium and Packard.
East side: County Farm Park (Platt Road between Washtenaw and Huron Parkway) has meadows which make for good, gentle sledding; it's near the Meri Lou Murray Recreation Center, so you could warm up with a hot shower afterwards.
North side: Leslie Park (off Dhu Varren) has a sledding hill with a great view over Leslie Golf Course; it would be a good trip to pair with a visit to the Traverwood branch of the Ann Arbor District Library.
Ypsilanti: Riverside Park is visible from the Cross Street Bridge in Depot Town and is very popular with the locals. Warm up afterwards at the Sidetrack for adult beverages, or at Cafe Luwak for hot chocolate.
Saline: Mill Pond Park has a good sledding hill in the northeast corner of the park.
Bunny hills
For the preschool set, these locations feature gentle slopes and slow speeds.
Crary Park (Washtenaw at Cambridge in Ann Arbor) has a hill suitable for an active 3-year-old; the park is only 1.3 acres and the slope is easy to walk up. When you're done, warm up a few blocks away at the Common Cup at 1511 Washtenaw Ave., in the basement of the University Lutheran Chapel.
Mushroom Park is a 1.54-acre neighborhood park located between Waltham and Saxon off of Scio Church Road with a slope suitable for preschoolers. Afterwards, make a trip to the Pittsfield branch of the Ann Arbor District Library, or head toward town to the Espresso Royale at South Main Street and Ann Arbor-Saline Road.
Don't go there
The playgrounds at Ann Arbor Open (Mack School) and at Northside Elementary are unsuitable for sledding due to obstacles at the bottom of the slopes.
Sledding is forbidden in Nichols Arboretum.
It's always a bad idea to go sledding down the middle of a street, unless the street has been blocked off for the purpose.
Edward Vielmetti learned to sled in the gully at Al Quaal Recreation Area in Ishpeming, MI. You can see him at the top of Magic Mountain in Burns Park, squinting off into the distance to look at Michigan Stadium and trying to catch a ray of winter sunshine. Contact him at edwardvielmetti@annarbor.com.