Posted on
Tue, May 25, 2010 : 11:10 a.m.
Our neighborhoods: South University as seen from McDivitt-White Plaza
By Edward Vielmetti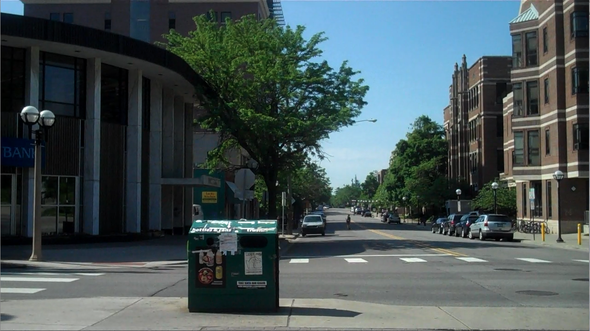 Edward Vielmetti | AnnArbor.com
On Tuesday I spent the morning observing the McDivitt-White Plaza in Ann Arbor, which is located at the corner of South University and East University avenues. It was named after astronauts James McDivitt and Edward White in 1965 to honor their efforts on the Gemini IV mission, a trek which included the first spacewalk.
NASA has additional information on Gemini IV. The astronauts were greeted by Mayor Wendell Hulcher, Governor Romney, and President Harlan Hatcher in a triumphant entrance to Ann Arbor which included a motorcade from Willow Run Airport. Over 2 million people had greeted the astronauts in Chicago, according to this Toledo Blade story from June 15, 1965.
A patio of brick pavers on the plaza is surrounded by unadorned concrete walls, suitable for sitting on. There are nine large square planters, so far without any obvious use either for vegetation or for seating. A campus map, permanently mounted on a pedestal, has a detailed building map of the area for the lost or the curious. At the eastern edge of the plaza, a dozen metal patio tables provide seating for Espresso Royale Cafe.
This ERC is on a location that has seen other businesses; I remember it as an Amer's Mediterranean Deli and as a Cava Java. When I first visited town it was a Baskin-Robbins, serving an unimaginably large 33 flavor variety.
Businesses in this part of town start summer hours when the students leave. Espresso Royale closes at 11 p.m., not midnight, and opens an hour later on Saturday and Sunday.
There are as many bicycles going through this intersection as there are cars. A delivery went by on a Bullitt brand cargo bicycle, with a cargo tub in front as I watched this morning. Many people who are on their bicycles are not wearing helmets.
The green streetside recycling container is full of stickers. "Take Back Ann Arbor from Developers and Corporations," reads one; "Lost Pig," is another. Every sticker has a URL on it, but neither marketing effort managed to close the online-offline marketing loop by creating a web page that was easy to find when you type in the words on the sticker. Ann Arbor - where stickers matter.
The bank on the corner now says PNC Bank. In the past years, it has been a series of banks, the detailed history of which is not enshrined anywhere obvious; I can trace back through National City Bank and First of America before my memory fades. The rounded mid-century modern design is distinctive. I wish I knew more about the building.
Town or gown? Definitely gown. Everyone looks like a graduate student, or perhaps someone who is teaching graduate students.
At 9:30 a.m. there's enough shade that your laptop doesn't have sunshine beating down on it.  Two other people on the patio have laptops out, and two more are writing or marking up manuscripts.
The 6-foot-tall glass historical display shows South University with a bunch of ragtag hippies marching in protest in 1968. Frozen in glass, they represent both the protests that rocked campus in that era and the mercantilist aspirations of the commercial businesses that grew up to support them. There are a total of four "History of South University" displays along the street.
Alan Glenn is working on a history of Ann Arbor in the 1960s in film form:
"Modern Major Films is currently at work developing a documentary film about Ann Arbor in the sixties, with a working title of, straightforwardly enough, Ann Arbor in the Sixties. The film will cover what historians would call "the long sixties," in this case the years 1960-1975, approximately. It will chronicle the contentious transformation of a small Midwestern town of stern German heritage, proudly embodying the conservative ideals of mid-century middle America, into an epicenter of social, political, and cultural radicalism in just a few tumultuous years."
If you went to University High School in 1959 and then didn't come back for 50 years, the landscape would look different. The 50th reunion of University High School happened last year, and the classes of 1956 through 1959 have put together a collection of memorabilia with yearbooks and photographs of that time.
Edward Vielmetti watches bicycles go by for AnnArbor.com. Contact edwardvielmetti@annarbor.com.