Posted on
Tue, May 8, 2012 : 4:40 p.m.
EMU reassessing dismissal practices after mistakenly sending notices to 7,700 students
By Kellie Woodhouse
Eastern Michigan University is "assessing and evaluating" its student notifications after GradesFirst, a third-party communications provider, mistakenly sending roughly 7,700 students dismissal notices Friday.
EMU Director of Communications Walter Kraft said the dismissal email was intended for 133 students but due to "some sort of operational issue" GradesFirst sent it out to a much larger group.
The school originally thought the dismissal email went to the entire 23,500-member student body but further investigation revealed that about 7,700 students received the notice.
"They apparently caught it as it was happening," Kraft said.
"As a result of your Winter 2012 academic performance, you have been dismissed from Eastern Michigan University," the original Friday email states. "Any enrollment for upcoming terms will be cancelled and you will be ineligible to register for classes."
EMU sent its entire student body —including the rightfully dismissed students— multiple apology and clarification emails on Friday and Saturday, including one from university President Susan Martin, who called the dismissal emails "a terrible mistake" that caused "undue alarm and concern."
The 133 rightly dismissed students were sent additional emails and hard-copy letters confirming their dismissal.
EMU currently has a $15,000-per-year contract with the Alabama-based company.
"Their role is to help us get out communications like this and help us manage the list of people who would receive messages about their academic standing," said Kraft, who added: "They contacted us fairy early as this was happening on Friday and apologized."
EMU spokesman Geoff Larcom said it's "still to be determined" whether the school will continue its relationship with GradesFirst.
"We're discussing and evaluating the entire process and how it could be improved in order that nothing would happen again," Kraft said. EMU has fielded dozens of complaints and inquiries from students and parents "with questions about what happened and just trying to find out if it was indeed accurate," he added.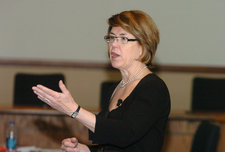 "It was devastating," said EMU sophomore Desmond Miller, vice president of the college's student government. "Our emails were just flooded with students concerns, their questions. It was really a hectic day once that happened."
John Vergo was one of many individuals affected by the misfire who posted on EMU's Facebook page afterward.
"My girlfriend had gotten this email and was crying uncontrollably for 2 hours. We couldn't get a hold of anybody and she was in terrible pain," he wrote. "We take our education very seriously and it was a great relief to get this email from the president."
Added EMU student Renee Walton: "I don't think it is really that serious. I am an Honors College student and received the email. I knew it was an error as I know my standing."
Miller said many of the students he spoke with that received the email were "actually on the Dean's List."
"It truly was a glitch in the system," he added. "It's terrible that it happened but it did happen and we were able to reassure students that it was a mistake."
Kellie Woodhouse covers higher education for AnnArbor.com. Reach her at kelliewoodhouse@annarbor.com or 734-623-4602 and follow her on twitter.