Posted on
Thu, Dec 9, 2010 : 12:30 p.m.
1940: Tom Harmon becomes 1st Michigan gridder to win Heisman Trophy; Fritz Crisler takes blame for team's only loss
By James Dickson
Courtesy: Bentley Historical Library
Editor's note: This Week in Ann Arbor History looks back at notable moments from the city's past
.
Seventy years ago today, after the end of the 1940 Michigan football season, two-time All American halfback Tom Harmon became the first Michigan man to win the Heisman Trophy. Now considered the most prestigious in college football, the Heisman was only in its sixth year of existence at the time. Then, as now, it was awarded by the Downtown Athletic Club in New York City.
Only two other Michigan men have been awarded the Heisman: Wide receiver Desmond Howard in 1991 and cornerback Charles Woodson in 1997. Harmon is the only one of the three with his jersey retired by the football team.
Harmon left Michigan as college football's all-time scoring leader, topping Illinois' Harold "Red" Grange, who played two decades earlier.
Michigan's equipment manager Henry Hatch announced before Harmon's final game against Ohio State that he was retiring Harmon's number 98 jersey. Harmon followed up that honor by producing his best game, a 40-0 blowout over the Buckeyes, in Columbus. The halfback's performance was so singularly dominant on both sides of the ball that the Ohio State faithful gave him a standing ovation as he left the field. No Michigan football player has been so honored at Ohio Stadium since.
But Harmon's star shone beyond college football. The same day he won the Heisman he was chosen outstanding male athlete in an Associated Press poll, beating out the next closest vote getter, "Hammerin'" Hank Greenberg of the Detroit Tigers, by more than a 3-to-1 margin. Men from 10 different sports were eligible for the award.
Harmon wasn't the only Michigan gridder who had a big week. The day after Harmon brought home his stiff-armed hardware, a number of his former teammates, including 1941 captain-elect Bob Westfall and receiver Harlin Fraumann, dressed in drag for a show at the Lydia Mendelssohn Theatre called "Take A Number." In the custom of Michigan Union Opera shows of the time, the play was all male.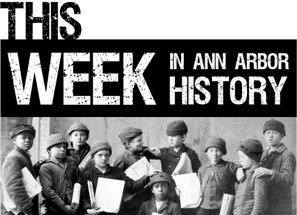 December 9, 2010
Ann Arbor historian
Grace Shackman
wrote about the all-male shows, which ran from 1908 to 1955, in a May 2004 piece in the
Ann Arbor Observer
.
Take A Number, Shackman wrote
, "was modeled on the draft lottery, which set up boy-girl meetings in the Arb."
That very day, quarterback Forest Evashevski, an outgoing senior who had captained the 1940 grid squad, was chosen in a campus-wide election to play the part of Santa Claus at the Interfraternity Council's third annual Christmas party at Hill Auditorium. More than 700 classmates voted for Evy, as the gregarious gridder was known, who beat out a crowded field of fellow Big Men on Campus. Evashevski had performed in the Michigan Union Opera show alongside Harmon that February but opted for the role of Santa Claus in December.
The only blemish on Michigan's 1940 season was a 7-6 loss to Minnesota, part of the "Minnesota jinx" of head coach Fritz Crisler's early years at Michigan. (Crisler was head coach of Minnesota in 1930 and 1931 before being lured away to Princeton, where he was coaching when lured away to Michigan. Crisler lost his first five Little Brown Jug games before winning the next five, finishing .500 against the Golden Gophers.)
At the Heisman ceremony Crisler took the blame for the Minnesota loss, which propelled the Golden Gophers to a national championship. As an Associated Press story explained, a small coaching decision might have made all the difference: "Crisler said he had permitted Harmon to use short cleats, instead of long ones, on a soggy field. This caused Tommy to slip in the mud on his touchdown attempts."
Minnesota won the national championship that year under head coach Bernie Bierman. Michigan took second place in the Big Ten and third place nationally, behind Minnesota and Stanford.
James David Dickson can be reached at JamesDickson@AnnArbor.com.