Posted on
Thu, Mar 31, 2011 : 5:57 a.m.
40 years of Hash Bash: Marijuana festival started in 1972 in Ann Arbor stands test of time
By Ryan J. Stanton
Angela J. Cesere | AnnArbor.com
When
John Lennon
came to
Crisler Arena in December 1971
to headline the now-famous
"Free John Now"
benefit concert, Ann Arbor poet and activist
John Sinclair
was about a quarter of the way through serving a 10-year prison sentence for possession of two joints.
Three days after the rally, Sinclair was released from prison after the Michigan Supreme Court ruled the state's marijuana statutes were unconstitutional.
"I went to prison for two and a half years to overthrow the old laws," Sinclair, 69, recalled during an interview this week. "And my appeal succeeded in establishing that marijuana was not a narcotic and that 10 years for possession was a cruel and unusual punishment."
Sinclair, who lived in Ann Arbor from 1968 to 1975 and now splits his time between Amsterdam and Detroit, became a marijuana martyr of sorts, and his case helped fuel a movement. On April 1, 1972, stoners united on the University of Michigan Diag in Ann Arbor for the first Hash Bash, a countercultural cannabis celebration now in its 40th year.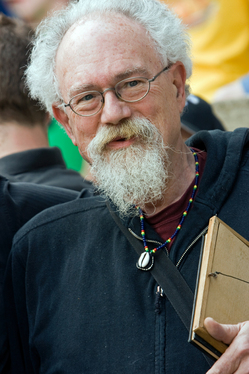 Photo courtesy of Glenn Hieber
As the story of the first Hash Bash is told, the state's new marijuana statute wasn't going to take effect until after the weekend, so for a brief time there was no cannabis law on the books.
"We kind of wanted to have the Hash Bash to defy this law," Sinclair recalled, adding that's when the state reclassified marijuana as a controlled substance and lowered the penalties for possession from 10 years to one year, and for sales from 20-to-life to four years. "We didn't think that was far enough."
Sinclair and others got behind two candidates from the Human Rights Party who were elected to the Ann Arbor City Council in April 1972. They quickly spearheaded an effort to reduce the city penalty for possession of small amounts of marijuana to a $5 civil infraction, essentially decriminalizing weed in Ann Arbor. That remains the case today, except it's now a $25 ticket for first offenses.
"That totally changed the scene in Ann Arbor, to the point that I know people who used to walk up to cops and try to get that ticket written, and you couldn't get a cop to write that $5 ticket," said Adam Brook, organizer of the Hash Bash for the past 20 years.
Thousands are expected to descend on the Diag on Saturday for the 40th annual Hash Bash. As in years past, the rally starts at high noon and goes until 1 p.m., then spills over to the Monroe Street Fair where live music and vending are on tap. Later in the evening, Sinclair is expected to perform poetry and music with the Macpodz at the Blind Pig.
Brook is expecting a larger crowd than usual this year, possibly as many as 10,000 if the weather cooperates. He's predicting a jump in attendance due to increased public interest and media attention surrounding medical marijuana issues.
In addition to Sinclair, this year's speakers list includes former Republican governor of New Mexico Gary Johnson, who is launching a presidential bid and supports legalizing pot.
Hash Bash over the years
In its prime, the word-of-mouth gathering attracted more than 10,000 participants, but attendance at Hash Bash has varied over the years. Last year about 5,000 came out.
Chuck Ream, an Ann Arbor cannabis activist and medical marijuana dispensary owner, said he was at the first Hash Bash in 1972 and has been to just about every one since. He came to Ann Arbor in the fall of 1970 to get a master's degree in counseling at U-M.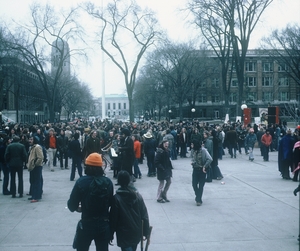 Photo courtesy of Jim Huff
"The Hash Bash is a celebration of the culture that we formed in the late 1960s that was based on love rather than materialism," Ream said. "It laid out a way that humans could adapt and survive on the planet and live in a joyful and sustainable way, and cannabis is the substance of that counterculture because cannabis makes you live in the now."
Ann Arbor Mayor John Hieftje, who graduated from high school in 1969, recalls taking part in a number of the earliest Hash Bash festivals in the days of his youth.
"I grew up in Ann Arbor. That was a fun thing to do in the early 1970s, as you might imagine," he said. "There was definitely some shock value to it in the early years."
Ream said Hash Bash probably would have died out in the 1980s if not for activist Rich Birkett, who kept it together and pulled in High Times magazine.
Brook arrived on the scene in the late 1980s and assumed a lead role in organizing and emceeing the event. He said Hash Bash has evolved into more of a political rally.
"The rally became very much a political thing in the '90s, where in the '70s and the '80s it was a party," said Brook, who lives in Royal Oak today.
Brook said Hash Bash came under attack in the 1990s when U-M launched its own police force and began more aggressively enforcing state marijuana laws on campus.
"You have to understand that Hash Bash is a smoke-in. People are going there to smoke a joint," Brook said. "Now, why do we warn people that it's not the place to smoke a joint? Well, because the university now has their own police force, and they'll arrest you for smoking a joint, and that is how Hash Bash has changed. But for years we didn't even need a permit. All you had to do was show up on the Diag, smoke weed — it wasn't a problem."
Diane Brown, a spokeswoman for the U-M Department of Public Safety, said if people think Hash Bash is some sort of amnesty day where campus police will look the other way, they're wrong — pot smoking won't be tolerated on campus.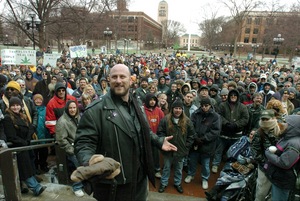 File photo
While Ann Arbor's lax penalties may apply elsewhere in the city limits, campus police will enforce state law on university property, and state law says marijuana possession is a misdemeanor crime punishable by one year in jail and up to $2,000 in fines.
"The university is supportive of free speech and the right to express ideas, and as long as that is what is happening on campus on the Diag, then everything will be fine," Brown said. "Unfortunately, this event has tended to attract people who take it another step further than just a mere expression of ideas and they start engaging in illegal activity, and that can't happen."
Hash Bash organizers sued the university five times in six years in the 1990s after the university made attempts to crack down on the festival, including denying permits, Brook recalled. He said the fight only made the festival stronger in the end.
"We got huge in this country doing Hash Bash. It's the largest, most-unadvertised event in the country," he said. "Hash Bash is going to happen no matter what happens."
Cultural change
Now that medical marijuana has been legalized in Michigan, Hash Bash has become more of a celebration in the last two years.
"If you see and feel the enthusiasm of that day, it's a great celebration of independence," Ream said. "There's a tremendous sense of joy and exhilaration about having created something ourselves that is fun and beautiful and has the right message for the future."
Ream, a retired kindergarten teacher and former Scio Township elected official, said he stayed behind the scenes for many years, but more recently he's emerged as one of the leading voices in the medical marijuana movement in Ann Arbor.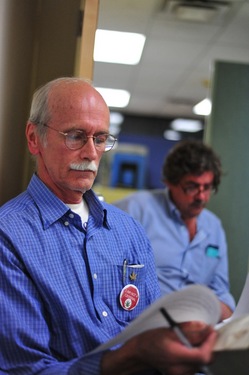 Ryan J. Stanton | AnnArbor.com
"You just can't teach kindergarten and get real involved in cannabis politics," he said. "But since 2004, I've been working as hard as I can to make up for every moment that I lost."
In November 2004, Ann Arbor voters overwhelmingly supported a city charter amendment to allow growing and using marijuana for medical purposes with a physician's authorization. Michigan voters approved the statewide medical marijuana act in 2008.
Hieftje said voters have spoken loud and clear where they stand on the issue, and the city is working collaboratively with activists on access to medical marijuana. The City Council is finalizing two ordinances to allow dispensaries to operate under a set of regulations drafted with respect for the rights of patients and caregivers in mind.
When Hieftje talks about marijuana, he comes off sounding like an advocate for total legalization, though he acknowledges he has concerns about the potential for increased use among teenagers.
"But some of the reports I've seen show that we're spending billions of dollars and we're still incarcerating people for marijuana," Hieftje said. "I would guess that if you had a referendum in the United States, a majority of people would say we shouldn't be prosecuting marijuana anymore. All of the efforts that the United States government has taken haven't made a difference, so you have to look at the practicalities of it."
Sinclair said the original goal of Hash Bash was total legalization, and he's still hoping to see that happen in his lifetime. For now, he's a state-registered medical marijuana patient.
Sinclair continues to perform poetry all over the western world with different musical ensembles. He makes records, writes books, produces programs for two Internet radio stations and provides therapy musical programs for a medical marijuana compassion club in Detroit.
He speaks proudly of his legacy in the marijuana movement, and he's hopeful the culture will continue to shift toward an attitude of tolerance.
"They need to get rid of this idiotic, hypocritical war on drugs. Marijuana, there's nothing wrong with it," he said. "It doesn't harm anybody, it's not a dangerous substance, and millions of people use it — and they're just characterized as criminals by these people whose drug of choice is alcohol. So the first thing you get rid of is tremendous hypocrisy."
Ream marvels at how far Ann Arbor has come. Even in the last year, he said, attitudes have continued to change, and city officials have visited dispensaries and left impressed.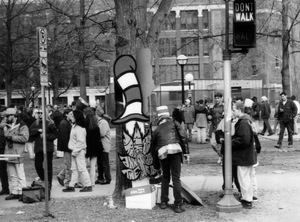 Photo courtesy of Pierre Manley
"There is no debate anymore about medical marijuana in this town, because people here recognized first that it's no danger and second that it could be a great benefit," Ream said. "We've got a fine group of dispensaries here in Ann Arbor and they're recognized as the best in the state without doubt. If you go to the other cities around the state, they're just tiny little places, and in Ann Arbor they're nice big places and we're real proud of them."
Brook is a living reminder that the fight isn't over, though. He recently was hit with eight felony drug and firearms charges after his Royal Oak home was raided by the Oakland County Narcotics Enforcement Team, turning up more than a pound of marijuana.
That's well over the 2.5 ounces allowed to medical marijuana patients in Michigan. A state-registered patient, Brook is free on bond and plans to fight the charges.
"They've already dropped four charges and I'm hoping it'll all work out," he said this week. "I can't really say much about it because I'm in court."
Ryan J. Stanton covers government and politics for AnnArbor.com. Reach him at ryanstanton@annarbor.com or 734-623-2529. You also can follow him on Twitter or subscribe to AnnArbor.com's e-mail newsletters.