Posted on
Wed, Jan 18, 2012 : 8:22 p.m.
Top 6: Issues for Michigan from Rick Snyder's State of the State address
By Ryan J. Stanton
Gov. Rick Snyder characterized 2011 as the year Michigan buckled down, attacked legacy problems and began the process of reinventing itself.
He credited the state Legislature for helping to pass 323 new laws and rescind nearly 400 burdensome regulations, but he said more remains to be done.
"2012 is about finishing that work — the work left over from 2011," Snyder said in his second State of the State address Wednesday night in Lansing.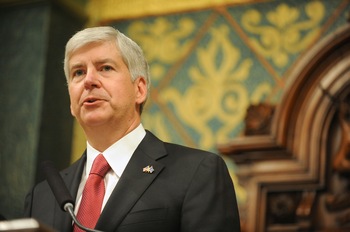 Angela Cesere | AnnArbor.com
Snyder said 2012 will be different than last year, which focused on dramatic policy changes.
In no particular order, here's a look at six highlights of the agenda he laid out for 2012:
1. Public transit. Snyder stressed the need to address regional transit in Southeast Michigan, including adding bus rapid transit services. "Another persistent problem that we face is a lack of a truly regional transit system for Southeast Michigan," Snyder told lawmakers. "We are working in partnership with the city of Detroit, with the four surrounding counties, and the U.S. Department of Transportation to develop a new bus rapid transit system — a BRT — to service the entire region. It's 40 years overdue. I encourage your support."
2. New International Trade Crossing. Snyder said building a second bridge to Canada from Detroit is not a bridge issue, but a jobs issue. He stressed the project will be done without any Michigan taxpayer dollars and indicated he's still looking for support from lawmakers. He said the state shouldn't let special interests stop an opportunity for job creation.
3. Transportation and infrastructure. Snyder said he'll ask the Legislature to hold hearings on bills that will give Michigan a transportation system for the 21st century. He reiterated his message that Michigan is underinvesting in roads by $1.4 billion annually and said no one is satisfied with the state's roads. "Let's solve this problem now," he said. "The state cannot afford to neglect the health of its physical infrastructure," Snyder added later, promising the introduction of a bipartisan package of bills soon to create a new system of roads and bridges for a 21st century economy. He criticized the state's road funding formula.
4. Public safety. Snyder told lawmakers to expect him to deliver a special message on public safety in March. While statewide crime is down, he said it's unacceptable that Saginaw, Flint, Detroit and Pontiac are among the nation's Top 10 in violent crime. "In 2012, we're going to focus on this and resolve this issue," Snyder said.
5. Education reform. Snyder said the state completed much of its education reform package in 2011, but a college readiness rate of just 17 percent is unacceptable. He called on the Legislature to support legislation for an educational achievement authority, an initiative to turn around the state's poorest performing schools. He said the goal is to have the authority educating children by this September. "Our children are our future and we need to make sure they're not just college ready, but career ready," he said, later adding this: "We need to make sure we're raising the performance bar on all schools."
6. Energy and environment. Snyder said he'll deliver a special message on energy and the environment this fall. "We need to be more strategic by focusing on the intersection of job creation, affordability, science and sustainability," he said. He said Michigan must continue its leadership in protecting the Great Lakes, "one of the world's greatest natural assets."
Ryan J. Stanton covers government and politics for AnnArbor.com. Reach him at ryanstanton@annarbor.com or 734-623-2529. You also can follow him on Twitter or subscribe to AnnArbor.com's email newsletters.