Posted on
Tue, Jun 19, 2012 : 11:50 a.m.
More apartments for young professionals: 618 South Main project wins approval in Ann Arbor
By Ryan J. Stanton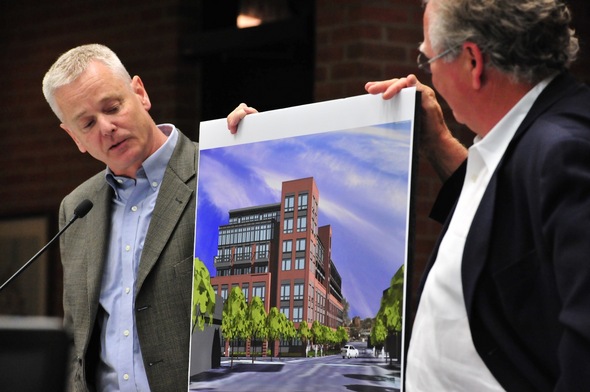 Ryan J. Stanton | AnnArbor.com
Ann Arbor
developer
Dan Ketelaar
assures his newest apartment complex on South Main Street won't be geared toward
University of Michigan
students.
"This is not a student project. This is designed specifically for young professionals," he said just before the Ann Arbor City Council voted 8-2 to approve the project Monday night.
The complex, officially called 618 South Main, is expected to break ground by next spring, bringing 231 more bedrooms to downtown Ann Arbor.
Ketelaar's Urban Group Development Co. is planning to demolish two existing structures to construct a seven-story residential building containing 70 studio apartments, 70 one-bedroom units, 42 two-bedroom units, and 7 duplex units each containing one bedroom.
The project is located at the site of the former Fox Tent & Awning building, north of Mosley between Main and Ashley. The site plan calls for 121 underground parking spaces, 65 bicycle parking spaces, and pedestrian amenities along Main, Ashley and Mosley.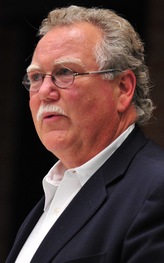 "The amenities are to appeal to a young professional group," Ketelaar said. "The apartments are small. We have large common areas so they can mingle, so they can get together and spend time together. We're trying to create a community here."
And just a two-block walk to the many downtown bars, shops, restaurants and offices that line Main Street, Ketelaar expects it to be a popular place.
The City Council voted 8-2 in two separate votes to approve the site plan and a brownfield plan that calls for channeling $3.7 million in tax revenues from the project back toward to the developer for eligible costs, including demolition, lead and asbestos abatement and infrastructure improvements.
Mike Anglin, D-5th Ward, and Stephen Kunselman, D-3rd Ward, were the only two to oppose the project and the brownfield plan. Sandi Smith, D-1st Ward, was absent.
Anglin shared some of the same concerns raised by Ann Arbor resident Rita Mitchell during a public hearing on the site plan.
They both pointed out the developer had requested a modification to allow greater building height — 85 feet compared to the maximum 60 feet allowed under D2 zoning — in exchange for creating a building setback along South Ashley Street.
With mostly one- and two-story buildings surrounding the development, they said, a seven-story building will create an out-of-character wall towering over the area.
In all, the project totals 153,133 square feet. An architect working on the project said it's a $40 million project overall, including about $25 million in building construction costs.
The building is expected to meet LEED Silver standards for energy efficiency and environmental design. Solar panels are proposed for the roof to help heat water.
Private open space is proposed on the west side of the building, consisting of an outdoor pool and pool deck, a pool house/rental room, two fire pits, three rain garden/bio-retention areas, landscaping areas and patio areas made of porous pavement.
The building is proposed to be set back five feet from Main Street. The building also steps back five feet above the third floor on each of the three frontages, and an additional 10 feet above the sixth floor along the Main Street frontage.
Barbara Hall spoke in support of the project on behalf of the Old West Side Association, saying the developer did a great job of working with the community to refine the design.
"The proposal gives Main Street an industrial facade while buffering the impact on the neighborhood with a large rain garden," she said.
"We see this new building as a gateway to downtown Ann Arbor," she added, expressing hopes that it will invigorate new and existing businesses.
Project architect Mike Siegel of Chicago-based VOA Associates said when the project started, the design team first explored options that conformed with the established zoning and 60-foot height limit. They weren't sure that was the most appropriate solution, though.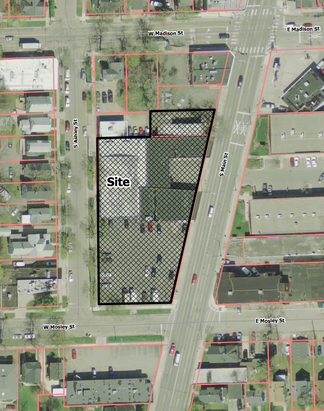 Courtesy of city of Ann Arbor
"It's a rather dynamic site from one side to the other and somewhat of a transitional site, so we went to the planning staff and began to have some conversations about how we might deal with this issue," he said. "They suggested that if we developed a planned project proposal, that we would have some flexibility in the height and massing."
Siegel said the design team went back and developed three schemes and decided to go to the community for feedback.
He said the community guided the shifting of the massing from Ashley Street to Main Street, and requested additional parking. That led to an additional level of parking, which drove the height of the building up above the 60-foot limit.
"The community wanted an enhanced pedestrian experience on Main Street," he said. "We set the building back five feet to accommodate this."
He said the design team also took into consideration the suggestions of the city's Design Review Board, which led to other architectural improvements, including the development of a tower element on the corner of Main and Mosley.
"We are delighted to be at this point," Siegel told AnnArbor.com after the project was approved. "It was a great process. Collaborating with the community can be challenging at times, but in this case, they were very constructive and we listened and responded."
Added Siegel, "We hope to have local HUD funding approval at the end of the month, and for it to go in for its federal approval and go in for a building permit sometime before the end of the year, and maybe start construction in the spring if all goes well."
Ray Detter spoke in support of the project on behalf of the Downtown Area Citizens Advisory Council. He said he attended all four public meetings on the project and watched it take shape and become a well-designed building that can serve as a gateway to downtown.
Mayor John Hieftje said he was willing to overlook the deviation from D2 zoning limitations given that it came in response to requests made by the public. He said having more residents in the area will hopefully bring new customers to nearby businesses.
"It may mean that in the future we'll have to wait a little longer for an ice cream cone at Washtenaw Dairy, but it will still be worth it," he said.
Ryan J. Stanton covers government and politics for AnnArbor.com. Reach him at ryanstanton@annarbor.com or 734-623-2529. You also can follow him on Twitter or subscribe to AnnArbor.com's email newsletters.