Posted on
Wed, Sep 26, 2012 : 1:07 p.m.
9 questions and answers about Ann Arbor's proposed tax for art in public places
By Ryan J. Stanton
One of several ballot proposals Ann Arbor residents will vote on Nov. 6 is a question of whether the city should have a dedicated millage to fund art in public places.
City Council Member Christopher Taylor, D-3rd Ward, has been busy fielding questions about the proposal since he first introduced it last month.
It will appear on the ballot as Proposal B. If approved, the city will levy a new 0.1-mill tax to pay for public art the next four years, raising an estimated $459,273 in the first year.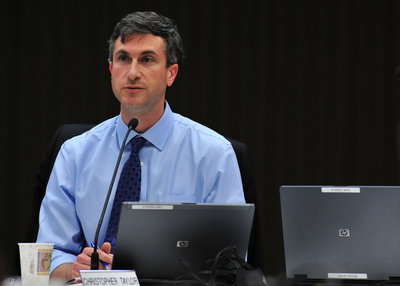 Ryan J. Stanton | AnnArbor.com
That could pay for new public murals, sculptures and temporary installations in public places, and possibly even events like FestiFools, the city's annual parade of foolish puppets on Main Street.
Putting the controversial issue of public art to a public vote is a move endorsed by both supporters and critics of the city's current Percent For Art Program, and was unanimously supported by the City Council.
The current program, which siphons off a percent of the money the city spends on capital projects to pay for art, would be replaced with a new millage-funded public art program if voters approve Proposal B.
The tax would cost the owner a $200,000 home about $10 a year. Taylor says the tax has been endorsed by prominent Democrats, Republicans and business leaders.
A campaign committee called Citizens For Art In Public Places formed on Aug. 28 . The group has launched a website at www.bforart.com and is actively campaigning now.
So far, no formal opposition has come out against the proposal, but many people still have questions about its implications. In his most recent email newsletter, Taylor took a stab at answering some of them. Here are his answers to nine questions posed by residents.
Q1: Will the Proposal B support regular arts organizations?
No. Proposal B will not provide operating funds to arts organizations such as UMS, the Michigan Theatre, the Performance Network, or The Ark. These organizations (plus so many others!) are tremendous assets to our community and they will still need your support!
Q2: What sort of art would Proposal B fund? Proposal B will only fund art in public places — sculptures, murals, temporary installations, and performance art.
Q3: If Proposal B passes, what can I expect to see? What will change?
Proposal B will eliminate the current obligation to link art with capital projects and so the city will be able to place public art where it makes sense, based on public benefit alone. In other words, you should see a greater amount and diversity of art in Ann Arbor.
Q4: Will passage of millage decrease Police/Fire funding?
No. There is no connection whatsoever between Police/Fire funding and the Arts in Public Places millage.
Q5: I know that Proposal B will cost the average homeowner less than $1/month. Will this amount be increased?
No. Any increase to the millage would require a new vote of the people.
Q6: How will the city decide what projects to fund?
The Public Art Commission will work with the City Council to develop guidelines to allocate funds between permanent art, temporary art, and performance art in public places. It could be 33/33/33 or 100/0/0 — the decision making can't begin until Proposal B passes. Have an opinion — let me know and get involved!
Q7: What will happen to the One Percent for Art program if Proposal B passes?
Proposal B suspends One Percent for Art funding during the term of the millage.
Q8: What will happen to the One Percent for Art program if Proposal B fails?
Nothing immediately, although I suspect that there would be an effort on City Council to terminate the program.
Q9: Why didn't Council suspend the One Percent for Art program before the vote in November?
Reasonable minds can differ on this issue. For my part, I had several residents speak out against the millage, but in favor of the One Percent for Art program. This response from constituents led me to believe that it is too simplistic to say that opposition to the millage absolutely equates with opposition to funding art in public places.
Ryan J. Stanton covers government and politics for AnnArbor.com. Reach him at ryanstanton@annarbor.com or 734-623-2529. You also can follow him on Twitter or subscribe to AnnArbor.com's email newsletters.