Posted on
Mon, Jun 13, 2011 : 12:28 p.m.
1st bear-sighting reports at Hudson Mills Metropark near Dexter are unconfirmed so far
By Ben Freed
Two unconfirmed black bear sightings were reported to park authorities at Hudson Mills Metropark near Dexter on Saturday.
According to park superintendent Kim Jarvis, the calls came in at 7:40 and 7:42 on Saturday morning, and a police officer dispatched to the West River Trail was unable to locate a bear.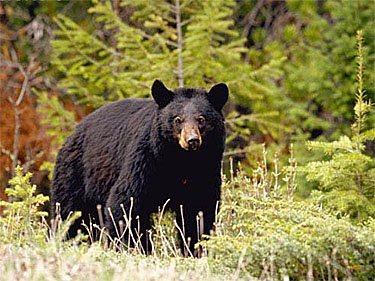 bearsoftheworld.net
Jarvis added that the park naturalist went to the scene on Sunday to look for scat, scratch marks, or any other signs of a bear's presence, but the search turned up empty.
"This is the first bear sighting that has ever been reported at Hudson Mills Metropark," Jarvis said.
Tim Paine, a Michigan Department of Natural Resources representative, said black bear sightings typically happen in Southern Michigan in the spring, when young males are kicked out of their 'home' areas by older or larger males. He said that if a bear had been sighted, it was most likely an adolescent.
"Often these are young males who are just striking out looking for new territory," Paine said. "Most likely they're just curious and moving around, scrounging for food here and there.
"Sometimes they wander around for a long, long time looking for a partner, because they aren't likely to find one down here."
Paine said that young male black bears, like most wildlife in Southeastern Michigan, are not aggressive or likely to attack humans.
"They are mostly in explore mode," he said. "They're trying to figure out where to spend their time and where to find food. The most trouble they're likely to get in is if they stumble upon someone's garden."
According a Bear Management Program on the Department of Natural Resources website, in 2009, over 85 percent of Michigan's approximately 19,000 bears lived in the Upper Peninsula. The same report noted that the black bear population appeared to be expanding from the Northern Lower Peninsula into the Southern Lower Peninsula.
Jarvis said that because the sightings have yet to be confirmed by park staff, the Hudson Mills Park is operating as usual. As always, park visitors are urged to exercise caution when on the trails.
Ben Freed is a summer intern at AnnArbor.com. You can reach him by email at benfreed@annarbor.com or by phone at (734)-623-4674. Follow him on Twitter @BFreedInA2.