Posted on
Sun, Mar 6, 2011 : 5:54 a.m.
Judge orders Washtenaw County Commissioner Ronnie Peterson, property manager to pay $82,500
By Art Aisner
A federal judge has ordered Washtenaw County Commissioner Ronnie Peterson and a former property manager to pay $82,500 to women who were sexually harassed while living in Peterson's rental homes in Ypsilanti Township.
Peterson, D-Ypsilanti, and his company, First Pitch Properties LLC, should pay $27,500 of the award for not watching Glen Johnson more closely despite allegations that he sexually harassed six tenants, said U.S. District Judge Julian Abele Cook Jr. in a ruling released Friday.
In August, a jury found both Peterson and Johnson, who are distant cousins, civilly liable for damages under the U.S. Fair Housing Act after officials established a pattern of sexual harassment and discrimination of female tenants if they refused Johnson's advances.

Johnson, of Ypsilanti Township, was ordered to pay the remaining $55,000, the maximum fine for a first violation of the Fair Housing Act, federal documents show. The penalty is in addition to the $115,000 the jury awarded in punitive and compensatory damages following the six-day trial.
Testimony revealed Johnson refused to give one tenant her keys until she agreed to have sex, and that he threatened others with eviction unless they performed sexual favors. No criminal charges resulted from the investigation, but Cook said the conduct was a clear violation of law and the women's trust.
"The nature and circumstances of the FHA violations here are significant," Cook wrote. "(Johnson's) behavior was egregious and interfered with the women's peaceful enjoyment of their homes, which should have been the one place where they could turn for refuge."
Cook also permanently barred Johnson from any involvement in the management, rental or maintenance of housing units. He placed other conditions on Peterson, including adoption of a sexual harassment policy and complaint procedure at his properties.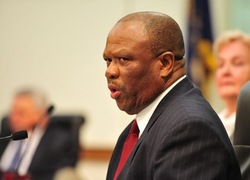 Peterson, who opposed the additional penalties in court, said he would comply with the order despite some misgivings about the case. In particular, Peterson noted that federal authorities waited more than a year to act on the allegations and never notified him in the meantime to ensure the activity stopped. Two of the women were also his relatives, he added.

Women said they complained to Peterson, but he denied any knowledge of the pattern or any of the specific incidents outlined during the trial in Detroit federal court. He also said that he was easily accessible as an elected official with a published phone number, email and public meeting schedule.
"I respect the rule of law, but I was disappointed with the process," he said Saturday. "I offered to take a polygraph test from any source, and I would have done it. I hope everyone in else involved would do likewise."
Peterson referred further questions to his attorney, Don Ferris, who did not return messages Saturday.
Johnson did not respond to legal briefs seeking further damages that were filed by the Department of Justice, according to Cook's ruling. He tried to dismiss his previous attorney before the trial ended and could not be reached for comment Saturday.
Art Aisner is a freelance writer for AnnArbor.com. Reach the news desk at news@annarbor.com or 734-623-2530.