Posted on
Sat, Mar 3, 2012 : 7 a.m.
A new column to help you get the most out of the Web
By Paul Wiener
Editor's note: This is the first installment of a planned weekly column by Paul Wiener designed to point readers to cool or useful websites.
This column is dedicated to everyone who loves the Web — and to those who use their computers for transportation.
The phrase "surfing the web" started appearing around 1991. Why "surfing" and not "traveling"; or "adventuring"? I know: it sounds better. But anyone who loves to travel knows it's a state of mind.
Fruitful traveling on the Web, as in the physical world, takes time and patience. Places are not meant to be pit stops for the routine maintenance of the mind and soul. Would you expect to see Florence in six hours, or Bhutan or The British Museum?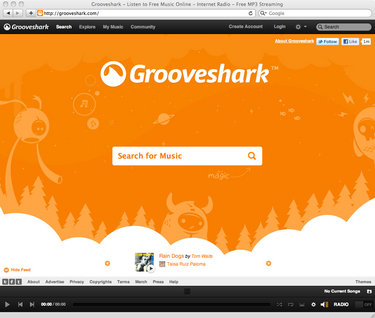 Destinations are often only the beginning of the journey. If you like this column, you should not mind spending an hour looking through sites that sometimes resemble plain, workmanlike anterooms, opening hyperlinks like tiny drawers, cabinets and windows where the real treasures lie.
You won't mind reading pages of text at times, often in silence, a long scroll in the pixel park, sudden changes of direction, new ways of learning to search for, recognize and use what you never knew was indispensable. In this column, I'll try to share some of my travels across the Web, uncovering sites that will be stimulating or enlightening, educational or useful, surprising or inspiring, overwhelming or mesmerizing. Or all of the above.
My comments will be meant to draw you into a site and to put it into perspective. They reflect only a small portion of the enthusiasm of someone who eats daily from the invisible, nurturing, electronic hands that carry our civilization to the screen. Your comments and questions will always be welcome.
Who am I to recommend websites to you? Isn't that presumptuous? I try to believe it's not presumption, but a habit born out of the work I used to do, a compulsion to communicate, and my love for seeing new things. I was a librarian for 32 years at Stony Brook University, in Long Island, NY.
Most of my work involved managing the English Literature, Art and Film Collections, but after a while, after the Internet began to dominate library services, I began to create websites, to teach web-based research, and to write all kinds of materials, online and off, that promoted informational and cultural skills.
I've also been a public school teacher, several kinds of editor, a freelance writer, a performer, and have published many articles and columns on books, film, information and cultural life in journals, newspapers, blogs and in other venues.
Both my kids came of age during the rise of the web, so for years I found myself in the peculiar position of being wiser than them about the online world than any man my age had a right to be.
They didn't seem to mind. It became a habit that's been hard to break. These days, surfing the web and telling people what I find feels like both a public service and a way of growing my family. And yes, a bit of happy self-indulgence.
Since I'm always in danger of being behind the times, I urge my readers to tell me what I get wrong and when, and to show me what I'm missing. I'm always learning. That's a big reason I live here.
This week's featured sites:
Wouldn't it be great if you could just dial up almost any music you wanted to hear at the very moment you most needed to hear it, whether it was Foo Fighters, Coltrane or Georg Philipp Telemann?
And not just the musicians but their songs: "Long Road to Ruin," "Truckin'," "My Favorite Things," "La Mer"? And to do it without owning the music, finding it on your device or even knowing exactly what your favorite song was called? Even comedy routines, poems and prayers?
Well, on Grooveshark now you can, legally and for free. Not everything is there, of course (where are The Beatles?!), but you'll rarely notice.
If you register (it's free), Grooveshark also lets you do everything but download: you can create your own playlists ("Class of '81 Hits," "Nina and Sarah" "GrungepunkXXX"), forward and share music on email or Facebook (with links that play the full selection for your friends), choose hundreds of songs or sonatas to play nonstop, purchase music through vendors and simply explore albums, performers and hitherto-unknown genres to your heart's content. It makes you want to Rock the Casbah.
Hook your laptop up to a good sound system, and your living room will become an instant concert space. Check it out soon, because there are people trying to put it out of business.
Everybody loves movies. Everybody watches movies. But despite — maybe even because of — the great proliferation of screens, cheap cameras, YouTube and streaming movie sources, true film literacy, knowledge of its great legacy, is in decline.
Fewer older or foreign films get shown, film history is seen as an easy A, serious film criticism is disappearing, pornography hogs attention and bandwidth and filmmaking as an evolved technology with its own language is being buried by geeky special effects thrill-makers.
The American Film Institute, now more than 50 years old, is one of America's most respected professional organizations devoted to film preservation, promotion and history. It has made its catalog of more than 77,000 films available for free (so far) to the public.
Most of them are annotated in great detail, with cross-links to actors and production personnel. Sources of the films' original reviews are listed.
Though many websites are dedicated to film genres for every kind of fan, and the iMDB is a popular destination for general information, only the AFI presents a comprehensive, sober, well-documented, industry-based catalog of America's greatest remaining films from 1893 on. A good example is The Prince and the Showgirl.
Even without Borders, Ann Arbor is still one of the great book towns of the U.S. But book lovers aren't always or only book readers. Collectors, archivists, dealers, calligraphers, illustrators —book worshipers of all kinds exist, and this site is dedicated to their highest ideals.
For years, the blog Bibliodyssey has featured exquisite graphic images of some of the world's rarest and most beautiful illustrated books, scrolls, manuals, pamphlets and other print publications. It exemplifies the best of blogging.
Though most posts include only bare, identifying information, the images speak —even shout —for themselves. If you insist on annotations, though, you can find them all on the great bookmarking site Delicious, nearly 1,200 of them going back to 2006. Many images can be blown up to stunning, high-definition proportions that will do the largest electronic display proud.
Here are some anthropomorphic trade cards, from a 2008 post. At times, you may feel you are touching works that have been secretly snuggled away under museum glass, in an old portmanteau or stacked in heavily shuttered bookshelves for a century.
Bibliodyssey's blog roll and resource list —a valuable feature found on many serious blogs —point to further avenues of image exploration, beauty weaving a web of its own.
This being Ann Arbor, there must be others like me who are textual culture junkies —no, addicts. But if you exist, don't you already know about the A & L Daily? No? If I can turn even one new person on to it, my day will be complete.
The Chronicle of Higher Education's wonderful, inexhaustible site offers hundreds of articles every day on books, writers, cultural studies, politics, criticism, film, art and intellectual life. Short topical snippets are shown in no particular order in three nearly endless columns, and you can click through each one to the full text source.
To make it even more of a dizzying phantasmagoria of literary nirvana, the site doesn't let you search. You simply experience the rush and the drowning and grab onto a snippet of meaning-laden cultural news for dear life.
It's textual healing at its finest —online, of course. If the hundreds of daily news items aren't enough, A & L also provides dazzling lists of blogs, columnists, review sources, magazines, radio stations and assorted links marinated in the finest angst learning allows.
Here's one surprising link. It is a gateway to the "serenity and certainty...seen only among those who have the armour of books close by" (Michael Ondaatje). Veritas odit moras. But is there time for all this truth?
Is there anything nearer or dearer to an Ann Arborite's heart than politics —as long as it's the right kind? But how many kinds are there, and how many parties, how many sides? What if you have more than one opinion on the same issue? What if you didn't even know something was an issue?
You no longer need to worry. Welcome to the wonderful world of polls, where every conclusion is etched in oil by quantifiable, anonymous records of someone else's opinion.
Polling Report offers up-to-date polling results on everything trending even vaguely political — not just poll results, but the questions, demographics, articles, and, in many cases, the anonymously stated opinions themselves, if more than a yes or no was demanded.
Replace the electoral college? Waterboarding? Hillary, Harry, Rick, Donald or Nancy? Wealth distribution? Aid for Israel? Who's to blame for the economy?
Polling Report covers them all from the major pollsters and — Hallelujah! — it is vouched for and praised by the cleanest media pundits this side of the Huron River. There's more than enough here for a morning coffee break, but if you give them $195 a year, you'll get even more than that.