Posted on
Sat, Sep 15, 2012 : 5:30 a.m.
Ahead of the competition: Dick's Pretty Good Garlic grows and sells 40 varieties
By Janet Miller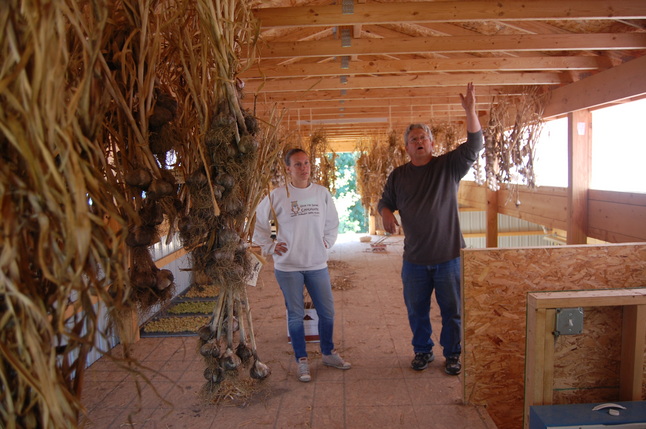 Janet Miller | AnnArbor.com
Dick and Diana Dyer
know that all garlic is not created equal.
Some varieties are mild while others are like an inferno. Some linger on the palate while others disappear with a swallow. Some can be eaten raw while others must be cooked. "There are different varieties just like there are different varieties of apples and peppers," Dick said.
But what they also know is that 80 percent of the garlic found on American grocery store shelves comes from China, and that most of it is a single variety that is easily shipped and stored.
There are actually about 100 different varieties of garlic, although there are about 300 different names for them.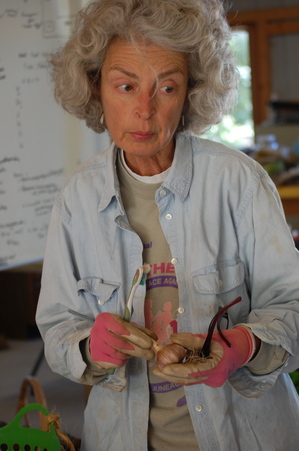 Janet Miller | AnnArbor.com
So when the Dyers went looking for second careers after Dick left
Pfizer, Inc.,
they thought about garlic.
They are wrapping up their third season of growing 40 varieties of organic garlic on their 15-acre farm in Superior Township, tucked away down a couple of country roads northeast of Ann Arbor.
This season, Dick's Pretty Good Garlic has produced roughly 17,000 heads of garlic, sold at a number of farmers' markets and to local restaurants. "People are crazy about our garlic," said Diana, who used to work as a registered dietician.
With names like Chesnok Red (medium hot) and Ontario Purple Trillium (packs a ferocious punch), customers buy not only garlic, but an education. Crowds recently gathered around the Dyer Family Organic Farm stand at the Ann Arbor Homegrown Festival for a raw garlic tasting, one way to learn about the different varieties. The Dyers give their customers a paper tag with the garlic name and a description with each head they buy.
They have a loyal following. Laura Geldys likes the garlic so much that she buys a 10-head variety bag each week. She uses a lot of garlic in her cooking, but she's also storing some of it.
Dick's Pretty Good Garlic had been germinating for decades. In the 1970s, not long after they married - Dick took Diana to weed his garden on their first date - they considered unplugging from their careers to start an organic farm. But work and family sidelined that idea. Then Dick lost his job as a biochemist and research manager when Pfizer downsized. "It gave us an opportunity to consider what we wanted to do with the rest of our lives," Diana said. "We took it as an opportunity to rethink an old dream."
Janet Miller | AnnArbor.com
Using some of his severance pay, Dick enrolled in a series of organic gardening classes at
Washtenaw Community College
. It took the couple a few years to find the right land. After touring the former pumpkin farm, they knew they would buy it even before entering the house.
They surveyed what was being sold at local farmers' markets to find a niche. While a number of farmers sold garlic, none of them marketed the product by variety. "It was just garlic, no one emphasized varieties" Dick said. "It was a way to differentiate ourselves from other vendors."
They plant a half-acre with garlic each year, and are on a five-year rotation. They are in the process of being certified as an organic farm.
Dick's Pretty Good Garlic is sold at the downtown Ypsilanti Farmers' Market, the Wednesday evening Ann Arbor Farmers' Market in Kerrytown, the Dixboro Farmers' Market, and the Westside Farmers' Market in Ann Arbor.
Garlic is planted in the fall and usually harvested in July. It needs to hang to dry and cure for two to three weeks, so Dick's Pretty Good Garlic usually doesn't appear at the markets until early August. But the Dyers sell garlic scapes (the flower stem) in mid-May.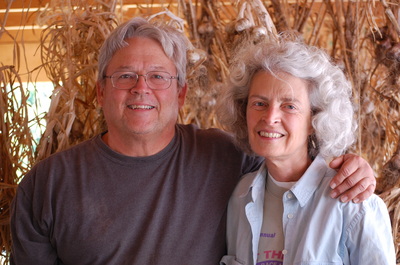 Janet Miller | AnnArbor.com
In addition to the four markets, Dick's Pretty Good Garlic is sold to about seven restaurants and through
CSA (Community Supported Agriculture)
memberships. Cost ranges from $1 to $2.50 a head, depending on size. The most popular variety is Spanish Roja. Once customers learn that's the variety used at
Zingerman's Roadhouse
, they snap it up, Dick said.
The Dyers built a custom garlic barn with room for drying and curing, cleaning and sorting. The second floor, with opaque windows to diffuse sunlight (garlic doesn't like direct sun) and doors at each end for good air circulation, is used for drying and storing.
While the Dyers' original plan was to start by selling garlic and branch into other crops, they have their hands full with just the garlic, they said. Volunteers and friends help out, but most of the labor is their own. They are too busy to expand, and they are not interested in selling beyond local venues. From July to the end of October, they barely have a free minute, Diana said. "Our goal was to do this to keep us young, not to kill ourselves."