Posted on
Sun, Dec 20, 2009 : 6:04 a.m.
A scattered network of food resources experiencing big increases in demand
By David Jesse and Tina Reed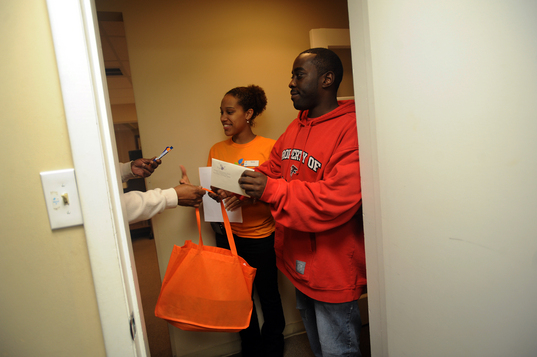 Packard Health patient advocate Tavona Houston and volunteer Jakai Green hand a bag of produce and a Meijer gift card to a patient in need during a giveaway at the clinic in November. Melanie Maxwell | AnnArbor.com
There's not much in the plastic Meijer bag. A can or two of tuna. A couple of cans of green beans. Some canned black beans. A few cans of green peas.

Not much to live on, but enough to keep a person from starving.

That's the intent, Yolanda Whiten, executive director of the Ann Arbor Community Center, said.

"Our goal is to feed you today," she said, while showing off the already bagged emergency groceries sitting in the center's office, waiting for hungry people to show up.

Across Ann Arbor, there are a number of these emergency food pantries. Some are found in community centers inside public housing and limited to those who live in those units. Others are located in various non-profit agencies and open to anyone.

There are also a number of food distribution sites where hungry people can get food designed to feed their families for multiple days. Lines for those can start forming hours before doors swing open.

That's because the number of hungry people in Ann Arbor has been growing and growing and growing for the last 18 months.

"It's really bad," Whiten said. "It's people who work and are now running out of money to eat because they are trying to pay all their bills and keep their house. You might be living next door to someone who's not eating. People can hide that."

Getting help

Most people seeking help originally find their way into the system by contacting a single organization that can refer them through an informal network to another local organization that might best be able to help them.

At the Ann Arbor Community Center, Whiten and her volunteers hand out a list of area agencies' food distribution dates. They also try to find out what else is going on in people's lives.

"As we talk, we're listening for other needs" so they can refer to them to other places for other help.

Others find help by contacting the United Way's phone-based program, 2-1-1, which is staffed by Huron Valley Ambulance in Washtenaw County.

Callers to 2-1-1 are asked to provide some personal information and to describe their situation, and then are referred to local organizations that more directly serve their need.

Calls to 2-1-1 are way up this year, said Scott Jeffrey, a Washtenaw County 2-1-1 coordinator.

"A lot of people call and say 'I need everything.' We try to get more information." Jeffrey said. "We had one of our (Ann Arbor) agencies, it was getting overwhelming for them. Rather than referring people to them for a whole month, we deactivated them for a week each month."

2-1-1 also tries to alert callers to different government programs, like the federal Food Assistance Program, which is overseen by the state and provides food stamps using the Michigan Bridge Card or EBT card.

Those who believe they may be eligible for food stamps visit the Department of Human Services office in Ypsilanti or visit the office online.

There are easy ways to determine eligibility there, including visiting the Web site www.mfia.state.mi.us/mars, which asks a series of questions to let a resident know if they qualify, said spokeswoman Gisgie Gendreau. The online application form, available at www.michigan.gov/mibridges, takes about a half hour to complete, she said.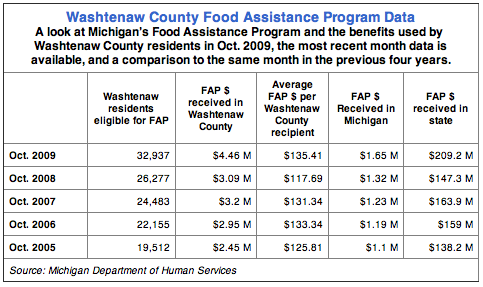 The department has to abide by a federal standard of promptness that anyone who is approved for food assistance should receive the assistance within 30 days of applying, and within a week if they qualify for emergency help.

However, several local residents said that because of the caseload at the department, the decisions can often take every minute of that timeline, leading to anxious moments for hungry families.

Growing caseloads

At the state level, Gendreau said, caseworkers "are seeing an inordinate number of people coming in." The average caseload was about 680 cases per DHS caseworker in September, up from an average of 320 cases back in 2002.

"It's getting harder," Gendreau said. "We are getting more demand and our employees are doing everything they can to meet that need."

In Ann Arbor, many people say the local safety net works better than other places around the state. But it's still no piece of cake to utilize the system if you really need it, Eileen Spring, executive director of Food Gatherers, said.

"On some level, it's easy. Many organizations have guidelines like you can come once a month," Spring said. "But at the same time, if you're really in a food crisis, it's really a scattered process. You might have your meal programs over here and they have pantries over there. It requires a car, it requires time, it requires knowing what you can get and where. It's a lot of effort and if you're relying on that system, it can be difficult. If you're using that as a supplement once a week or once a month, it's not as bad. But really, it's inadequate."

Of those in Washtenaw County who needed food stamps last year, at least 13,000 of them were children.

"A huge number of people affected by this are children. It might be an adult standing in line at the food distribution or at the line at DHS, but they might have four children at home," Spring said. "Even small bouts of malnourishment in young children has a proven impact on them."

A large number of the local organizations that give out food receive the bulk of their food from Food Gatherers, an Ann Arbor-based nonprofit food rescue program that distributes food to 150 organizations across the county. The organization also directly distributes food through its Neighborhood Grocery Initiative that serves 17 different apartment complexes or neighborhoods.

"(Demand has) been up for a while, but it's just non-stop now," Spring said. "We're seeing more people who've never sought food assistance before, those who were reliant on the food system find themselves needing more help than before."

The program rescues food from local food retailers, restaurants and farmers. For example, this fall, it processed leftover tomatoes from its own gardens and turn it into 6,000 quarts of tomato sauce.

Program managers have to think strategically about where to send certain items. For instance, when there was a big co llection of fresh cabbage earlier this year, it was sent to specific neighborhoods that had a higher population of seniors and of Asian adults.

"That's a constituency that likes cabbage, but they might not like something else," Spring said. "We have to pay attention to the volumes. "You can't go to a community of 200 people with 50 turkeys. You have to have 200 or it's just horrible."

What's available

Going to a food distribution isn't like going to the local Kroger.

There aren't as many choices, and food distribution sites often don't have meat, or even fresh produce.

Whiten said she'd have meat on hand, except for two factors - her budget (it costs more to buy meat to give out) and a broken large freezer that makes it hard to store it.

"You can't count on them to have meat," said Ann Arbor resident Tyron Malik, who has used several different food distributions to help feed his three kids and wife since he lost his job a year ago. "Although several do. You just have to know when to go and where to go."

Just before Thanksgiving, several agencies - including Packard Health clinic - were able to provide turkeys and other ingredients for traditional meals.

Some of the distributions, like one held by CAN at the Bryant Community Center, allow people to walk down a line of tables piled high with food items and pick what they want.

But clients and their pantries are at the mercy of what's available that day. One day this fall at Bryant, children began clamoring when they spotted bottles of a vibrant blue sports drink were part of the days menu beside the cartons of imitation eggs, cereal boxes and root vegetables. Some adults picked through the items taking only a few things while others packed bags full of food.

"If you get there early, and are toward the front of the line, you get more choices," Malik said. "They (the agencies) do a pretty good job of having different stuff for you to get."

Coming to the Ann Arbor Community Center, or any other agency to ask for food, can be tough on a person, Whiten said, especially if a person has never been in that situation before.

"It's a blow to your pride. You're depressed, you're angry, you're scared. It's just tough."

David Jesse covers K-12 education for AnnArbor.com. He can be reached at davidjesse@annarbor.com or at 734-623-2534. Tina Reed covers health and the environment for AnnArbor.com. She can be reached at tinareed@annarbor.com or at 734-623-2535.