Posted on
Tue, Dec 15, 2009 : 7:05 a.m.
Young Pittsfield Township man struggles with sex offender label
By Lee Higgins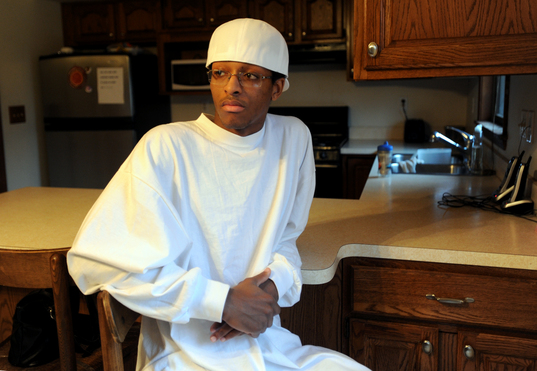 Melanie Maxwell | AnnArbor.com
Matthew Freeman is struggling to move on with his life, six years after being convicted of having sex with a high school girlfriend who was one year below the legal age of consent.
Freeman, who is required to register as a sex offender, is facing a new criminal charge that accuses him of illegally living within 1,000 feet of a school.
His latest trouble started as Freeman was shooting hoops in his Pittsfield Township driveway Aug. 3.
According to a police report, a state trooper pulled up to Freeman's house across the street from Ann Arbor's Carpenter Elementary School, where children were on the playground at 7:30 p.m.
Freeman told the trooper Pittsfield Township police told him "it shouldn't be a problem" to live near the school. He had registered with Pittsfield police 27 days earlier using his family's Dalton Avenue address.
Freeman told the trooper he was on the Michigan Sex Offender Registry because he had "sex with his 15-year-old girlfriend when he was 17." He also said his girlfriend's mother got "upset with him and pressed charges."
The trooper aimed a laser gun at the school building and determined Freeman was living 326 feet away, the report said, breaking the law.
Freeman, 23, is charged with a school safety zone residency violation, a misdemeanor punishable by up to a year in jail. He was arraigned Dec. 4 and is scheduled to return to court Friday.
"I'm outside sweating hard, playing basketball, working on my drills," he said. "I ain't looking at no kids. I can't even go outside and play basketball on my own hoop?"
Washtenaw County Chief Deputy Assistant Prosecutor Steve Hiller said he couldn't comment on Freeman's case because it's pending. But prosecutors take into account the facts and circumstances surrounding each case, Hiller said.
"We view these as public safety issues," Hiller said. "That's the paramount concern we have when dealing with sex offender registry cases. This particular law is in place to protect children, so that's obviously a very serious matter."
Freeman's attorney, county Assistant Public Defender Ronald Brown, declined to comment.
Freeman has registered at the address of a family friend while the case is pending.
A criminal conviction
Freeman pleaded guilty to fourth-degree criminal sexual conduct involving force or coercion and was sentenced to probation in September 2003, court records show. By pleading guilty to the misdemeanor charge, he admitted to having sex with his 15-year-old girlfriend, who was two years younger. In Michigan, the legal age of consent is 16.
Freeman violated his probation by going near his girlfriend and stealing some video games from a store, records show. As a result, he was sentenced to 90 days in jail in January 2004. The two are no longer dating.
Freeman will remain on the registry until Aug. 17, 2028, according to the registry's Web site. Had he successfully completed his probation, he could have petitioned the court to be removed from the registry after 10 years and also wouldn't have been subject to the school safety zone violation.
His mother, Yolanda Freeman, moved the family - Matthew and his five younger siblings - to the four-bedroom house near Carpenter Elementary in June because they needed more space.
She also said the house is convenient to the school, which her 6-year-old daughter attends. She fears the latest charge may set her son back.
"Matthew is just uptight all the time," she said. "He don't trust nobody. He's upset all the time because he has this over his head. How many 17-year-olds have had a relationship with a girl a couple years younger than them? Come on."
Prior to moving, Yolanda Freeman told the trooper she checked with Pittsfield police.
Gordy Schick, Pittsfield Township's deputy director of police services, said it's Matthew Freeman's responsibility to abide by the law.
"The fact that he's a convicted sex offender, there are conditions and stipulations that he has to follow," Schick said. "If he's living in close proximity to the school, he's in violation."
A high school relationship
Freeman met his ex-girlfriend when they were freshmen at Huron High School. He was 16, and she was 14. They were introduced by a mutual friend and immediately hit it off, talking for hours that night on the phone, he said.
Freeman was focused on basketball and was looking for a steady girlfriend, a 2003 Pittsfield police report shows. Their relationship became more serious after a month, and he got her name tattooed on his arm.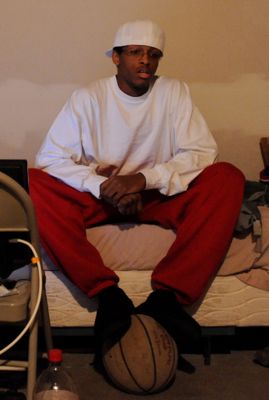 Melanie Maxwell | AnnArbor.com
The two began having sex in March 2003 - about five months after they started dating. Her mother, Evelyn Scott, said she found out and told Freeman he could no longer see her daughter.
"I didn't think they could make adult decisions," Scott said.
But Freeman didn't listen. Twelve days after his 17th birthday, Scott filed a complaint with Pittsfield police, records show, requesting Freeman be criminally charged. As a single, working mother, she said, it was the only way she could think of to end the relationship.
Freeman, who had no criminal record, pleaded guilty to the fourth-degree criminal sexual conduct with force or coercion charge on the advice of his public defender, he said.
While he broke the law by having sex with an underage girl, the police report says the victim was "not forced to commit any act" nor "did she ask him not to commit any act."
"My daughter was a willing participant," Scott said.
Moving forward
Freeman never returned to high school after going to jail.
He's been employed for about six years at Burger King and is studying at Washtenaw Community College to obtain his G.E.D., records show. Freeman is on a recreational basketball team and has been dating a woman for three years.
He said he enjoys making rap music and playing video games, but often keeps to himself because of his status as a sex offender. While he only earns about $130 a week, he chips in to help his mother pay rent.
Freeman admits he's not perfect. Four years ago, he was convicted of a misdemeanor charge of malicious destruction of a building, state police records show. 
But he isn't a child molester, he said, and shouldn't be treated like one.
"I'm getting labeled as a rapist and a pedophile," he said. "I'm not a pedophile. That stuff is sickening. After all this, I don't know if I can have kids. They may wanna take them away, you know what I'm saying?"
Freeman must register quarterly, notify police when he travels and constantly fears he's "being watched," he said. He's been rejected from jobs and housing. And people give him strange looks, he said.
"I just have to deal with it," he said.
Scott, his ex-girlfriend's mother, has written a letter on Freeman's behalf asking that he be removed from the registry.
"He's a young man," she said. "He made his mistake. He paid for it. This should be squashed. This should be expunged from his record. He's not given a chance to live and become an upstanding citizen."
The sex offender label
The state trooper visited Freeman's home that August night after being forwarded an anonymous tip, submitted through the Michigan State Police Public Sex Offender Registry Web site.
The tipster was a mother who lived in the neighborhood. She wrote that a sex offender of a "child under the age of 13" was living in front of the school.
"I can't let my children play at this school anymore because he is always outside playing basketball, watching the kids that are playing," she wrote. "How creepy, how disgusting…please help us get rid of him."
Freeman said the accusation he sexually assaulted a child under age 13, "just kills me."
The registry lists the charge for which someone was convicted, but doesn't give background on a case. It's up to the public to pull court records to find out more.
Sex offenders face a particularly tough time becoming productive members of society, said Miriam Aukerman, re-entry law project coordinator for Legal Aid of Western Michigan.
Aukerman provides legal assistance to low-income people with criminal records, helping them find employment and housing. The group has worked with hundreds of sex offenders.
"When people see sex offender, they think rapist, they think pedophile and there are certainly dangerous people on the registry who are those things," she said. "But there are also lots of people on the registry who are not."
Aukerman recently successfully argued before the Michigan Court of Appeals to have a Muskegon man's name removed from the registry. He had sex with his nearly 15-year-old girlfriend when he was 18. He ultimately married her, but remained on the registry.
"If you have individuals who are involved in teenage relationships, those are not the people who belong on the registry," Aukerman said. "Hopefully, the legislature will see that."
When AnnArbor.com told five of Freeman's neighbors a sex offender was living on the street and showed his information from the registry, all expressed concerns for young children or the possibility he molested them.
Their worry lessened when given details about his case.
Resident Monet Tiedemann said it was a little shocking to learn a sex offender was living in the neighborhood, "especially when I have two small kids." Given specifics about Freeman's conviction, Tiedemann said he was "still a child."
"The biggest concern for me personally is if it were somebody coming after small children," she said.
Gavril Miajela mentioned her friend's young child when shown Freeman's information from the registry. When provided details, she felt sorry for Freeman.
"I think his conviction should be overturned," she said. "It's just ridiculous. "This is going to follow him everywhere, just because he fell in love with a girl."
Update Dec. 18:Â Court adjourns case of young man struggling with sex offender label until January
Lee Higgins covers crime and courts for AnnArbor.com. You can reach him at (734) 623-2527 or by email at leehiggins@annarbor.com.