Posted on
Fri, Sep 28, 2012 : 5:59 a.m.
AATA dipping $300K into cash reserves to maintain expanded services in upcoming budget year
By Ryan J. Stanton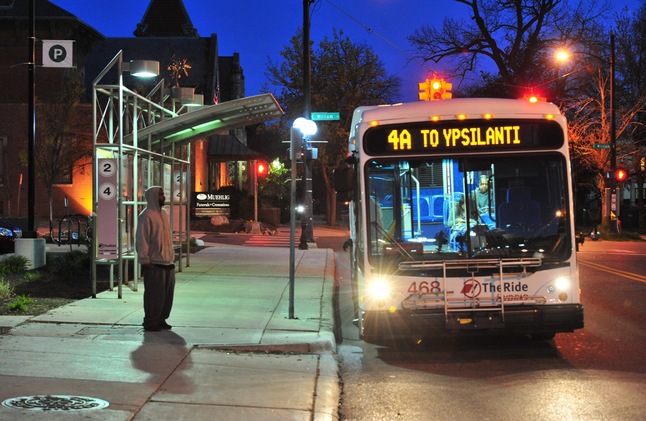 Ryan J. Stanton | AnnArbor.com
The
Ann Arbor Transportation Authority's
governing board voted unanimously Thursday night for a $32.7 million operating budget for the fiscal year starting Oct. 1.
That's up slightly from the $30.4 million budget it approved this time last year when the agency decided to dip about $1 million into its cash reserves to get through the year, ramping up services in advance of the formation of a countywide transit authority.
Under the new budget, the agency plans to continue on the same path, taking another $300,000 from its reserves to make it through another year with expanded services.
That includes a continuation of enhanced services on Route 4 along Washtenaw Avenue between Ann Arbor and Ypsilanti, as well as expansion of the NightRide late-night, shared-taxi service and the AirRide roundtrip shuttle service between Ann Arbor and Detroit Metro Airport.
Ryan J. Stanton | AnnArbor.com
AATA Treasurer
David Nacht
cautioned before the board's vote that it's not a sustainable approach for the long run, but he said it works for now.
"The fact is we are in an investment phase of this organization and so we are taking some federal dollars — not city of Ann Arbor property tax dollars, but federal dollars — and using those to invest in some services that provide opportunities to demonstrate what we can do in the direction of countywide service," Nacht said. "And that works for us in the short-term with this budget in a fiscally sound manner. It is not a long-term sustainable approach."
The board is planning to hold a special meeting on Tuesday when it plans to initiate the process of incorporating a countywide transit authority.
"We really feel the time is right," said AATA CEO Michael Ford.
AATA officials plan to put the question of a countywide transit tax before Washtenaw County voters next year. The 0.584-mill levy could raise about $7.7 million in the first year.
That would come on top of the more than $9.1 million Ann Arbor taxpayers already pay annually to fund the AATA under the city's 2.056-mill transit tax.
The city's existing millage would remain in place to help fund a new countywide transit authority called the Washtenaw Ride, which would replace the AATA.
AATA officials estimate the countywide assessment would cost the owner of a $200,000 home an additional $58 per year.
Nacht said it's important the public understands that if the AATA doesn't receive additional funding for countywide services, then the steps it has taken to provide additional services outside of Ann Arbor — including increased Route 4 trips — will need to be scaled back.
"Service such as that, which is not inexpensive, we can do as an investment to demonstrate to the broader community our ability to handle that service and to perform it admirably, and hopefully persuade a significant number of people to become riders," he said. "But we are not in a position to sustain the projected level of service that we're going to be offering the public outside of Ann Arbor in this next fiscal year into the indefinite future without additional funding."
AATA officials said they actually completed work Sept. 11 on a balanced budget for the upcoming year that included a modest surplus.
But those plans went out the window when the AATA received notification from the Michigan Department of Transportation on Sept. 14 that a new interpretation of the state's operating assistance formula would decrease the AATA's state aid for the upcoming year by $803,500.
Throughout the state, MDOT cut a total of about $8 million in funding for local bus systems in Ann Arbor, Grand Rapids, Lansing, Saginaw, Kalamazoo and Muskegon, AATA officials said.
Ford said that came as a surprise and his staff worked diligently to propose expense reductions in the budget that would neither negatively impact the public nor diminish services, but there still remains about $300,000 in uncovered expenses.
The rest of the budget was balanced through a combination of spending cuts, a wage freeze for nonunion employees and the use of federal funds now available for day-to-day operations.
Ford said reducing services to AATA passengers because of MDOT's decision was not an option the agency would consider.
"We're not proposing any reduction of service. I want to be really clear about that," Ford said. "We have the ability to utilize our federal funds to balance the budget. This is made possible by a recent transportation bill approved by Congress called Moving Ahead for Progress in the 21st Century."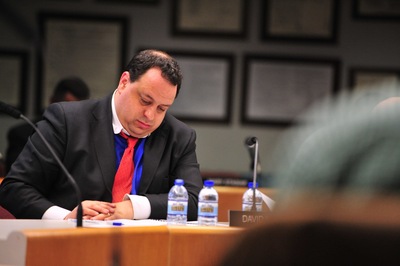 Ryan J. Stanton | AnnArbor.com
AnnArbor.com is awaiting clarification from AATA officials on the reported $803,500 loss in state operating assistance. The budget approved Thursday night shows the agency still is counting on $8.3 million in state operating assistance.
That's down just $357,957 from the $8.66 million it budgeted this past year, and it's actually up from the $7.9 million the agency saw in the first 11 months of this past year.
Nacht said it's expected the agency will have about three months worth of cash reserves left at the end of the fiscal year and he's comfortable with that. The $32.7 million budget will allow AATA to continue offering advance implementation of services recommended in its recently released five-year countywide transit plan.
Ford said the budget includes cuts in staff and administrative funding, including foregoing filling some positions and delaying some projects.
"Basically it was a team effort," he said. "I think each department gave up something.
"Nonunion wages are affected. Bonuses are affected as well," Ford added. "That's not always a great subject to talk about but we had to make some hard decisions."
The AATA expects about $5.8 million in federal formula funds in next year's budget and plans to use $1.47 million for operating expenses, including services that are part of the countywide plan.
"In the long-term, we will need to allocate those federal dollars in other areas to maintain our bread-and-butter operations for the taxpayers of Ann Arbor and for the people we have purchase-of-service agreements with," Nacht said. "But in the short-term, staff has done an admirable job."
Getting to work
The board also adopted a new work plan Thursday night. It contains priority items and goals for the next year, including $5.8 million in capital items and $3.1 million in operating expenses. Most of the capital dollars are for the $5.5 million rebuild of the Blake Transit Center downtown.
The agency is planning to move forward with complete demolition and reconstruction of the 1980s-era building soon. AATA officials are interviewing contractors through Oct. 5 and a presentation on the project timeline and costs is expected at the board's Oct. 18 meeting.
Other work plan items include implementation of the agency's 30-year master plan, branding and development of a logo for a new countywide authority, marketing, continuation of VanRide services, implementation of new park-and-ride agreements, establishment of a governance model for a new countywide authority and a review/revision of fares and ticketing.
The work plan also shows $230,000 worth of staff time going toward continued planning efforts for the WALLY commuter rail initiative, which is aimed at linking Ann Arbor and Howell.
It also includes $1.5 million in costs for the Ann Arbor Connector project. The board voted Thursday night to enter into a contract with URS Corp. to continue moving forward with that initiative.
The AATA has been awarded a federal grant for $1.2 million of the cost of the next phase of the project, which includes an alternatives analysis to look at options for a high-capacity transit link from northeast Ann Arbor through downtown and down to Briarwood Mall.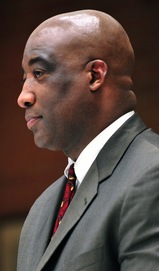 The AATA is putting up $90,000 in local matching dollars. The University of Michigan has committed $150,000, but the AATA still is waiting on the city to agree to pay its $60,000 share.
Nacht expressed disappointment Thursday night that council members have made it into a political issue. AATA board member Eli Cooper, who is the city's transportation program manager, said the Connector funding request goes back to council on Oct. 15.
The AATA's current fiscal year ends Sept. 30. The board was presented with financial reports for the first 11 months Thursday night, showing revenues have come in 3.7 percent — or nearly $1 million — short for the year, while expenses are 2.4 percent — or $643,549 — under budget.
Federal operating assistance came up $609,645 shorter than expected, local property tax revenue came up $269,095 shorter than expected, passenger revenue came up $143,395 shorter than expected, special fares came up $40,965 shorter than expected and purchase of service agreements came up $22,613 shorter than expected.
Special fares include revenues from the University of Michigan, Eastern Michigan University and the go!pass downtown commuter program.
The agency partly made up for the shortfalls by paying $572,105 less than expected for wages and benefits, $272,099 less than expected for purchased services, $18,682 less than expected for materials and supplies, and $45,641 less than expected for utilities.
But it paid $281,532 more than expected for services like A-Ride and Night Ride. The agency's total year-to-date operating expenses are nearly $1.1 million over revenues.
Phil Webb, the agency's finance manager, said though passenger revenue is under budget, it's still 11.5 percent greater than last year.
As for the property tax shortfall, he said the city recently performed a reconciliation of the July 2011 tax levy and there were Michigan Tax Tribunal refunds and adjustments totaling $269,095.
As for A-Ride expenses being over budget by 6.4 percent, Webb said demand for the service is high and the budget may have been too aggressive. NightRide is over budget by 19.3 percent as the agency expanded the service area, which Webb said has increased demand.
The board elected new leadership Thursday night. Charles Griffith, who works as climate and energy program director at the Ann Arbor-based Ecology Center, was chosen as the board's new chairman, replacing outgoing chairman Jesse Bernstein.
Nacht remains treasurer and Anya Dale is secretary.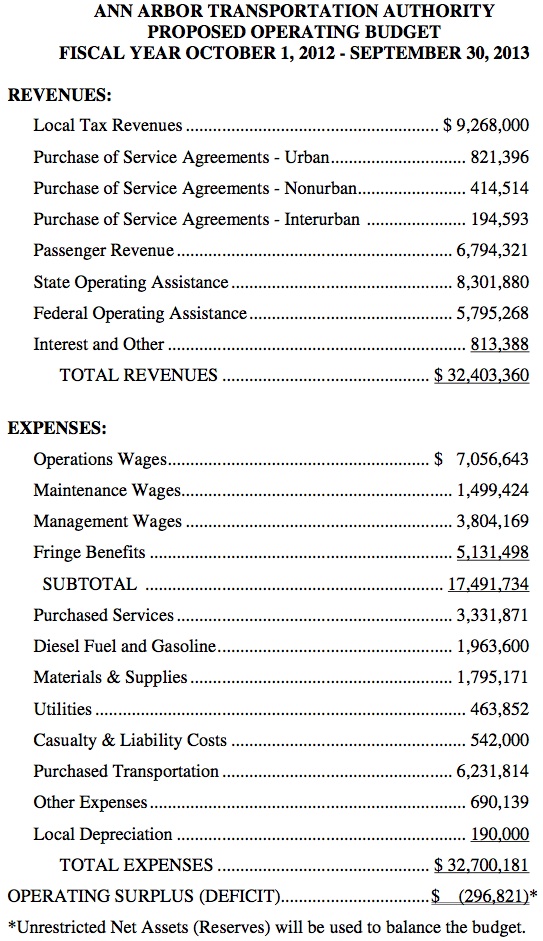 Ryan J. Stanton covers government and politics for AnnArbor.com. Reach him at ryanstanton@annarbor.com or 734-623-2529. You also can follow him on Twitter or subscribe to AnnArbor.com's email newsletters.