Posted on
Tue, Oct 2, 2012 : 8:22 p.m.
AATA initiates process of incorporating new countywide transit authority called Washtenaw Ride
By Ryan J. Stanton
Correction: AATA officials hope to put a countywide transit tax before voters sometime in 2013, possibly as soon as May.
After years of talking about a countywide expansion, it took the Ann Arbor Transportation Authority's board members a matter of minutes to make up their minds Tuesday night.
In a historic 7-0 vote, the board decided to initiate the process of incorporating a new countywide transit authority called the Washtenaw Ride.
"It's an important step in the journey, but it's a step that's been a long time coming," said AATA board member Eli Cooper, the city's transportation program manager.
"It's time," agreed Jesse Bernstein, outgoing chairman of the AATA's governing board. "We've spent two years talking to lots of folks. We have set up a structure to involve the whole county in the discussion and start having people seated at the table with us."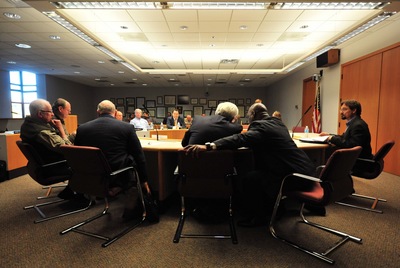 Ryan J. Stanton | AnnArbor.com
The board's action directs AATA CEO
Michael Ford
to forward the previously approved articles of incorporation for the Washtenaw Ride to the county, state and the director of the Michigan Department of Transportation with the request that they be filed immediately.
Once that's done, cities and townships throughout the county will have 30 days to decide if they want to opt out before a countywide transit tax request goes before voters next year, possibly as soon as May.
"I am very pleased that we're going to have the mandatory 30-day period where local units have the option of opting out," Bernstein said. "We also have probably several months that we can continue talking with them about the possibility of opting back in to be part of the original plan."
As a creature of the city of Ann Arbor, the AATA is what's known as an Act 55 authority. The plan is to morph into a countywide Act 196 authority.
Ford said the AATA's seven-member Act 55 board will continue meeting to conduct the business of the AATA, but a new Act 196 board will begin meeting Oct. 11.
"There are a lot of policy issues, electing officers, bylaw issues — there are just a number of housecleaning issues," Ford said of the work the Act 196 board must tackle.
While the AATA has spent the last couple of years crafting a countywide transit plan, Ford said it will be up to the new 196 board — which includes seven AATA board members and eight other board members from throughout the county — to decide what to present to voters.
"There's a lot of work to do," Ford said. "Getting everybody at the table and having representation is an important part of that process. As we continue to go on, we realize not everybody might want to be in the first stage of this, but the door is always open and we believe this is the right thing to do."
Six townships — Bridgewater, Northfield, Salem, Saline, Sharon and Sylvan — already have chosen not to participate in the countywide transit discussions. Superior Township also has inquired about opting out of the countywide millage and instead purchasing transit services via contract.
If all jurisdictions in the county participated, a 0.584-mill countywide transit tax could raise about $7.7 million in the first year. That would come on top of the more than $9.1 million Ann Arbor taxpayers already pay annually to fund the AATA under the city's 2.056-mill transit tax.
The city's existing millage would remain in place to help fund the new countywide transit authority, which would replace the AATA. AATA officials estimate the countywide assessment would cost the owner of a $200,000 home an additional $58 per year.
AATA officials predict ridership would increase by 3.6 million trips per year — to an estimated 9.6 million — within five years of a new countywide transit system.
The countywide plan includes projected operating and capital expenses that total nearly $223 million over the next five years.
The plan proposes an array of public transit improvements throughout the county, including a 56 percent increase in service hours in Ann Arbor and Ypsilanti, more frequent service, more routes and fewer transfers, more affordable fare choices, and extended weekend and late-night service.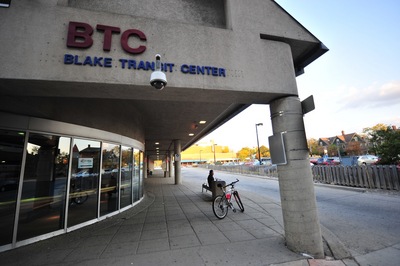 Ryan J. Stanton | AnnArbor.com
It also includes more service for Chelsea, Dexter, Milan, Saline and other communities that are going to be asked to pay into the system through the new countywide millage.
Communities that choose to participate in the countywide authority will share in board representation, the new and expanded services, and the costs, if funding is approved by voters.
"We've sent out information telling them how that works and what they need to do," Ford said. "We'll be following up just to ensure that they've got the information and are responding back. After the 30 days, there will be a geographic footprint of who is in and who hasn't decided yet."
The countywide authority at first will be only a shell of what will later become a fully functional agency if voters approve funding for it. It also will require approval from Ann Arbor voters to transfer the assets of the AATA over to the new countywide authority.
"It has policy decisions that they need to make, but it is not going to do anything until there is a funding source," Ford said.
AATA Chairman Charles Griffith said at Tuesday's meeting that this is only the beginning of the journey — not the end.
"I think we all know that some jurisdictions will not perhaps feel ready at this time to join in this effort and that's OK," he said. "What I think is important is that we gave it our best shot to provide that opportunity to everyone in the county that we came up with the best service plan that we could."
Griffith is bullish on the service plan.
"I think it really shows how much we can do when we sit down and work together," he said. "I think we all know that good transit builds strong communities. We have more mobility, we have less traffic, people get where they need to go, we have less pollution — everybody wins in this deal."
AATA officials provided the following summary of proposed transit service improvements that are included in the countywide plan:
Countywide Dial-A-Ride (door to door) service throughout Washtenaw County for seniors and people with disabilities and Dial-A-Ride PLUS (door to nearest fixed route) for all residents with service hours of Monday through Friday from 6:30 a.m. to 8 p.m. and Saturday from 8 a.m. to 6:30 p.m.
Fixed Route Service Improvements in Ann Arbor, Ypsilanti, and surrounding townships: Restructure West Ann Arbor routes: increasing frequency and extending weekday and weekend hours (120% increase). Improving Key Corridors: more frequent and extended weekday and weekend hours on Routes 2, 3, 4, 5, 6, 7 (46% increase). Restructure the Ypsilanti routes and extend into neighboring townships: increasing frequency and extending weekday and weekend hours (151% increase), and other improvements to Routes 1, 16, 17, and 22 (8% increase).
Express Ride Service during peak hours to/from Ann Arbor and Chelsea (increased to 6 trips to Ann Arbor/7 returns), Canton (increased to 5 trips/6 returns), Saline (new service 7 trips/8 returns), Dexter (new service 8 trips/10 returns), Brighton/Whitmore Lake (new service 7 trips/8 returns), Ypsilanti Township/Belleville (new service 5 trips/6 returns), and Plymouth (new service 5 trips /6 returns).
Community Circulators (variable hours) in Chelsea (Mon-Sun, every 45 min), Saline (Mon-Sat, hourly), Dexter (Mon-Sat, Mon-Fri, every 45 minutes, Sat, every 30 min), and Milan (Mon-Sat, hourly).
Community Connectors (variable hours) between Chelsea, Dexter, and Ann Arbor, (Mon-Sun, hourly); between Milan and Pittsfield (Mon-Sat. every other hour); Manchester and Chelsea (Mon-Sat, twice per day); and Saline and Ann Arbor (Mon-Sat. every other hour).
Park and Ride Intercept Lots: 800 additional spaces distributed in new lots in or around Northfield Township, Pittsfield Township, Jackson Road, and Ann Arbor/Saline Road.
VanRide Commuter service into and within Washtenaw County.
Other Improvements: new/improved bus stops at 150 locations; real-time travel information; new dispatch technology; and bus priority measures.
Ryan J. Stanton covers government and politics for AnnArbor.com. Reach him at ryanstanton@annarbor.com or 734-623-2529. You also can follow him on Twitter or subscribe to AnnArbor.com's email newsletters.