Posted on
Fri, Apr 27, 2012 : 5:59 a.m.
AATA releases 5-year plan for expanded transit services in Washtenaw County
By Ryan J. Stanton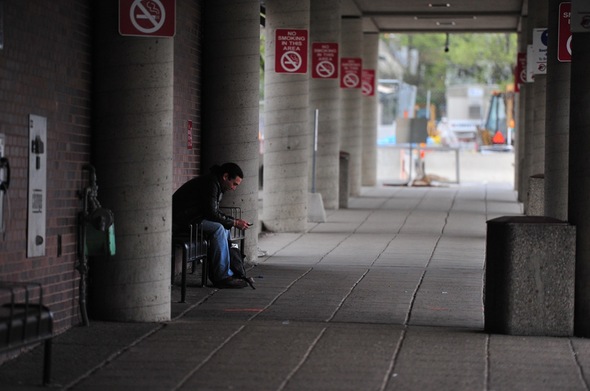 Ryan J. Stanton | AnnArbor.com
The
Ann Arbor Transportation Authority
has released a 178-page draft copy of a five-year plan for
expanding public transit services
throughout Washtenaw County.
The new plan would require $38.3 million in extra capital investments over five years and add $13.3 million to yearly operating costs when all elements are implemented.
Overall, operating and capital expenses of the five-year program total $217.8 million. That's offset by $185.9 million in estimated revenue, resulting in a $31.9 million gap.
The plan contemplates closing that gap with a combination of fare increases and new funding equivalent to a 0.5-mill countywide transit tax, though that's only one option.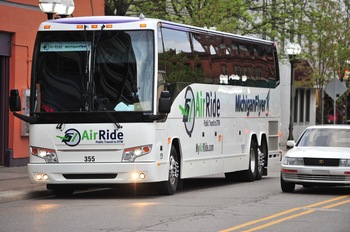 Ryan J. Stanton | AnnArbor.com
The plan was prepared for the AATA by international consultant Steer Davies Gleave in association with Ann Arbor-based Carlisle Wortman Associates.
It now goes out for a 30-day review period, and AATA officials have a series of meetings planned to discuss the five-year program with the public throughout May.
CEO Michael Ford said the five-year program takes all of the research and feedback the AATA received over the last two years while creating a 30-year transit master plan and identifies the tangible services that can be implemented in the next five years.
The program paints a much clearer picture of what services might be provided if a new countywide transit authority is created to replace the AATA, an initiative local officials have been working on.
The five-year program would enhance existing Ann Arbor and Ypsilanti services and increase access to public transit in underserved areas of the county.
Throughout Washtenaw County, the plan calls for increased door-to-door service for seniors and people with disabilities, several express routes to help commuters reach their jobs in urban centers, new park-and-ride lots, and local routes in Chelsea, Saline and Dexter.
Ann Arbor residents could expect extended operating hours, increased service frequency and more weekend routes. Ypsilanti would have double the routes for quicker and more direct service, with peak-hour buses coming every 30 minutes — down from one hour.
Weekend service also would be improved in the Ypsilanti area.
Overall in the urban area, the plan calls for a 25 percent increase in service on weekdays and a 120-130 percent service increase on weekends.
If all proposed services in the five-year plan are implemented, AATA officials estimate 2.8 million additional trips would be added to the county's public transportation network.
"Whether you are a public transit user or not, the services proposed for Washtenaw County over the next five years will benefit the entire community," Ford said, citing the ability of public transit to get people to jobs, grocery stores, doctors offices and other vital destinations.
"Businesses will benefit because more employees and customers will have easy access to their doorsteps, and we'll all have better commutes because there will be fewer cars on our roads and more open parking spaces," Ford said.
A combination of federal and state grants, passenger fares and local funding — including the existing transit millages in Ann Arbor and Ypsilanti — would be used to fund the five-year program. If voters approved a new 0.5-mill countywide transit tax to fill the funding gap, AATA officials estimate the average homeowner would pay an extra $50 a year.
That's based on a home value of $200,000.
AATA officials say that's only one possible solution they're considering. The state Legislature also is working on several transportation-related bills that could make other funding sources possible, including new motor vehicle-based taxes and fees.
Any new local funding that would come to the transit authority would need to be approved by a majority of voters who reside in the transit authority area.
Feedback on the countywide service improvements is being gathered at a series of public meetings being held starting Tuesday night at the Saline Senior Center.
A presentation on services specifically in the Ann Arbor area will be held at 7 p.m. May 14 at the Malletts Creek Branch Library, 3090 E. Eisenhower Parkway.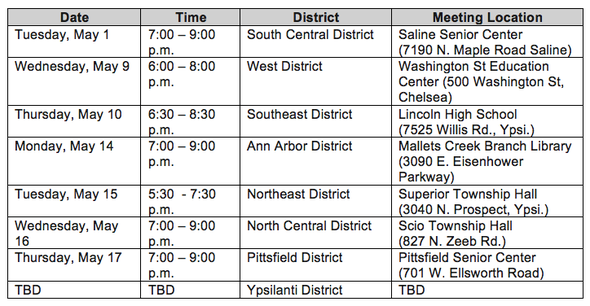 More details are posted at
www.TheRide.org
and
www.MovingYouForward.org
.
The AATA's governing board and representatives from the unincorporated countywide transit authority board — often called the u196 board — will use recommendations from the upcoming meetings to develop a final five-year implementation program.
A detailed summary of the five-year program with cost breakdowns can be found starting on page 79 of the draft report.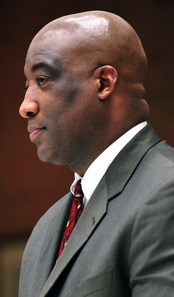 In the first five years, the two existing express bus services to Canton and Chelsea would be enhanced and five new express bus services would be introduced in Saline, Dexter, Whitmore Lake, Belleville and Plymouth with trips departing every 25 to 40 minutes.
The enhanced express bus services would add $1.96 million in annual operating costs and $4.8 million in total capital costs, according to the plan.
The five-year plan would increase the capacity of park-and-ride lots by 800 spaces, adding to the 1,200 spaces that exist now. That includes upgrades to existing parking sites and five new sites for a total capital investment of $5.53 million.
The plan outlines a jump in regular fare prices from $1.50 to $2, and then $3 for new evening tickets.
Weekly tickets would sell for $18.
For families, there would be an option to take up to two adults and four children for twice the adult cash fare on weekends.
The plan shows $12 million in added capital costs and $6.57 million in added annual operating costs directly associated with enhanced urban bus service across Ann Arbor and Ypsilanti, with longer operating hours, more Sunday services and higher frequencies.
Another $2 million in capital costs would pay for a series of 16 "super-stops" or bus rapid transit style stops for Route 4 on Washtenaw Avenue.
Another $2.5 million in capital costs would support a countywide vanpool program that would add $87,115 in annual operating costs.
New shelters, bus pads and facilities, including enhancements at the transit centers in Ann Arbor and Ypsilanti, would cost another $4.5 million.
The plan also shows $1.2 million in capital costs paying for creation of local transit hubs with modern facilities in Chelsea, Saline, Dexter and Whitmore Lake.
Michael Benham, AATA's special assistant for strategic planning, said while the current focus is on the first five years, there are additional projects that merit attention in future years.
He gave an overview of the five-year program at Thursday's meeting of the AATA board, pointing out more specific information on services can be found in the appendices.
"That's where there are a ton of details — schedules for the various services that we're talking about, actual routes in a lot of cases, and then a very detailed district-by-district description of the program," Benham said.
Board member David Nacht said he was "blown away" by the level of detail included in the five-year plan and he encourages everyone to give the schedules for their area a look.
"If I were a member of the public or a local township official someplace, what I would do is I'd pull out the schedules, I'd pull out the map of the service that's proposed for my area, and I'd say, 'Hey, does this make sense?' and I'd talk to people in my community," Nacht said.
Benham said policy discussions still need to be had about the level of fares and the desirability of increasing them.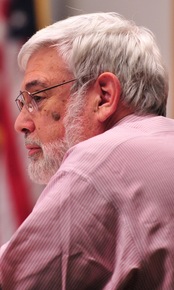 AATA Board Chairman
Jesse Bernstein
cautioned the five-year plan is only the beginning of implementing countywide transit services and the longer-term vision won't be realized overnight.
"All of the successful transit programs around the country took decades to put in place, so a 30-year plan I think is reasonable for our community," he said. "And if funding becomes available, we can do more things more quickly. If not, we're not going to spend money we don't have."
Bernstein said other projects outside of the five-year plan could be funded if additional state and federal funding comes through.
"We separated out those projects that would require state and federal money that we have no idea if we're going to get," he said. "So what we're saying to the public is, 'This is what we can assure you we can do when we get this amount of money.' "
The AATA's plans estimate there are 11,857 households with no car in Washtenaw County, 72,061 people age 18 and under, 34,824 people 65 and older and 29,097 people with a disability.
The 2010 Census showed 344,791 people living in Washtenaw County. The AATA's plans assume the population will grow to 380,000 by 2035 and employment will rise 25 percent.
Ryan J. Stanton covers government and politics for AnnArbor.com. Reach him at ryanstanton@annarbor.com or 734-623-2529. You also can follow him on Twitter or subscribe to AnnArbor.com's email newsletters.