Posted on
Thu, Jan 12, 2012 : 5:58 a.m.
AATA says Ann Arbor's new Blake Transit Center will be larger, more accessible
By Danny Shaw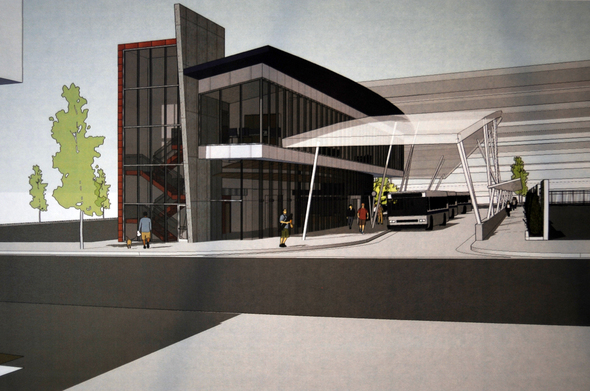 Melanie Maxwell | AnnArbor.com
Downtown
Ann Arbor
's new
Blake Transit Center
will be a bit bigger than previously reported, officials said at Wednesday's public feedback session for the project.
In September, Ann Arbor Transportation Authority officials said the center's size would be expanding from 2,000 to 6,000 square feet and would cost $5.5 million.
Terry Black, manager of maintenance and BTC project manager, hosted the display and said the new plans put it closer to 7,500 square feet.
Black said up-to-date budget figures for the project are not available. When it was first proposed, it was estimated at $3.7 million, which was raised to $4 million in 2010, then to $5.5 million in 2011.
"This has been a moving target for the last year," he said. "The final figures are unavailable, but we will have them in the next two months. We are finalizing the design, then doing the real cost-analysis."
AATA officials also said in September the agency has received a total of $4.2 million in state and federal grants to support the 8- to 10-month project, which starts this spring.
Along with more room for the center's 5,000 daily commuters to wait indoors, the restroom sizes will be larger, the bus docking area will be more accessible to drivers and a new walkway will link South Fourth and South Fifth Avenues.
Melanie Maxwell | AnnArbor.com
"We've outgrown it," Black said to a bus commuter about the current building. "It doesn't meet our needs anymore or yours."
The center will have many new additions for bus commuters: Kiosks featuring real-time arrivals and departures, touch-screen information centers, a larger indoor lobby area, USB dock charging stations and even an outdoor snack and drink booth.
Surveys were available for the public to fill out during the open house. They gave additional feedback about the new center, information that Black said will further help with finalizing the plans.
"That's what we're looking for: the public's input," he said. "In the next few months we will be finalizing everything and making changes based on this feedback."
Frequent bus commuter Terrell Dixon said the new center seems more "up with 2012," and can't wait for it to be done.
"It looks more modern, more attractive to the eye," the 20-year-old student said, while filling out a survey. "It needs the upgrade and little things like the USB charging stations are really convenient."
The AATA will be continuing the display and public feedback surveys Thursday from 7 a.m. to 10 a.m.