Posted on
Mon, Sep 10, 2012 : 7:15 p.m.
Initiative to ban tobacco on college campuses nationwide to be announced Wednesday at U-M
By Cole Bertsos
The smoke-free University of Michigan will be holding an event Wednesday announcing a national initiative to ban tobacco use on all college campuses nationwide.
According to the U-M News Service, Howard Koh, assistant secretary for health at the U.S. Department of Health and Human Services, will make the announcment.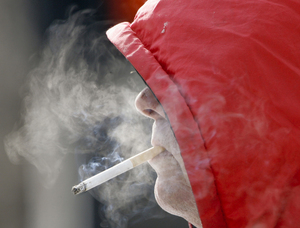 AP file photo
The announcement will take place at 3 p.m. Wednesday at the School of Public Health. The U-M campus has been smoke-free since July 2011.
U-M President Mary Sue Coleman, the dean of the public health school Martin Philbert and U-M Chief Health Officer Robert Winfield, along with policy experts and educational leaders from across the nation will be appearing with Koh to make the announcement and present the Tobacco-Free College Campus Initiative.
The initiative is a collaboration between Health and Human Services and leaders within the academic and public health fields, and is in association with the Tobacco Control Strategic Action Plan, according to the news release.
The event will be streamed live on the website TobaccoFreeCampus.org, which is hosted by the U-M Tobacco Research Network and various other academic and public health organizations nationwide.
The website also includes toolkits, fact sheets, news updates, contacts and more.