Posted on
Thu, Jan 19, 2012 : 9:49 p.m.
Affirmative action foe Ward Connerly faces accusations by former ally Jennifer Gratz
By Cindy Heflin
Ward Connerly, who campaigned for the passage of Proposal 2, which banned the use of race and gender preferences in public education, public hiring and public contracting in Michigan, has come under fire from a former employee and a one-time ally in his fight against affirmative action.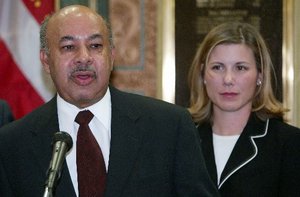 AP photo
Jennifer Gratz, who successfully took a lawsuit challenging the University of Michigan's race-based admissions practices to the Supreme Court, accuses Connerly of mismanaging donations for personal gain, the Los Angeles Times reported. Gratz and Connerly worked together for the passage of Proposal 2.
Gratz, who resigned in September from Connerly's American Civil Rights Institute, made her allegations in a letter to the organization's board. Among them: Connerly took compensation amounting to more than $1 million in recent years and that the organization and an affiliated advocacy group have not been able to do work related to their missions because they are in financial crisis.
Proposal 2 was passed by Michigan voters in 2006 but overturned in an appeals court ruling last year. Michigan Attorney General Bill Schuette said he would appeal the ruling.