Posted on
Thu, Nov 4, 2010 : 1:50 p.m.
Controversial alcohol energy drinks to be banned in Michigan
By Heather Lockwood
Updated 3:45 p.m. Thursday
Alcohol energy drinks — the fruit-flavored, caffeinated, alcoholic beverages in brightly colored cans that have raised widespread community concern — are on their way to being banned in Michigan.
A Michigan Liquor Control Commission order was signed today. Manufacturers of alcohol energy drinks will have 30 days from the date of the issuance of order to remove those products from Michigan, said commission spokeswoman Andrea Miller.
• Download a copy of the motion here.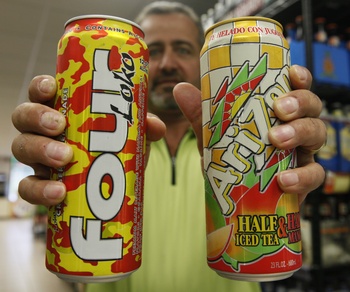 AP Photo
Miller said the commission voted 2:1 in favor of the ban at a licensing meeting about 1 p.m. Wednesday.
"I think it's a good step for the state," said Mike Tobias, executive director of Michigan Alcohol Policy. "It helps, particularly, teenagers and young adults. ... I think they're clearly marketed toward teenagers and young adults."
The commission's decision was made in light of several studies of the drinks, "widespread community concern" and the FDA's ongoing investigation of the products, according to the release.
Several states have considered outlawing the drinks and at least two universities have banned them from campus while the U.S. Food and Drug Administration reviews their safety, according to The Associated Press.
Justin Bishop, prevention specialist with a non-profit organization called Clean Teens, said groups and concerned citizens have been pushing for change for the past few years.
"I feel pleased. I feel health and safety have increased (as a result)," he said. "Each week, there are stories in the news about problems with alcohol energy drinks."
Bishop cited such "high profile tragedies" as an incident, reported by The Associated Press, in Washington in which nine students who drank an alcohol energy drink called Four Loko were hospitalized with blood-alcohol levels ranging from 0.12 percent to 0.35 percent, and a female student nearly died. And another incident in Melvindale, reported by the Detroit Free Press, involved a 14-year-old girl who was raped at a post-homecoming dance hotel party after drinking Four Loko mixed with rum.
According to a statement from Phusion Projects, LLC, which manufactures and distributes Four Loko, the company opposes the commission's decision.
"We disagree with the recent decision by only two members of the Michigan Liquor Control Commission to rescind the approval of all 'alcohol energy drinks' in the State of Michigan," the statement reads. "The Commission did not provide advance notice of its proposed action, voted on the ban with only 3 of the 5 Commissioners in attendance (2-1 vote), and did not give parties who will be affected by the ban any opportunity to be heard on whether the ban is warranted or authorized by law."
The statement continues, "No one is more upset than we are when our products are abused or used illegally, and we do everything in our power to prevent the sale of our products to anyone under the age of 21 and to educate consumers about how to enjoy them responsibly. When consumed responsibly, our products are just as safe as any other alcoholic beverage."
Therese Doud, a substance abuse prevention coordinator for the Washtenaw County Public Health Department, said there are inherent risks when combining alcohol, a depressant, and caffeine, a stimulant.
"You're intoxicated, but you don't think you're intoxicated," she said. "The feeling is, I'm alert and I can handle this."
And while the alcohol content is noted on the can, she said, "you have to look for it."
Doud said it's pretty clear marketers of the drinks are selling to a young crowd.
"When you think about what's appealing ... it's clearly sort of a youthful market, they may be going toward college kids, but it's going to have (broader) appeal," Doud said.
According to the Phusion Projects statement, the company "complied with the (FDA's) requests" and submitted a "Generally Regarded as Safe" study, "which affirmed that the addition of caffeine to alcohol is indeed safe."
Brad Christman, who graduated from Ann Arbor's Huron High School this spring and is now a freshman at St. Olaf College in Northfield, Minnesota, spoke on the issue at one of the commission's meetings last year. He helped form a group called Students on Alcohol Prevention during his sophomore year of high school.
Christman said the labels on alcohol energy drinks — which look similar to those of non-alcoholic energy drinks — "take the fear out of buying" for people who are underage because they can "have a back-up plan to play dumb" if they are asked for ID.
"You could say, 'Oh, I'm sorry. I made a mistake. I thought this was a normal energy drink,'" he said.
Christman said the volume and alcohol content of these types of drinks also may influence people to binge drink because a typical alcohol-energy drink is 24 ounces and has a 12 percent alcohol content — compared to a 12-ounce can of beer, which normally has an alcohol content ranging from 4 percent to 7 percent.
"It's almost four times the alcohol content of a (regular) beer," Christman said. "One can, one serving, is enough to get you intoxicated."
Lorin Brace, manager at Ann Arbor's Village Corner on South Forest Avenue, said the store caters mostly to 20-somethings. He said it's difficult to tell whether the alcohol-energy drinks he sells are more appealing to that group than any other alcoholic beverage.
"Most of our alcohol sales, other than wine, is to a younger crowd, 21 to 25 (years old), because we're right on campus," Brace said.
Brace said Village Corner sells Four Loko and Joose, which he said are located near the wine coolers and hard lemonade in the store.
"I don't really see how (the packaging) would be misleading," he said. "Other alcoholic beverages have brightly colored labels and it says right on there the alcohol percentage."
Heather Lockwood is a reporter for AnnArbor.com. Reach her at heatherlockwood@annarbor.com or follow her on Twitter.