Posted on
Fri, Jun 21, 2013 : 5:58 a.m.
All Hands Active offers rare opportunity to test out the latest in gaming technology
By Chelsea Hoedl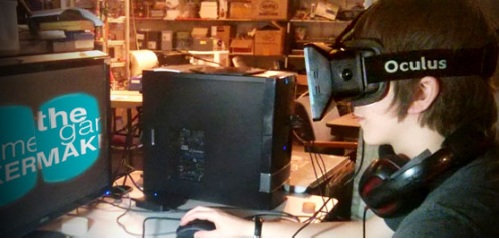 Courtesy of All Hands Active.
Immerse yourself in virtual reality on Saturday at the Oculus Rift Demo Night hosted by All Hands Active and The Game Makers.
Visit All Hands Active, 523 E. Liberty St., between 4 and 9 p.m. to try out the Rift, a virtual reality headset that provides users with a life-like gaming experience.
"You now have a piece of equipment that you can strap on and will literally take you to a whole new world," Education Coordinator at All Hands Active Josh Williams said. "It supports proper depth perception and tracking and unlike 3D it really looks real and feels real. It's very visceral and this is the only place you'll be able to try it."
The Rift is still in the development stage and is not available for general public use. Game developers are among the few that have access to this long-awaited technology.
"This is a pretty rare occasion," Williams said. "The only other event I've heard of allowing the general public to try the Rift was in San Francisco. It's pretty hard to find them unless you know someone who got in on the original order."
About a year ago a demo version of the Rift could be ordered so developers would be able to begin creating games compatible with the software. Now they are filling back orders from the original delivery and the Rift cannot be obtained by consumers, Williams said.
The Game Makers, a group that works to connect and keep video game developers in the Michigan area, placed an order for 10 Rifts and will be lending one to All Hands Active for the event Saturday.
"The main goal of All Hands Active is to give people access to tools and resources," Williams said. "The Oculus Rift is seen as another tool we can give people access to so they can try and develop for the Rift or just learn about the technology."
Ten-minute sessions will allow visitors to try out Half-Life 2, The Tuscany Demo, Rift Coaster and TF2 for $5. Money from the event will go toward supporting All Hands Active's ability to provide free resources to the community and The Game Makers' continued efforts to connect gamers in Michigan.
Chelsea Hoedl is an intern reporter for AnnArbor.com. She can be reached at choedl@mlive.com.