Posted on
Sat, Mar 3, 2012 : 5:59 a.m.
Allen Creek Preschool in Ann Arbor looking to expand
By Danielle Arndt
An Ann Arbor preschool will be doubling its capacity if it gets approval for a proposed addition.
Allen Creek Preschool, located at 2350 Miller Ave., submitted a special exception use (SEU) application and site plan to the city of Ann Arbor this week for a 929-square-foot, single-story classroom addition to the west side of its building.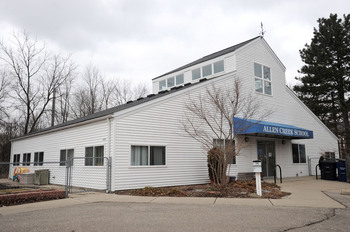 Angela J. Cesere | AnnArbor.com
The new classroom would be dedicated for Allen Creek's early Fives program.
The extra space would allow the school to safely have up to 50 students in the building at once, according to documents filed with Ann Arbor Planning Services. This would double the number of students that the building currently can accommodate.
No changes would be made to the school's parking lot. Additional street parking is available on Franklin Street with sidewalk access to the school.
Allen Creek also has an agreement with the Korean United Methodist Church, at 1536 Franklin St., for parking.
The school's SEU application states all preschool staff currently park at the church. Additional off-street parking along church property also is available for Allen Creek to use.
The preschool staggers its class times to provide for smooth traffic flow on school grounds and Miller Avenue.
The school's classes also start after Ann Arbor Public Schools' classes, so traffic does not overlap with Ann Arbor buses or parents dropping children off at school.
Margy Long, director of Washtenaw County's Success by 6 Great Start Collaborative, said Washtenaw County's free and publically funded early-childhood education programs, such as Head Start and Great Start Readiness, are always "maxed out."
She said 90 percent of all brain development occurs within the first few years of life and not enrolling children in a preschool program can cause serious delays, especially in vocabulary growth.
Allen Creek was established in 1994 and enrolled its first class in 1996, according to its website. The private preschool now offers nine different tuition-based programs for children through second grade.
Parents can attend classes with their infant or toddler. Tuition for those programs ranges from $1,550 to $3,850 per year.
The cost of the traditional 3- and 4-year-olds preschool program at Allen Creek is $6,150 per year. Early Fives costs $7,450.
Allen Creek also partners with local professionals — psychologists, psychiatrists, psychoanalysts and social workers — who volunteer at the school as family consultants to help ensure "the healthy growth of children in an environment that promotes emotional, intellectual and interpersonal understanding," its website says.
School officials with Allen Creek Preschool did not return phone calls seeking comment about the expansion.
Staff reporter Danielle Arndt covers K-12 education for AnnArbor.com. Follow her on Twitter @DanielleArndt or email her at daniellearndt@annarbor.com.