Posted on
Thu, Mar 8, 2012 : 5:15 p.m.
'American Meat': Greenhills grads find careers that promote sustainable farming
By Janet Miller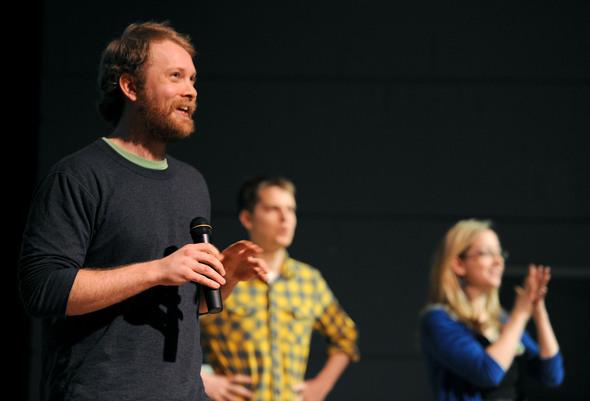 Angela Cesere | AnnArbor.com
When Graham Meriwether and Karl Rosaen were high school friends at Ann Arbor's Greenhills School in the late 1990s, farming practices was not on either of their radar screens.
Meriwether liked poetry and Rosaen was fascinated by physics, and they each went off to college to follow their interests.
But 14 years after they graduated from high school, their career paths would cross: Meriwether would make the documentary film "American Meat," tracing how meat makes its way to the table, chronicling the grassroots revolution in sustainable meat production but also documenting large agri-businesses.
Rosaen would go on to co-found RealTimeFarms.com, a Web-based Ann Arbor company that, with the help of crowdsourcing, allows users to exactly pinpoint the origins of their food, whether they eat in or eat out.
The two Greenhills alums, along with Cara Rosaen, another Greenhills graduate, returned to their alma mater Thursday morning to talk about how each of their interests in sustainable farming has played out.
They are part of Saturday's Michigan premier of Meriwether's "American Meat" at the Michigan Theater. RealTimeFarms.com along with Slow Food of Huron Valley are sponsoring the screening.
Independently, Meriwether and Rosaen became interested in sustainable farming: Meriwether read "Omnivore's Dilemma" by Michael Pollan when he was working as documentary journalist working for PBS, the New York Times and Al Jazeera.
Rosaen was working for Google in California, where the idea of locally sourced and sustainable food caught fire.
"Even at Google they were serving locally sourced food," he said.
When Rosaen decided to move on his dream to create his own business, it made sense to combine his computer engineering background with his interest in sustainable farming. He and Cara, who were married by then, returned to Michigan to start RealTimeFarms.com.
It's not just coincidence that he and Rosaen have found careers tied to sustainable farming, Meriwether said.
"A lot of our friends from Greenhills have found jobs in green spaces, including someone who is an organic farmer in the Hamptons."
In making "American Meat," Meriwether avoided the heavy hammer used by that other Michigan filmmaker, Michael Moore.
"It's very different than a Michael Moore film," he said. "Mine is a very solution-oriented film."
Meriwether said he refused to use hidden cameras. Instead, he said, he wanted to film a full spectrum of farming methods and let viewers decide for themselves what suits them.
"I didn't want to say one kind of farming is good and another kind is evil," Meriwether said. "Every farm is a family farm…. Still, we take the perspective in the film that sustainable farming is good, while being respectful of conventional farming."
He filmed small, sustainable family farms along with mega-farms that supply Hormel Foods and Pilgrim's Corp.
He visited close to 30 farms in 20 states, focusing on Joel Salatin's Polyface Farms in Virginia, a pasture-based, beyond organic farm that produces beef, pork, poultry and more along with agri-business operations that supply that was a focus in "Omnivore's Dilemma."
Students Thursday were given a sneak peak at scenes from the 82-minute "American Meat," including the opening footage that included shots of chicken drumsticks selling for 78-cents-a-pound and a scene of a young girl talking about the tasty eggs that come from her family's backyard chicken coop while concluding "that some eggs come from Walmart."
Meriwether spent four-and-a-half years and close to $200,000 making his film, financing it through grants, private donations and his credit card.
But he's avoiding the red carpets and big city showings. That wouldn't fit with the message of "American Meat," he said.
Instead, he said, he's taking "American Meat" to farm communities. It premiered in Virginia last July and he is taking it on the road to rural America. It was an official selection of Food Day 2011.
Meriwether has two more projects in pre-production, one about young farmers (age 5-14) around the world and another called "Future Farmers for America."
"American Meat" makes its Michigan premier at 8 p.m. March 10 at the Michigan Theatre. A panel discussion that will include Meriwether, local farmers and Zingerman's Roadhouse chef Alex Young will follow. A pre-movie dinner, which includes a four-course, locally sourced meal, will be featured at The Roadhouse, 2501 Jackson Rd. The movie cost $10 while the meal is $55. For more information, go to www.americanmeatfilm.com/michigan_theater.