Posted on
Sat, Mar 24, 2012 : 1:47 p.m.
Amtrak alters schedules to cope with lower speed limits until tracks are repaired
By Cindy Heflin
Amtrak plans to alter schedules for some trains - including one traveling through Ann Arbor - and make temporary route adjustments as it deals with lower speed limits imposed because of poor track conditions.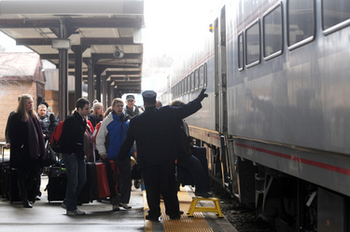 The slowdown order, announced March 15, requires trains to slow to 25 to 30 mph. Amtrak can normally operate the trains at 79 mph.
Beginning on Monday, Train 355, the evening westbound Wolverine, will operate 65 minutes earlier than its regular schedule and will originate in Dearborn rather than Pontiac, Amtrak said.
The train will depart Ann Arbor at 6:09 p.m. under the new schedule. Its departure time was 7:17 p.m. under the old schedule.
Amtrak also said Train 350, the morning eastbound Wolverine from Chicago, will end its service in Dearborn rather than Pontiac.
Trains have been running 45 to 90 minutes late in the affected areas since Norfolk Southern ordered the slowdown between Kalamazoo and Ann Arbor.
Norfolk Southern, which owns part of the tracks on which Amtrak operates, said it was necessary for passenger safety because of deteriorated track conditions.
Amtrak spokesman Mike Magliari said trains between Kalamazoo and Ann Arbor for which schedules have not been altered will continue to run late until the tracks are repaired.
At the Amtrak station in Ann Arbor Thursday evening, passenger Geraldine Smith of Ann Arbor was taking the delay in stride. She had just gotten off the westbound train from Chicago, which was more than 90 minutes late.
She said she keeps a roll-with-the-punches attitude about travel. "If you don't, your blood pressure goes up," she said.
Norfolk Southern is preparing to start repairs to the tracks in early April, Amtrak said in a news release. Amtrak will make more schedule changes as that work begins, the release said. The work is expected to be completed before the end of spring semesters at colleges and universities along the route, Amtrak said.
Amtrak said it has also made temporary schedule changes in Western Michigan for the Blue Water (Trains 364 & 365), which uses Norfolk Southern track between Battle Creek and Kalamazoo.
The new schedule is below with changes highlighted in gray. For more information about schedules, visit Amtrak's website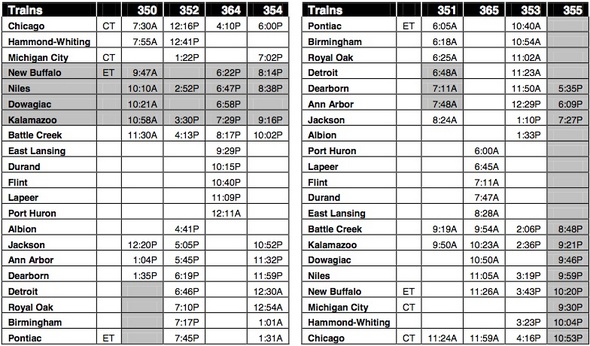 Contact Cindy Heflin at 734-623-2572 or email her at cindyheflin@annarbor.com or follow her on Twitter.