Posted on
Fri, Apr 6, 2012 : 2:01 p.m.
Amtrak rail work to affect train schedules in April
By Julie Baker
As work on the Norfolk Southern Railway is under way in Michigan, Amtrak riders can expect more changes in schedules, train cancellations and routes covered by motor coaches this month.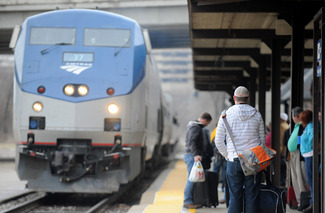 Angela J. Cesere | AnnArbor.com file photo
Poor track conditions prompted a
slowdown order
, announced March 15, that requires trains to slow to 25 to 30 mph. Amtrak can normally operate the trains at 79 mph.
Work on the tracks will be completed April 16-19, and passengers on the Blue Water and Wolverine lines can expect normal travel times in Michigan by early May. The Wolverine line travels through Ann Arbor.
In the meantime, Amtrak service in mid-Michigan will continue to be delayed from 45 to 90 minutes on Pontiac-Detroit-Chicago Wolverine trains, with lesser delays to the Blue Water trains to and from Chicago and Port Huron.
Among the schedule changes, according to Amtrak:
Train 350, the morning eastbound Wolverine from Chicago to Pontiac, will terminate at Kalamazoo. Passengers continuing east of Kalamazoo will be accommodated on a dedicated bus serving Battle Creek and Jackson, where passengers will reboard a train for the remainder of the trip to Dearborn and intermediate stations. Train 351, the morning westbound Wolverine from Pontiac, will terminate at Jackson. Passengers continuing west of Jackson will be provided with dedicated bus service to Battle Creek and Kalamazoo, where they will reboard a train for service to Chicago and intermediate stations. The Kalamazoo departure of the continuation of train 351 will be 90 minutes later, at 11:20 a.m., arriving in Chicago at 12:54 p.m. CT.

The late morning Wolverine 353 from Pontiac to Chicago is canceled. The early afternoon Wolverine 352 from Chicago to Pontiac is also canceled. Wolverine trains 354 (Pontiac to Chicago) and Train 355 (Dearborn to Chicago) will continue to operate with delays until the track repairs are completed.
Further significant temporary changes to accommodate track work after April 19 will be announced as details become available, Amtrak said.
Check out the schedule below or visit Amtrak.com/alerts to see more service alerts. The highlighted sections of the schedule below indicate specific schedule changes April 16-19.